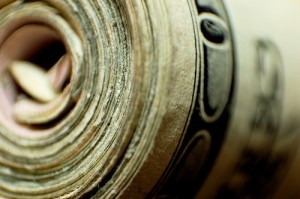 Many of you will recall that I used to track a portfolio here on ModernGraham.  Unfortunately, the last time I checked the portfolio was November 6, 2006.  As a result, I've decided to start over.  This mock portfolio will be based on $100,000, and will be entirely based on companies I feel strongly about and strategies I have in mind.  On the first Thursday of every month, I plan on reviewing the portfolio and making any changes that seem necessary.
You can see the portfolio in this google spreadsheet.
When constructing the portfolio, I began by deciding on asset allocation.  I knew I wanted to stick to companies that we have in our database with a target allocation of 10% per company.  However, I also feel that the market is currently well overbought and I am hesitant to put much into equities.  As a result, the first decision I made was to start out with 50% in bonds.
Specifically, I am a fan of the iShares Barclays 10-20 year treasury bond fund (TLH).  I believe this is a strong bond fund to invest in at this time and hopefully it will hold up well once the market starts coming back down.  I started with a purchase of 312 shares of TLH, for a cost of $35,034.48.
Next, I wanted to invest the remaining 15% of the bond portion.  I am a fan of high yield bonds – and the iShares fund for that is HYG.  Currently it yields about 9%.  It tends to move with equities so it isn't a great place to diversify away, but I like the yield too much to stay out of it.  I purchased 173 shares for $14,938.55.
On to the equity portion.  I'm a big fan of National Presto Industries (NPK).  I absolutely love their balance sheet, history of growth, and dividend rate (about 6.4% yield).  I bought 115 shares for $9,948.65.
Olin Corp (OLN) is another great company.  Strong balance sheet and another strong dividend (about 4.5% or so).  I have concerns about their earnings, but I think they can bounce back from a rough 2009.  I bought 573 shares for $9,993.12.
Emerson Electric Company (EMR) is an intriguing prospect.  It looks a bit better on the defensive investor side than the enterprising investor, because of a current ratio below 1.5.  However, it is strong everywhere else.  I bought 250 shares for $10,020.00.
B&G Foods Inc (BGS) was next.  Probably the riskiest company of the 5 I have in this portfolio.  Good balance sheet, but questionable earnings.  Hopefully it will hold up and do well.  It has a nice dividend that I hope will not be cut (about 8.3%).  I bought 1221 shares for $9,999.99.
Finally, I bought International Shipholding Corp (ISH).  Another potentially risky choice, ISH had some negative years in the last 10 and failed to pass the defensive investor tests.  However, I believe it has found stability and like its 6.5% dividend.  I bought 325 shares for $10,013.25.
That's it for this portfolio update.  Next month we'll see how these have done and possibly have some transactions to either rebalance or change allocations.
Photo provided by zzzack.