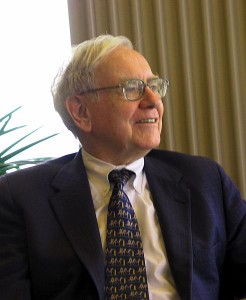 I have once again reviewed Warren Buffett's portfolio, and now wonder if Mr. Buffett has turned away from value investing, or if he has just developed away from Benjamin Graham's methods and created his own.  What do you think?  Leave a comment below and let's discuss it.
But let's first review his portfolio again, according to the ModernGraham approach.  I visited stockpickr.com and picked out 15 companies that are among his holdings.  Out of the 15, 7 would be suitable for Benjamin Graham's defensive investor, 1 would be suitable for the enterprising investor, and 7 would be considered speculative.  On top of that, only 6 are undervalued (according to our valuation method), 3 are fairly valued, and 6 are overvalued.
I understand that Mr. Buffett has often said that he would rather own a "wonderful company at a fair price than a fair company at a wonderful price."  But it seems to me that some of these companies are more like "fair companies at a fair price."
It would appear that he has moved away from Benjamin Graham's teachings from The Intelligent Investor over the years.  What do you think?
Here are links to valuations of the 15 companies I looked at.
Photo provided by Wikipedia Commons.