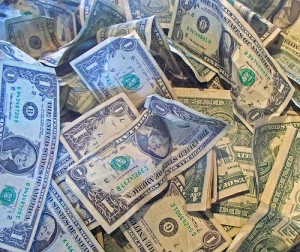 On the second Thursday of every month (I know, I'm a day late…), we will screen our database for the 10 companies trading at the lowest ratio to their intrinsic value, as determined by our formula, and that are suitable for the enterprising investor.  These 10 companies will be placed in a mock portfolio and rebalanced to have a 10% allocation to each company. The starting value of the portfolio is $100,000.00. Dividends will be reinvested in the portfolio.
To see the portfolio, you can view this google spreadsheet.
This month, the screen resulted in the following companies being targeted:
The only difference from last month was the dropping of National Presto Industries (NPK) for General Dynamics (GD), which is a slightly better bargain now.
The following transactions were made this month:
Dividend of $0.15/share received for BHI for $35.10.
Sold 116 shares of NPK for $10,083.88, gain of 0.5%.
Bought 18 shares of TDW for $750.06.
Sold 36 shares of ISH for $1,193.40, gain of 7.6%
Sold 6 shares of BHI for $252.42, loss of 1.4%.
Sold 1 share of CB for $48.52, loss of 3.7%.
Sold 30 shares of UNH for $778.50, gain of 3.6%.
Bought 55 shares of OLN for $839.85.
Sold 8 shares of GR for $434.80, no gain or loss.
Bought 52 shares of GRMN for $1,572.48.
Bought 2 shares of NOV for $81.98.
Bought 153 shares of GD for $9,593.10.
During the month of October (and during the life of the portfolio since it began at the beginning of October), the portfolio lost 4.18%, compared to no change in the Dow Jones Industrial Average and a loss of 1.98% on the S&P 500.
Photo provided by psyberartist.