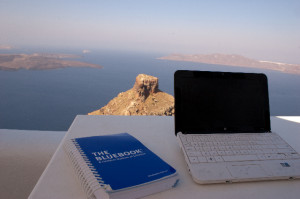 Over the last few years, this site has been on a bit of a hiatus as I attended law school.  If you've ever gone to law school, you know that it permeates into every part of your life.  For me, that even meant having to write a paper while on vacation in Santorini in 2012, as evidenced by the photo above.  It also meant having to cut back on blogging, but the good news is that I graduated in May and passed the Illinois Bar Exam this summer!  I will be sworn in as an attorney licensed to practice law in Illinois on October 31st.
I completed law school in the top 10% of my class, receiving cum laude honors at graduation, while also obtaining a Certificate in Taxation.  The plan now is to build a legal practice focusing on taxation, trusts and estates, non-profits, and business law.  If you live in Illinois and have a legal issue in one of those practice areas, feel free to contact me for a free consultation.  (Note:  Reading this website or communicating with me does not in itself create an attorney-client relationship, and nothing on this site should be considered legal or investment advice.  Please also review our disclaimer.).

ModernGraham will remain focused on studying and modernizing the investment strategies of Benjamin Graham; however, I will periodically add articles focusing on estate planning, taxation, non-profits, and business law. Â I believe these feature articles will be an enhancement to the site as a whole as these topics should be relevant to all of our readers.
I have some big things planned for ModernGraham going forward. Â To start, each weekday there will be a company valuation posted to the site, beginning this week with the components of the Dow Jones Industrial Average. Â Weekends will include some feature articles relating to law or the ModernGraham Academy. Â Once more of the valuations have been updated, I may look to bring back some of the porfolios we have included in the past. Â In addition, after all of the Dow Jones Industrial Average components have been reviewed, I hope to release an eBook / Newsletter that summarizes the valuations in a handy table and puts them through various stock screens. Â Eventually this may become a monthly installment involving all of the stocks reviewed by ModernGraham, so stay tuned for more information at a further date.
Is there anything you'd like to see this site do going forward? If so, leave a comment below.