Introducing ModernGraham Stocks & Screens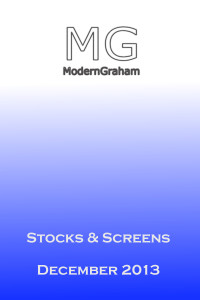 You've read the ModernGraham Valuations, now you can easily review them and see a number of different screens! Â Starting this month, you can purchase a copy of ModernGraham Stocks & Screens. Â This monthly publication includes a listing of all the companies reviewed by ModernGraham* in a handy table with some key figures. Â It then proceeds to screen the companies regarding different topics.
Inside, you will find screens for:
Undervalued Companies
Fairly Valued Companies
Overvalued Companies
Defensive Investor Companies
Enterprising Investor Companies
Speculative Companies
Lowest PEmg Ratio – Defensive Investor
Lowest PEmg Ratio – Enterprising Investor
NCAV
In addition, you can review ModernGraham's valuation of the Dow Jones Industrial Average as a whole and its individual components!
For only $2.99 this month's edition can be yours to download to your eReader** or computer.  However, for a limited time you can get a copy for 50% off using the coupon code BB24Y.  That means you could get a copy for only $1.50!  Don't delay – the coupon expires on Sunday, December 1!  Get your copy here!
Finally, please leave a review or a comment with suggestions for improvements. Â I want this product to be a valuable tool for your enjoyment!***
*This month's edition includes 36 companies reviewed since ModernGraham relaunched in October 2013, including all 30 components of the Dow Jones Industrial Average. Â In coming months, this monthly eBook will contain additional companies as they are added to the ModernGraham review list.
**Note – you may need to change the text size to small to view the tables in full on your eReader. Â I also recommend viewing it in landscape mode, if possible.
***As always, ModernGraham makes no recommendations for investments in specific situations. Â Please consult a registered broker or investment advisor regarding your individual investment decisions.