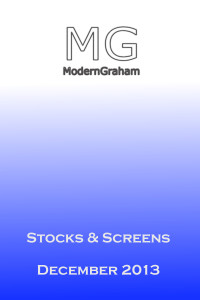 How to Enter:
To enter to win a free copy of ModernGraham Stocks & Screens, leave a comment on this post by 11:59 PM (CST) December 2, 2013. Â One comment will be chosen randomly to receive a free copy of this month's edition of ModernGraham Stocks & Screens.
About ModernGraham Stocks & Screens:
You've read the ModernGraham Valuations, now you can easily review them and see a number of different screens!  You can purchase a copy of ModernGraham Stocks & Screens.  This monthly publication includes a listing of all the companies reviewed by ModernGraham* in a handy table with some key figures.  It then proceeds to screen the companies regarding different topics.
Inside, you will find screens for:
Undervalued Companies
Fairly Valued Companies
Overvalued Companies
Defensive Investor Companies
Enterprising Investor Companies
Speculative Companies
Lowest PEmg Ratio – Defensive Investor
Lowest PEmg Ratio – Enterprising Investor
NCAV
In addition, you can review ModernGraham's valuation of the Dow Jones Industrial Average as a whole and its individual components!
For only $2.99 this month's edition can be yours to download to your eReader** or computer.  
Finally, please leave a review or a comment with suggestions for improvements. Â I want this product to be a valuable tool for your enjoyment!***
*This month's edition includes 36 companies reviewed since ModernGraham relaunched in October 2013, including all 30 components of the Dow Jones Industrial Average.  In coming months, this monthly eBook will contain additional companies as they are added to the ModernGraham review list.
**Note – you may need to change the text size to small to view the tables in full on your eReader. Â I also recommend viewing it in landscape mode, if possible.
***As always, ModernGraham makes no recommendations for investments in specific situations. Â Please consult a registered broker or investment advisor regarding your individual investment decisions.
UPDATE: Â The winner is Kisanthi! Â Congratulations!