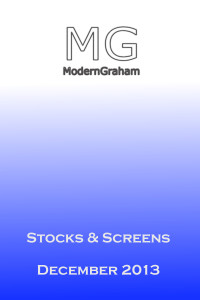 As you may or may not know, we recently developed a monthly eBook titled ModernGraham Stocks & Screens.  The first issue was introduced a couple of weeks ago, and you can still get a copy through the listing on Smashwords if you don't have one yet!
At this time, as we prepare to create the next edition to be released on Christmas Day, it would be very helpful to have some feedback. Â So, if you have a couple of minutes, please complete this survey regardless of whether you have purchased the product.
If you take the survey, be sure to provide your email address in the last question, and you will receive a 25% off coupon code after the next edition is released.
Inside ModernGraham Stocks & Screens, you will find screens for:
Undervalued Companies
Fairly Valued Companies
Overvalued Companies
Defensive Investor Companies
Enterprising Investor Companies
Speculative Companies
Lowest PEmg Ratio – Defensive Investor
Lowest PEmg Ratio – Enterprising Investor
NCAV
In addition, you can review ModernGraham's valuation of the Dow Jones Industrial Average as a whole and its individual components!
In case you missed it, here's the survey link again: Â https://www.surveymonkey.com/s/VPK5L2S
Thanks for your help in improving ModernGraham, and thank you for your continued readership!