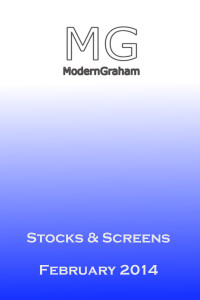 Update: Â jhs has been selected as the winner! Â Congratulations to jhs, and thanks to all who entered the contest.
The contest is now closed.
How to Enter:
To enter to win a free copy of ModernGraham Stocks & Screens, leave a comment on this post by 11:59 PM (CST) January 29, 2014.  One comment will be chosen randomly to receive a free copy of this month's edition of ModernGraham Stocks & Screens.
About ModernGraham Stocks & Screens:
Inside this monthly publication is a listing of all the companies reviewed by ModernGraham (currently 126 different companies) in a handy table with some key figures. Â It then proceeds to screen the companies regarding different topics.
Inside, you will find screens for:
Undervalued Companies
Fairly Valued Companies
Overvalued Companies
Defensive Investor Companies
Enterprising Investor Companies
Speculative Companies
Lowest PEmg Ratio – Defensive Investor
Lowest PEmg Ratio – Enterprising Investor
NCAV
Since the January 2014 issue, you will also find the following mock portfolios:
Defensive Undervalued
Enterprising Undervalued
In addition, you can review ModernGraham's valuation of the Dow Jones Industrial Average as a whole and its individual components!
As always, remember that ModernGraham makes no recommendations for investments in specific situations. Â Please consult a registered broker or investment advisor regarding your individual investment decisions.