MGBookClub: The Intelligent Investor – Introduction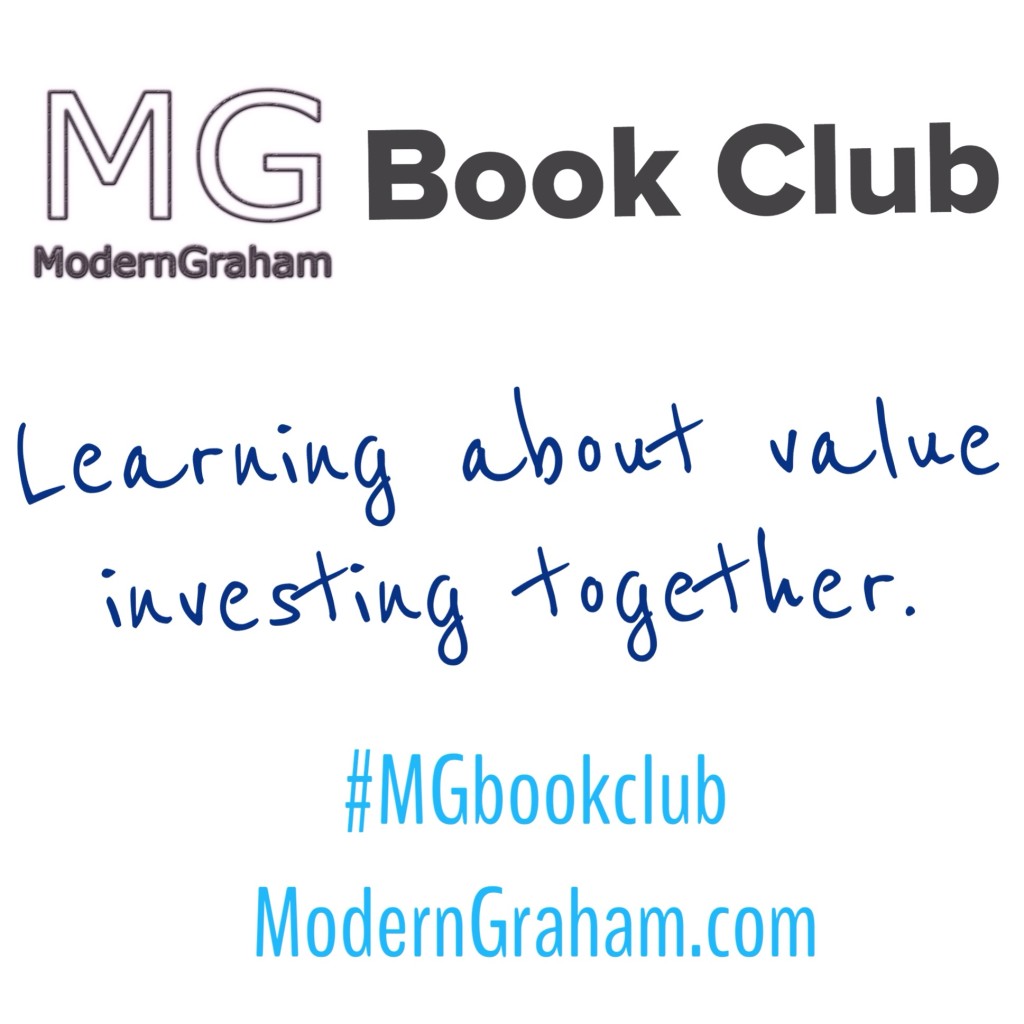 This is the first discussion of the ModernGraham Book Club's reading of The Intelligent Investor by Benjamin Graham (affiliate link).  This week we are covering the Introduction of the book.  I encourage you to purchase the book (preferably by clicking the link to Amazon, because a purchase through that link will help support the club) and join in with us as we read through a chapter each week; however, even if you don't have the book I think you will find our discussions to be very useful in your own understanding of value investing, and you can still bring a lot to the discussion from your own experiences as an investor.  Whether this is the first day you've ever been interested in investing, or you have decades of experience with the stock market, we'd love to hear your thoughts in the comments below!
For this particular book's discussion, we will also have my wife Heather giving her thoughts. Â Heather has very limited experience with investing, so she will be able to provide the thoughts of a relative beginner. Â It is planned that each post will include each of our thoughts about the chapter followed by some discussion questions. Â Please feel free to leave a comment on this post with your own responses to the questions, along with any other thoughts you have, and return throughout the next couple of days to see what others have said. Â Later in the week, I will choose my favorite comment and feature it in a post on the site, so be sure to be thorough in your discussion!
ModernGraham's Comments
Ben
I believe most of you already know my background (and if you do, feel free to skip to the next paragraph), but I was part of the Finance Honors program at DePaul University as an undergraduate student back in 2006.  One of the professors I had suggested I read The Intelligent Investor, as he believed it to be the single greatest book about investing.  He was right.  After reading it, I was so inspired by Graham's investing methods, that I sought to create this site in an effort to chronicle my own growth as an investor and to see if Graham's methods could be modernized further for today's markets.  I took some time off from the site while I attended law school, but my thoughts often came back to Intelligent Investing, and I relaunched the site in October 2013.
I think the introduction to the book is very strong, and it serves as more than a simple outline of the book. Â It begins with a key quote from George Santayana, who is famous for saying "Those who do not remember the past are condemned to repeat it." Â This brings us to one of the keys to Intelligent Investing, which is remembering the lessons of the past as we analyze our investment opportunities. Â How many times have we seen the market create a bubble, only to have it burst and cause many speculators to lose their fortunes? Â I believe the market will continue to exhibit this behavior time and time again, and we as Intelligent Investors must be careful to not find our emotions to drive us into the speculative intrigue of the market's bubble tendencies. Â As Graham said, in the past "sound investment principles generally produced generally sound results. Â We must act on the assumption that they will continue to do so." Â That remains as true today as it did in 1972.
Heather 
I'm Heather, Ben's wife. Back in 2006 Ben discussed the idea of creating a blog to write about his passion for Benjamin Graham, but couldn't decide what to name it. I recommended "Modernizing Graham", which Ben rightly changed to Modern Graham and this site was born. I'm a bit ashamed to admit that was probably the most helpful I've been, so when the site was relaunched in October I decided to find a way to take a more active role. Reading The Intelligent Investor is my first step into what I hope will be a dedicated awareness of all that Ben has accomplished with Modern Graham.
With a background in both political science and education, investing and finance have never been part of my daily routine. However, I have a love of history and a deep interest of how human behavior impacts the world around us, which is why this book really resonates with me. While I'm just starting my first read through, I'm already enthralled with Graham's attention to history and recognition of the role of emotion in financial decisions. Logic such as recommending buying stocks as we buy groceries and enthusiasm for bear markets make complete sense to me in a "why isn't everyone investing like this?" way. I can't be sure how I'll feel 514 pages from now when I reach the end of chapter 20, but for now I'm excited to learn more about investing and the rationale behind Benjamin Graham's value investing.
Discussion Questions
Please leave a comment below and feel free to answer any of these questions, or just give your general thoughts.
Please introduce yourself, giving particular emphasis on your background in investing.

What do you expect to get out of reading The Intelligent Investor? Â 

What is your motivation for reading?

Did you find anything particularly interesting in the Introduction?

Graham said that "the investor's chief problem – and even his worst enemy – is likely to be himself." Â Has this been true in your own investing experience? Â What do you think you can do to not get in your own way?

When Graham wrote the 4th Edition, the investing environment was replete with very high interest rates, which affected at least in part his general outlook on bonds versus equities. Â Today we are seeing historically low interest rates. Â How do you think Graham would react to the current market? Â Would he put a greater emphasis on equities, focusing specifically on strong dividend yields, or would he continue to advocate in general a 50-50 split between bonds and equities? Â W

hat other things do you think should be taken into consideration when investing?

Why do you think that Graham stresses that anyone can invest?

Do you consider yourself to be a Defensive Investor or an Enterprising Investor? Â (see What Kind of Investor Are You? for more information)

Zweig writes in his commentary "…foresight has no real value if most other investors are already expecting the same thing" (p. 16). In a world with instant communication and free access of information, do you think exclusive foresight is possible?
Next Week's Discussion: Chapter One
Chapter Title – Investment versus Speculation: Results to be Expected by the Intelligent Investor
When reading the next chapter, try to think about your responses to this week's discussion. Â In particular, remember where you decided you fit among Defensive Investors and Enterprising Investors. Â Think also about what has happened during the time since the book was written in 1972 (hint: if you have the newer editions with Jason Zweig's commentary, there is some discussion about the 1972-2000 markets).
What are some other ways to participate?
If you are a blogger, you can give your thoughts in a post on your own site, link to the discussion here on ModernGraham, and I will be sure to let our readers know that the conversation is going on over at your site as well.
In addition, you can use the hashtag #MGBookClub in social media to talk about the book on Twitter or Facebook!