MG Book Club – The Intelligent Investor – Chapter One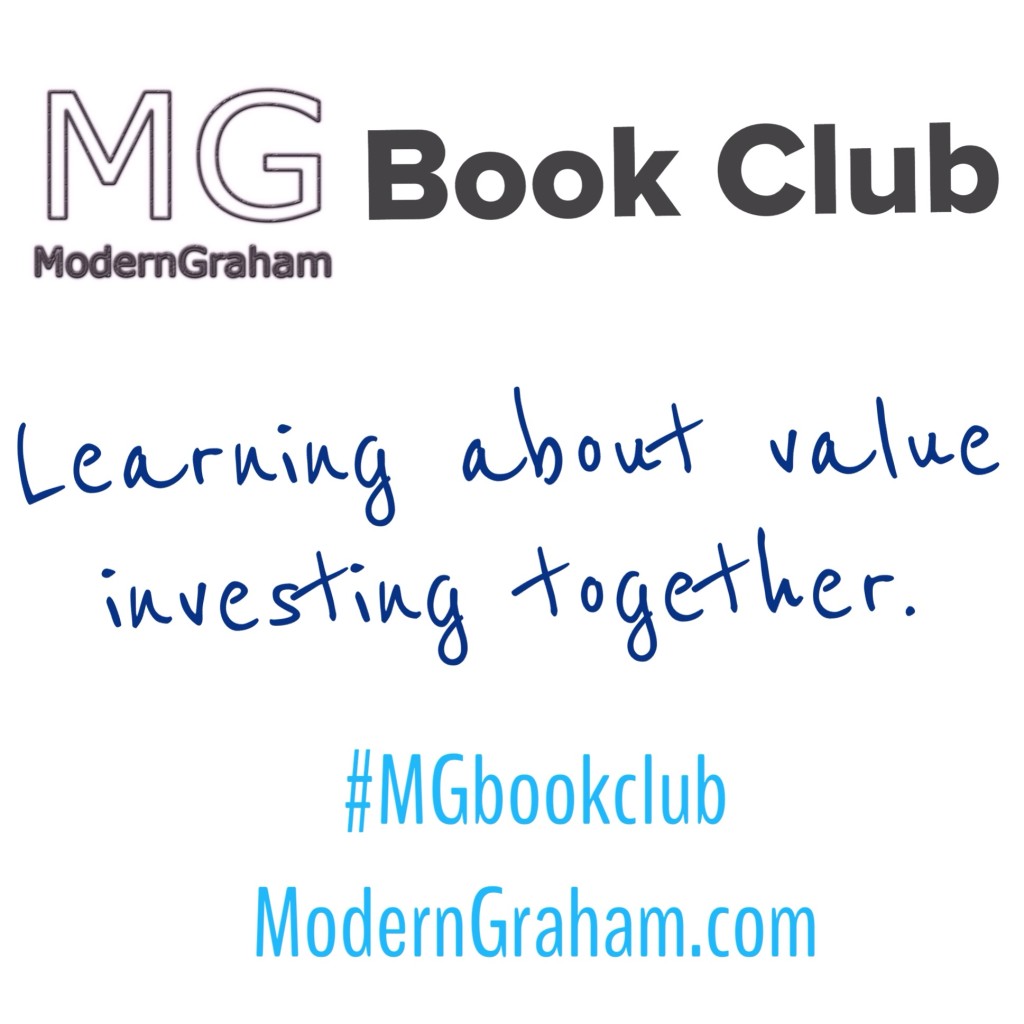 Investing Versus Speculation: Results to be Expected by the Intelligent Investor
This is the second discussion of the ModernGraham Book Club's reading of The Intelligent Investor by Benjamin Graham (affiliate link).  In last week's discussion, we talked about the Introduction of the book.  This week we will discuss the first chapter, which is entitled "Investing Versus Speculation: Results to be Expected by the Intelligent Investor."  I encourage you to purchase the book (preferably by clicking the link to Amazon, because a purchase through that link will help support the club) and join in with us as we read through a chapter each week; however, even if you don't have the book I think you will find our discussions to be very useful in your own understanding of value investing, and you can still bring a lot to the discussion from your own experiences as an investor.  Whether this is the first day you've ever been interested in investing, or you have decades of experience with the stock market, we'd love to hear your thoughts in the comments below!
In this chapter, Graham begins by defining investing as an operation which "upon thorough analysis promises safety of principal and an adequate return. Â Operations not meeting these requirements are speculative." Â On ModernGraham we've tried to keep that distinction by suggesting that companies must pass requirements for either the Defensive Investor or the Enterprising Investor as these requirements help to achieve the "promise of safety of principal and an adequate return." Â Any company that does not pass the requirements is then deemed to be speculative. Â The chapter continues with Graham explaining in some detail the results expected by (1) speculating, (2) defensive investing, and (3) aggressive investing.
Please feel free to leave a comment on this post with your own responses to the questions, along with any other thoughts you have, and return throughout the next couple of days to see what others have said. Â Later in the week, I will choose my favorite comment and feature it in a post on the site, so be sure to be thorough in your discussion!
ModernGraham's Comments
Ben
This chapter has some great parts in it, and some admittedly very dry parts. Â In particular, I found two parts of the chapter to be highly interesting: Â the section dealing with speculation and the section outlining the aggressive investor's (we refer to the aggressive investor as an Enterprising Investor; Graham tends to use the terms interchangeably) expectations. Â When we begin investing it is critical to understand the results that one can expect; it is not likely that the investor will find riches easily and quickly in the stock market. Â Rather, the investor who finds success will be the one that puts in the time to study his opportunities to determine whether they fit Graham's requirements of safety of principal and adequate return.
This chapter was replete with some key quotes, including the following:
"An Investment operation is one which, upon thorough analysis promises safety of principal and an adequate return. Â Operations not meeting these requirements are speculative."

"In the easy language of Wall Street, everyone who buys or sells a security has become an investor, regardless of what he buys, or for what purpose, or at what price, or whether for cash or on margin."

"In most periods the investor must recognize the existence of a speculative factor in his common-stock holdings."

"There is intelligent speculation as there is intelligent investing. Â But there are many ways in which speculation may be unintelligent. Â Of these the foremost are: (1) speculating when you think you are investing; (2) speculating seriously instead of as a pastime, when you lack proper knowledge and skill for it; and (3) risking more money in speculation than you can afford to lose."

"In our conservative view every nonprofessional who operates on margin should recognize that he is ipso facto speculating, and it is his broker's duty so to advise him."

"Everyone who buys a so-called 'hot' common-stock issue, or makes a purchase in any way similar thereto, is either speculating or gambling."

"The defensive investor must confine himself to the shares of important companies with a long record of profitable operations and in strong financial condition."

"Our enterprising security buyer, of course, will desire and expect to attain better overall results than his defensive or passive companion. Â But first he must make sure that his results will not be worse."

"The investor who selects issues chiefly on the basis of last year's superior results, or on what he is told he may expect for next year, is likely to find that others have done the same thing for the same reason."

"To enjoy a reasonable chance for continued better than average results, the investor must follow policies which are (1) inherently sound and promising, and (2) not popular on Wall Street."

"Buying a neglected and therefore undervalued issue for profit generally proves a protracted and patience-trying experience."
Heather 
In this chapter Graham does a nice job of setting up his later argument of why intelligent investing is the preferable method through illustrating why alternative approaches are unsuccessful. I was particularly thankful, however, for the commentary by Zweig as I got a bit lost in the numbers Graham included in his narrative. Zweig's additional thoughts helped to put Graham's message into today's context and I really enjoyed some of his additional insights. Particularly, his quote on page 36 that "Wall Street has calibrated the odds so that the house always prevails…". For me, this highlights why it is important for us as individuals to do our own research on stocks and not rely solely on the opinions of others (this blog included). I am also fascinated by the Figure 1.1 as I was unaware of how short the length of ownership on many of these stocks was and I'm curious to know what the current trend would be. In a culture of instant gratification I imagine that if anything, the timeframe has gotten shorter. This, coupled with the problem of investing based on emotion that Graham noted in the first chapter is bound to frequently result in loss for many.
Discussion Questions
Please leave a comment below and feel free to answer any of these questions, or just give your general thoughts.
How can we summarize Graham's definition of the difference between a speculator and investor?

Graham mentions on page 19 that in the 1940s most people would consider stocks too speculative. How do you think the average person feels about stocks today? How should an intelligent investor feel about stocks?

Graham states that some amount of speculation is necessary. What amount of speculation do you feel comfortable with?

What was your favorite quote from Graham in this chapter?
Have you ever speculated? Â If so, what were your results?
Despite continued examples of the success of those who follow Graham's methods, they remain unpopular on Wall Street. Â Why do you think that is?
In his commentary to this chapter (found in the newer published edition), Jason Zweig pointed out in the "investing" craze that happened during the late 1990s, and how many people did not follow Graham's suggested requirements for investing. Â How do you think the principles Graham taught in this chapter would apply to the market today?
Next Week's Discussion: Chapter Two
Chapter Title – The Investor and Inflation
When reading the next chapter, try to think about your responses to this week's discussion. Â In particular, consider how inflation affects Graham's suggestion that our investments must "promise of safety of principal and an adequate return."
What are some other ways to participate?
If you are a blogger, you can give your thoughts in a post on your own site, link to the discussion here on ModernGraham, and I will be sure to let our readers know that the conversation is going on over at your site as well.
In addition, you can use the hashtag #MGBookClub in social media to talk about the book on Twitter or Facebook!