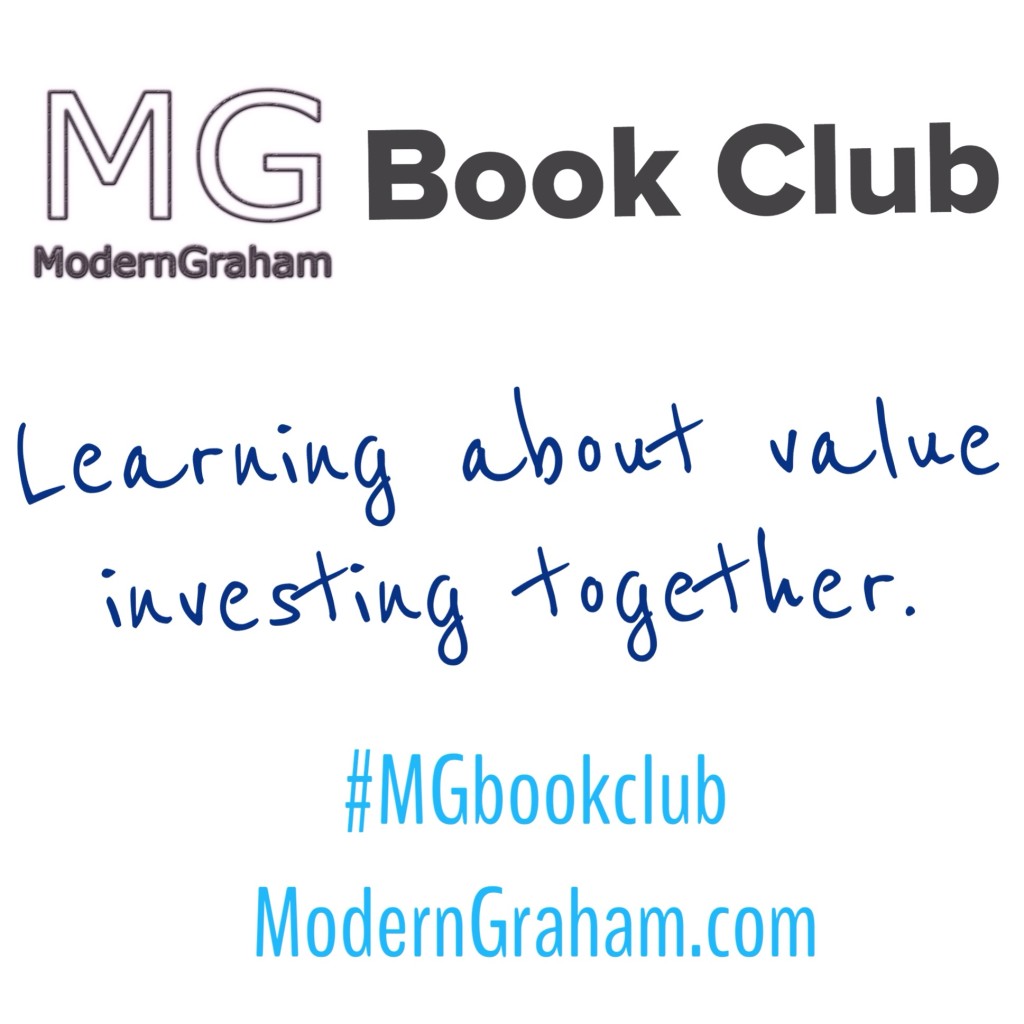 General Portolio Policy: The Defensive Investor
This is the fourth discussion of the ModernGraham Book Club's reading of The Intelligent Investor by Benjamin Graham (affiliate link).  In last week's discussion, we discussed the third chapter, which reviewed the history of the stock market until 1972 and we had a discussion regarding the general macroeconomic environment.  This week we will discuss the fourth chapter, which is titled "General Portfolio Policy: The Defensive Investor."  I encourage you to purchase the book (preferably by clicking the link to Amazon, because a purchase through that link will help support the club) and join in with us as we read through a chapter each week; however, even if you don't have the book I think you will find our discussions to be very useful in your own understanding of value investing, and you can still bring a lot to the discussion from your own experiences as an investor.  Whether this is the first day you've ever been interested in investing, or you have decades of experience with the stock market, we'd love to hear your thoughts in the comments below!
In this chapter, Graham outlined the general allocation of the Defensive Investor's portfolio, paying particular attention to the division between equities and bonds. Â Graham recommended Defensive Investors maintain a 50-50 allocation between the two, utilizing the formula approach to investing by reallocating the portfolio to that percentage periodically as the market values either bonds or equities over the other. Â Graham went on to give an overview of some various types of bonds that are available for investment, giving some general comments to their applicability to a Defensive Investor's portfolio.
Please feel free to leave a comment on this post with your own responses to the questions, along with any other thoughts you have, and return throughout the next couple of days to see what others have said. If you find something that has been said by another commentator interesting, feel free to respond to them with another comment.  We've had some great discussions the last few weeks, so keep it up!
ModernGraham's Comments
Ben
This chapter has some great insights into the general bond market and how bonds can contribute in a significant way to a Defensive Investor's portfolio. Â Since the Defensive Investor is defined as a passive investor who is not willing to spend a great deal of time researching his or her investments, it makes a lot of sense for the Defensive Investor to utilize the formula approach and maintain a 50-50 split between bonds and equities. Â However, Graham's simple formula has a twist in that if the investor determines that the market seems to be overpricing one asset (bonds or equities as a whole), the 50-50 split may not make sense. Â Additionally, the investor's individual situation may call for a greater percentage of one over the other. Â As a result, the reader is left without a specific recommendation, but I think the gist is strong: Â The Defensive Investor should pick a percentage based on his situation and market environment, and stick with it through periodic rebalancing until either the situation or the market environment changes. Â The hard part is deciding the allocation percentage.
Heather 
I really appreciate Graham's analysis of the 50-50 stock v. bond model. By putting it into perspective as a value investor, Graham makes it pretty clear that your willingness to invest in stocks should be directly connected to your willingness to do quality research and thus derives his 25%, 75% model. While we have already discussed in comments on previous posts that many people have sold all of their bonds in recent years, not everyone is willing to do the research required to be able to make that step. Additionally, Graham points out that the decisions we make should be based on our own personal feelings as he notes numerous times that the investor's decision will rely on their own feelings about the stock market. I am both encouraged and frustrated by this approach. On the one hand, where Ben and I are at in our financial standing is extremely different than the thousands of other people our own age and I appreciate Graham's affirmation that we should be making the choices that are best for us. On the other hand, his countless reminders of doing what makes the most sense for us, leaves me feeling unsure about exactly what our division between stocks and bonds should be. For years I've gone by the 110 minus my age approach; however, I'm realizing now that might be able to incur far less risk than I originally assumed. Especially when taking into consideration that questions that Zweig asks on pages 103-104 of the commentary. In the end, as with every chapter so far, I'm left to do more research on my own. A thought that is both extremely exciting and a bit terrifying.
Discussion Questions
Please leave a comment below and feel free to answer any of these questions, or just give your general thoughts.
What quote from this chapter do you think best summarizes the point Graham is making?
What is your portfolio's allocation between stocks and bonds right now?
What methods have you used for determining your allocation between stocks and bonds?
Graham explains several types of bonds, which bond do you prefer and why?
If you have the newer edition with Jason Zweig's commentary, Zweig departs from Graham's advice to never have more than 75% of your investments in stocks and instead states that some investors may be well served by having 100% in stocks (see the box on page 105). Â What do you think of this idea?
What did you think of the chapter overall?
Next Week's Discussion: Chapter Five
Chapter Title – The Defensive Investor and Common Stocks
When reading the next chapter, try to think about how the concepts Graham presents in the chapter could apply to your own investments, whether you consider yourself a Defensive Investor or an Enterprising Investor.
What are some other ways to participate?
If you are a blogger, you can give your thoughts in a post on your own site, link to the discussion here on ModernGraham, and I will be sure to let our readers know that the conversation is going on over at your site as well.
In addition, you can use the hashtag #MGBookClub in social media to talk about the book on Twitter or Facebook!