The Defensive Investor and Common Stocks (MG Book Club Chapter Five)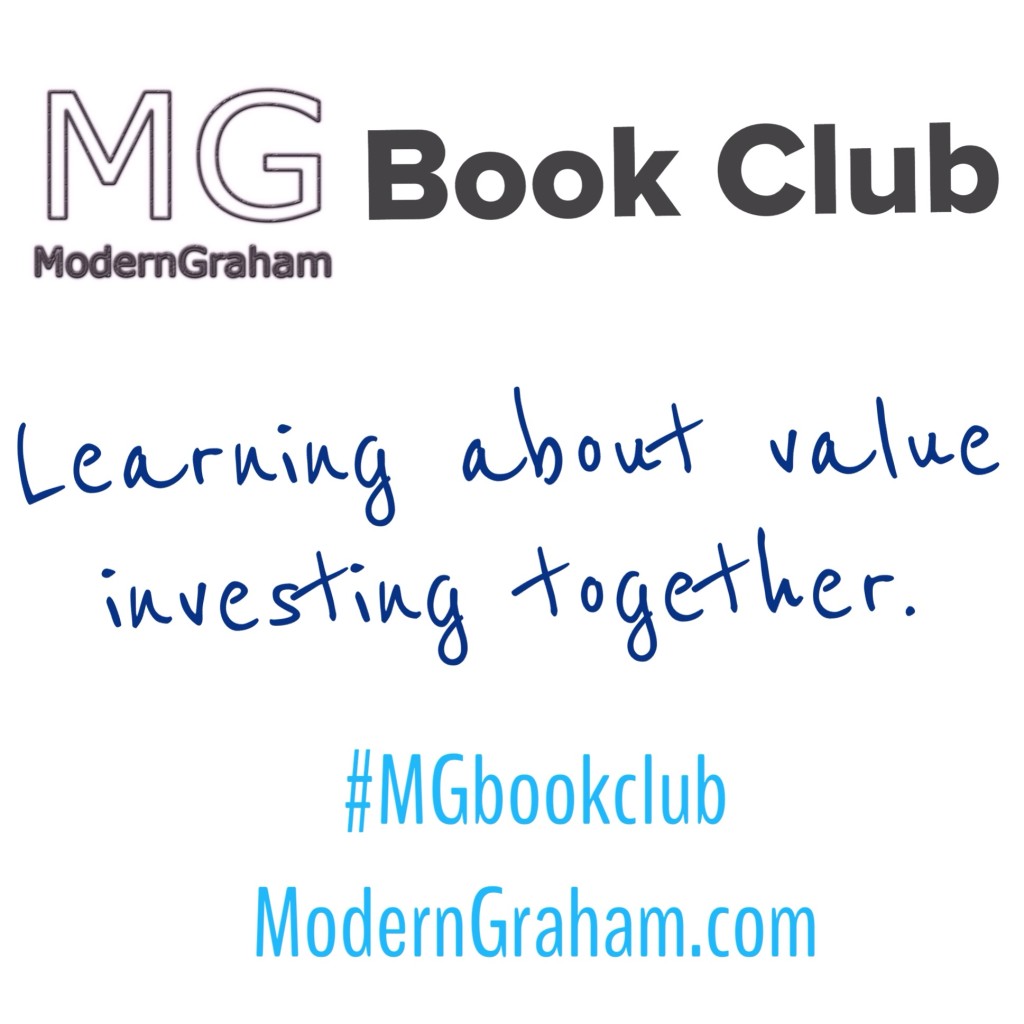 The Defensive Investor and Common Stocks
This is the fifth discussion of the ModernGraham Book Club's reading of The Intelligent Investor by Benjamin Graham (affiliate link).  In last week's discussion, we discussed the fourth chapter, which outlined the general allocation of the Defensive Investor's portfolio, paying particular attention to the division between equities and bonds.  This week we will discuss the fifth chapter, which is titled "The Defensive Investor and Common Stocks"  I encourage you to purchase the book (preferably by clicking the link to Amazon, because a purchase through that link will help support the club) and join in with us as we read through a chapter each week; however, even if you don't have the book I think you will find our discussions to be very useful in your own understanding of value investing, and you can still bring a lot to the discussion from your own experiences as an investor.  Whether this is the first day you've ever been interested in investing, or you have decades of experience with the stock market, we'd love to hear your thoughts in the comments below!
In this chapter, Graham outlines four basic rules for Defensive Investors to follow, keeping in mind the Defensive Investor is one who is not willing to spend much time on analyzing investment opportunities. Â He then goes on to elaborate on the reasons behind the rules and some basic investing strategies for the Defensive Investor. Â The rules are as follows:
There should be adequate though not excessive diversification. Â This might mean a minimum of ten different issues and a maximum of about thirty.
Each company selected should be large, prominent, and conservatively financed. Â Indefinite as these adjectives must be, their general sense is clear.
Each company should have a long record of continuous dividend payments.
The investor should impose some limit on the price he will pay for an issue in relation to its average earnings over, say, the past seven years. Â We suggest that this limit be set at 25 times such average earnings, and not more than 20 times those of the last twelve-month period.
Please feel free to leave a comment on this post with your own responses to the questions, along with any other thoughts you have, and return throughout the next couple of days to see what others have said. If you find something that has been said by another commentator interesting, feel free to respond to them with another comment.  We've had some great discussions the last few weeks, so keep it up!
ModernGraham's Comments
Ben
I think this chapter outlines some of the most important requirements for the Defensive Investor. Â In later chapters, Graham provides the specific requirements for the investor types, but here he provides the initial suggestions. Â It is very interesting to note a couple of things about his requirement of diversification. Â First, he wrote this years before "modern portfolio theory" and the Capital Asset Pricing Model were developed, which are the basis today behind the notion of diversifying in order to minimize risk. Â Second, though he suggested a minimum, he also suggested a maximum number of stocks to be held in a portfolio. Â One other key concept I note from the four rules is the requirement of a maximum P/E multiple. Â Graham specifically suggests requiring a company trade at below 25 times the average earnings over the last seven years, or at below 20 times the past year average.
After discussing the basic rules for Defensive Investors, Graham suggests the Defensive Investor re-analyze all investments on at least an annual basis to determine if they still meet the requirements. Â This is key also, because on occasion, a company's financial position may change and it may become less attractive or less stable. Â At that time, it may be important for the Defensive Investor to move his funds to another opportunity. Â However, Graham suggests that if the Defensive Investor has followed the rules to begin with, there should not be any "need for frequent or numerous changes."
Heather 
Chapter five follows a similar formula to chapter four's discussion on bonds, expounding on the important aspects of stock purchasing. In this chapter, Graham lays out the four step process to stock buying, that should feel very familiar to ModernGraham readers as it is the basis for our analysis.  I value Graham's time spent of the psychology of investing this chapter as it was yet again a helpful reminder that investing is not isolated from the rest of our life. The risk we take in buying stock needs to be carefully weighed with the risks that we are willing to take as well as the amount of time that we are willing to spend researching the company.
In Zweig's commentary, he brings up the point of "buy what you know" and how this is often where people begin and end. I see this all too often with people that I know, such as a relative who bought Facebook stock immediately after its initial offering because he knew of the popularity. We see it with ModernGraham as well, when posts about companies like Amazon bring in thousands of page hits, and lesser known (and often better companies) barely register with readers. Zweig counters this statement by reminding us that the closer we are to something, the harder it is to see the truth. For companies such as Facebook, Twitter, and Apple, which have a daily presence in our lives, it is easy to get lost in the popularity and forget that presence does not equal profit.
Last, Graham's explanation of Dollar-Cost Averaging resonated with me immensely. In Ben and my marriage we have found the best way to handle our finances is if I budget for the monthly spending and Ben address all long term planning. For years he's been asking me to budget for a monthly addition to our investments and I've never managed to get around to doing so. It isn't that investing isn't important to me, rather I never realized how important it is to make additions part of your monthly routine and not just haphazardly when the timing feels right. After reading this chapter, I'm completely sold on adding money to our investments monthly. As I type this, Ben is on his computer making the arrangements to have our investment account automatically withdrawal from our checking account every month. Perhaps I should have read Chapter 5 sooner.
Discussion Questions
Please leave a comment below and feel free to answer any of these questions, or just give your general thoughts.
What quote from this chapter do you think best summarizes the point Graham is making?
What do you think of Graham's general rules for Defensive Investors?
How many companies do you have in your portfolio today?
How can we balance "buying what we know" with the neutrality that is needed for proper research?
Do any of you experience differences of opinion with your partner about investing? How do you handle those situations?
What did you think of the chapter overall?
Next Week's Discussion: Chapter Six
Chapter Title – Portfolio Policy for the Enterprising Investor: Negative Approach
When reading the next chapter, try to think about how the concepts Graham presents in the chapter could apply to your own investments, whether you consider yourself a Defensive Investor or an Enterprising Investor.
What are some other ways to participate?
If you are a blogger, you can give your thoughts in a post on your own site, link to the discussion here on ModernGraham, and I will be sure to let our readers know that the conversation is going on over at your site as well.
In addition, you can use the hashtag #MGBookClub in social media to talk about the book on Twitter or Facebook!