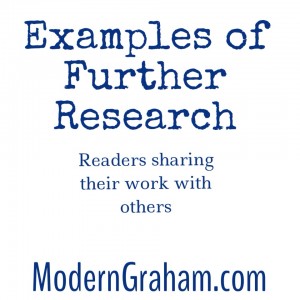 This is a guest post by Kate Schrank, Founder and CEO of Sustainability Partners, Inc. (SPI), Lawyer | Strategist | ESG Analyst | Business Value Focused Sustainability Specialist , and is an example of additional research she completes after a company passes the ModernGraham requirements. Â 
So now that Whole Foods survived ModernGraham's financial analysis, are you ready to invest?  Would you be better informed if you knew how well Whole Foods manages its internal operations, its people and community relations, and corporate governance?
A growing number of investors are examining a public company's environmental, social, and governance (ESG) performance data to raise intelligent questions and make to more informed investment and business decisions. ESG data is typically disclosed through a company's annual sustainability report. Companies are voluntarily disclosing ESG data because stakeholders, especially the capital markets, value the data as a proxy for efficient operations, responsible people and community relations, and ethical governance.
Analysis of Whole Foods ESG Performance  
This chart below compares 5 top food retailer brands ESG performance in 9 categories valued by the capital markets. The first column provides an aggregate ESG score for each company, with an ESG = 0 indicating no ESG disclosure, and an ESG = 100 indicating full disclosure.  "[N]/a" means the information isnot available. Whole Food's low ESG score and absence of data indicates that Whole Foods is the least accountable and transparent of the top food retailer brands when it comes to ESG disclosure on basic measurements important to the capital markets and other stakeholders.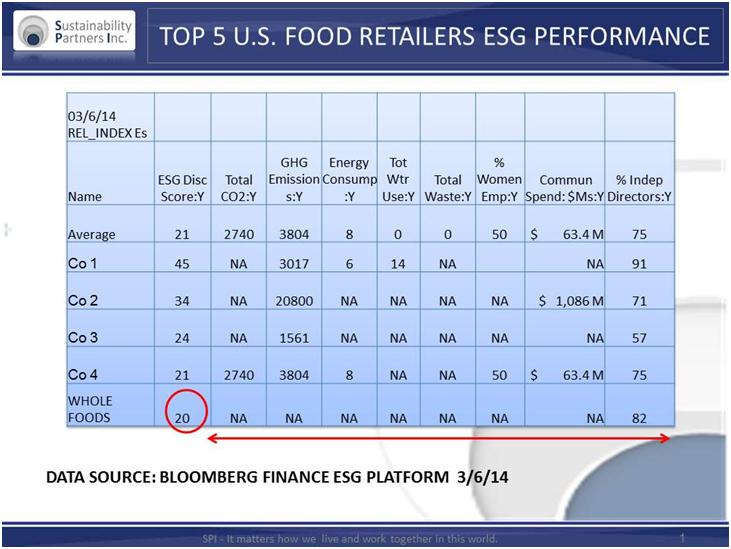 What makes me uncomfortable with Whole Foods is that the company boldly declares its mission is to lead food retailers in best practices, yet it is out of step with best practices for ESG disclosures to the capital markets. Bottom line is it appears that Whole Foods is choosing not to disclose basic ESG performance information. What questions does that raise for you as an investor?
Lesson
Public companies (and the private companies who do business with them) need to recognize that best practices for sustainability disclosures include standard ESG aggregate data like what is presented above. Companies that do not disclose this data risk being eliminated in a competitive situation because of the appearance of risk and lack of transparency and accountability. ESG analysis can go much deeper than 9 categories shown in the chart. Â For a more detailed explanation of ESG data as a game-changer, read this white paper.
Where does this data come from?
Since 2009, Bloomberg Finance has uploaded public company ESG data to its financial service platform. Corporate ESG data is typically released through annual corporate sustainability reports.  Bloomberg Finance dashboards now contain public corporate financial and ESG performance data, and this information is available to subscribers via nearly 400,000 Bloomberg terminals installed in investment and financial institutions throughout the world, including Fortune 500 CFO offices, academic settings, and public libraries.  Anyone with access to these terminals has access to the information.
About SPI

SPI helps companies of all sizes integrate ESG research findings with company perspectives and strategies, using a tri-level materiality analysis. Often, this process serves as the foundation for a company's sustainability strategy. Our experience is that this approach delivers efficient, practical and executable strategies that deliver business value to primary stakeholders, especially the capital markets.
Disclaimer:Â  The author has never held a position in WFM and has no intention of changing that position within the next 72 hours. Â The views of the author of this post may not reflect the views of ModernGraham or any of its contributors.