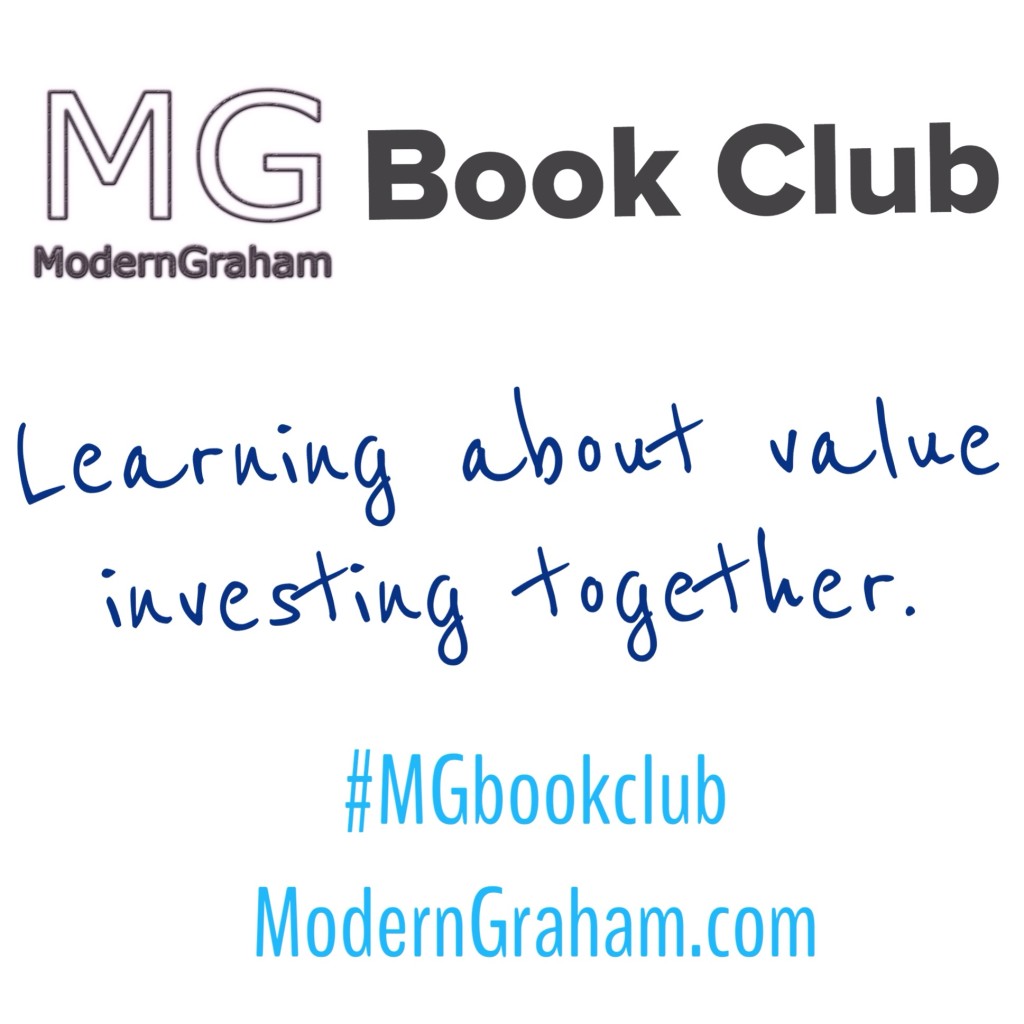 Portfolio Policy for the Enterprising Investor: Negative Approach
This is the sixth discussion of the ModernGraham Book Club's reading of The Intelligent Investor by Benjamin Graham (affiliate link).  In last week's discussion, we discussed the fifth chapter, which outlined four basic rules for Defensive Investors to follow, keeping in mind the Defensive Investor is one who is not willing to spend much time on analyzing investment opportunities.  This week we will discuss the sixth chapter, which is titled "Portfolio Policy for the Enterprising Investor: Negative Approach."  I encourage you to purchase the book (preferably by clicking the link to Amazon, because a purchase through that link will help support the club) and join in with us as we read through a chapter each week; however, even if you don't have the book I think you will find our discussions to be very useful in your own understanding of value investing, and you can still bring a lot to the discussion from your own experiences as an investor.  Whether this is the first day you've ever been interested in investing, or you have decades of experience with the stock market, we'd love to hear your thoughts in the comments below!
In this chapter, Graham makes some suggestions on bonds which Enterprising Investors should avoid, including high-grade preferred stocks, inferior types of bonds and preferred stocks, foreign-government bond issues, and new issues. Â He then elaborates on some of the reasons behind avoiding these types of bonds.
Please feel free to leave a comment on this post with your own responses to the questions, along with any other thoughts you have, and return throughout the next couple of days to see what others have said. If you find something that has been said by another commentator interesting, feel free to respond to them with another comment.  We've had some great discussions the last few weeks, so keep it up!
ModernGraham's Comments
Ben
This chapter begins introducing some detail into the Enterprising Investor's portfolio, but it does so by eliminating some possible investments from contention. Â I agree solidly with Graham on a number of points here, but only on the individual level. Â That is, I do not think the Enterprising Investor should invest in an individual preferred stock, inferior bond, foreign bond, or new issue; however, some limited investments may be worthwhile if they are done in a group. Â For example, in 2009 I purchased HYG, a high-yield bond fund managed by iShares. Â At the time, the trading price of this exchange-traded fund (ETF) was around $70 and the yield was around 10%. Â I looked at the fund and decided that since there were around 55 bond holdings involved, the chances of all of them defaulting was rather low. Â On the other hand, the chance that the fund would return to a trading range of around $90 or $100 seemed higher, and in the meantime, the investment would yield 10%. Â It has turned out well, as the fund is currently trading above $94 and is still yielding nearly 6%. Â Some instances like that may be available in the areas of foreign bonds as well, and it is important to remember that Graham lived in a time when some of the tools available to the individual investor today did not exist. Â That said, it is still very important to analyze each opportunity in detail to determine if the risk level and the price make sense; do not blindly invest in a fund simply because it is a fund rather than an individual issue. Â Rather, invest in the fund when it is extremely clear that it is undervalued.
Heather 
I had a hard time wading through this chapter and at a few points I considered eschewing it all together. That said, I did find this chapter helpful in that it gave greater insight into the pitfalls to avoid when investing. When Twitter had their IPO a few months back, there was quite a bit of discussion among financial journalists as to the asking price, leading to speculation that it would "pop" on its first day. (See this article for an example). Unfortunately for the majority of Americans, this 73% rise in shares was unattainable as only insiders were given the opportunity to purchase at the original price. Zweig notes something similar when he discusses how buying IPOs from 1960-2001 would lead the investor to be worth 533 decillion (that's 33 zeros!). The reality, Zweig notes, is that during that time period very few would actually have been in a position to be allowed to invest in the IPO at the starting price. This means that a handful of investors are making money by selling their stock to the rest of us at a much higher price, at times beyond what the company is worth.
Graham also warns about second-rate bonds by stressing that the return rate on these bonds is higher because they are not as secure of an investment, so while you have the possibility of a high return, nothing is guaranteed. Reminding us yet again that we need to do research rather than just handing over our money at the prospect of a good deal.
Discussion Questions
Please leave a comment below and feel free to answer any of these questions, or just give your general thoughts.
What quote from this chapter do you think best summarizes the point Graham is making?
What do you think of Graham's suggestions that Enterprising Investors avoid these types of investments?
Have you invested in any such opportunities?
How can we balance avoiding the risk inherent in these opportunities with the potential return they present?
What other types of investments do you think should be added to the "Do not touch" list?

What did you think of the chapter overall?
Next Week's Discussion: Chapter Seven
Chapter Title – Portfolio Policy for the Enterprising Investor: Â The Positive Side
When reading the next chapter, try to think about how the concepts Graham presents in the chapter could apply to your own investments, whether you consider yourself a Defensive Investor or an Enterprising Investor.
What are some other ways to participate?
If you are a blogger, you can give your thoughts in a post on your own site, link to the discussion here on ModernGraham, and I will be sure to let our readers know that the conversation is going on over at your site as well.
In addition, you can use the hashtag #MGBookClub in social media to talk about the book on Twitter or Facebook!