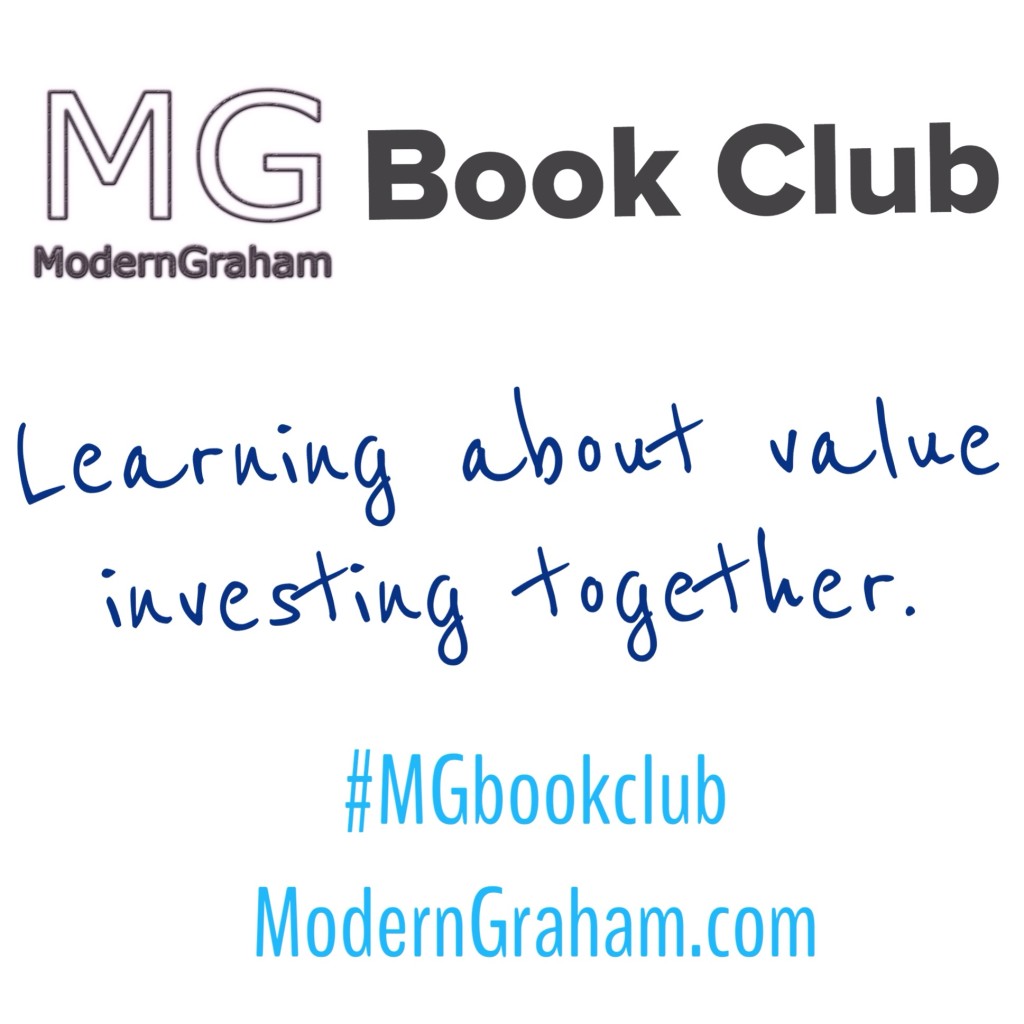 Portfolio Policy for the Enterprising Investor: The Positive Side
This is the seventh discussion of the ModernGraham Book Club's reading of The Intelligent Investor by Benjamin Graham (affiliate link).  In last week's discussion, we discussed the sixth chapter, which makes some suggestions on bonds which Enterprising Investors should avoid, including high-grade preferred stocks, inferior types of bonds and preferred stocks, foreign-government bond issues, and new issues.  This week we will discuss the seventh chapter, which is titled "Portfolio Policy for the Enterprising Investor: The Positive Side."  I encourage you to purchase the book (preferably by clicking the link to Amazon, because a purchase through that link will help support the club) and join in with us as we read through a chapter each week; however, even if you don't have the book I think you will find our discussions to be very useful in your own understanding of value investing, and you can still bring a lot to the discussion from your own experiences as an investor.  Whether this is the first day you've ever been interested in investing, or you have decades of experience with the stock market, we'd love to hear your thoughts in the comments below!
Please feel free to leave a comment on this post with your own responses to the questions, along with any other thoughts you have, and return throughout the next couple of days to see what others have said. If you find something that has been said by another commentator interesting, feel free to respond to them with another comment.  We've had some great discussions the last few weeks, so keep it up!
ModernGraham's Comments
Ben
There are some great things to be pulled from this chapter, and it is a particularly useful section for any investor who considers himself an Enterprising Investor. Â Graham specifies four activities specially characteristic of the Enterprising Investor, including:
Buying in low markets and selling in high markets
Buying carefully chosen "growth stocks"
Buying bargain issues of various types
Buying into "special situations"
Graham delves a little bit into each activity, giving particular attention to the growth stock approach and buying bargain issues of various types. Â It seems that Graham believed the other two activities, market timing and seeking arbitrage opportunities, do not present the same prospect of success going forward as they had in the past. Â I think he was right on point here, as time and time again it has been proven that it is not possible to consistently time the market to buy exactly at the lows and sell exactly at the highs. Â Similarly, with the advent of the computer age, the profit margin attainable from any true arbitrage situation is almost immediately eaten up by proprietary trading firms that have computer algorithms established for detecting arbitrages as soon as possible. Â As a result, the Enterprising Investor is left to pursue profit through Graham's other suggested activities, that of finding the right growth stocks and buying bargain issues.
Graham explains that the Enterprising Investor must be very careful with growth stocks, as it is usually the case that a company that exhibits strong growth will be overpriced by the market due to the market's tendency to allow emotion to come into play and the assumption that growth will continue at extremely high rates. Â However, the Enterprising Investor's approach to growth stocks must be limited to finding companies that have achieved a rate of growth in the past that is strong but which is not reflected by the market's price. Â In other words, these companies have shown growth that significantly exceeds the rate at which the market is implying will continue. Â If the Enterprising Investor can find such companies and buy them at prices low enough to allow for the chance that the company does not achieve the same level of growth, then opportunities for profit exist. Â Graham further suggests that one very strong possibility may be found in very large companies that are relatively unpopular in the market. Â One example of such a company today may be Intel Corporation. Â As shown in ModernGraham's most recent valuation of Intel Corp (INTC), the company has shown growth in the past that is not reflected by the market. Â It seems that the company has dropped out of favor of the market, and in fact I often find comments on Seeking Alpha indicating investor's beliefs that the company will somehow lose its profits because they have "missed the mobile movement." Â Even if that is true, Intel is large enough to rebound from missing one trend in the market and one can expect the company to find new platforms in the future.
Heather 
This chapter was a bit easier of a read in comparison to the last one. (Probably, in part, because it discussed the positive rather than the negative.) As always, Graham focuses on the importance of research before buying stocks. However, he makes sure to clarify on page 156 that unlike stocks, which can be thoroughly researched, the fluctuations in the market cannot be so easily predicted. For me, this is another reminder of why it is important to hold stocks long term as buying and selling in hopes to take advantage of fluctuations is incredibly difficult.
I was surprised though at Graham's recommendation that a bargain common stock can be detected by estimating the future earnings on page 166. Thus far in the book he has spent so much time building up the concept of good research and why value investors should be buying stocks with solid records that it felt out of place for him to recommend that we consider future earnings with a valuation. At first, I thought that he was putting this idea out there to later explain why it wouldn't work, but he followed up the recommendation on the following page as well. I'm hoping that this is a concept that Graham returns to later in the book as I have a dozen new questions about predicting future conditions as Graham has so well proven that the future is unknown.
Last, in Zweig's commentary he uses the example of 1989 Japan for why investors need to be looking outside of their own country. His argument is solid, which led me to consider why some are unwilling to invest in foreign companies. When looking at the stocks that seem to hold the interest of the media and casual investors, lack of foreign investments might come down to lack of familiarity. Some might feel comfortable purchasing a stock because they already know the company, those unwilling to do additional research might not have any basis on which to make decisions on foreign investments.
Discussion Questions
Please leave a comment below and feel free to answer any of these questions, or just give your general thoughts.
What quote from this chapter do you think best summarizes the point Graham is making?
What do you think of Graham's suggestions of activities for Enterprising Investors?
Have you limited yourself to these activities in your investments?
Do you think it is ever possible to time the market or profit from arbitrages?
How do you decide which growth companies will continue to perform well?
What did you think of the chapter overall?
Next Week's Discussion: Chapter Eight
Chapter Title – The Investor and Market Fluctuations
When reading the next chapter, try to think about how the concepts Graham presents in the chapter could apply to your own investments, whether you consider yourself a Defensive Investor or an Enterprising Investor.
What are some other ways to participate?
If you are a blogger, you can give your thoughts in a post on your own site, link to the discussion here on ModernGraham, and I will be sure to let our readers know that the conversation is going on over at your site as well.
In addition, you can use the hashtag #MGBookClub in social media to talk about the book on Twitter or Facebook!