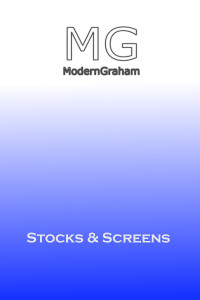 The next edition of ModernGraham Stocks & Screens is now available for premium subscribers!  Inside this monthly publication is a listing of all the companies reviewed by ModernGraham (currently 257 different companies) in a handy table with some key figures, and now including dividend yield information.  It then proceeds to screen the companies regarding different topics.  This is a great tool for your research into value investing opportunities.
Inside, you will find screens for:
Undervalued Companies
Fairly Valued Companies
Overvalued Companies
Defensive Investor Companies
Enterprising Investor Companies
Speculative Companies
Lowest PEmg Ratio – Defensive Investor
Lowest PEmg Ratio – Enterprising Investor
Companies Trading Closest to NCAVÂ 

Companies Trading Close to 52 Week High
Companies Trading Close to 52 Week Low
Companies With the Highest Beta
Companies With the Lowest Beta 
Undervalued Companies with a High Dividend Yield — New this month!
You will also find the following mock porfolios:
Defensive Undervalued
Enterprising Undervalued
In addition, you can review ModernGraham's Glance at the Dow, a valuation of the Dow Jones Industrial Average as a whole and its individual components!
Gain Access to the Issues:
To gain access to the issues of ModernGraham Stocks & Screens, you must become a premium subscriber. Â A subscription is only $4.99/month, and you get access to the current issue as well as all previous issues. Â To become a subscriber, follow these steps:
Register through this page, following the directions to pay. Â Acceptable payment options are Visa, Mastercard, American Express, Discover, Paypal, and more.
Once your payment is complete, visit the Subscriber Content page to access the issues.
When you return later, you can login to your account here.
Issues Included in a Subscription: Â 

May 2014 (includes 257 companies)
April 2014 (includes 217 companies)
March 2014 (includes 184 companies) (free when you sign up for daily email updates)
February 2014 (126 companies)
January 2014 (76 companies)
December 2013 (36 companies)
Finally, please leave a review or a comment with suggestions for improvements. Â I want this product to be a valuable tool for your enjoyment!*
*As always, ModernGraham makes no recommendations for investments in specific situations. Â Please consult a registered broker or investment advisor regarding your individual investment decisions.