Throwback Thursday – One Share Challenge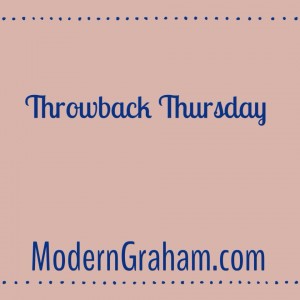 While popular culture often portrays the stock market as filled with extremely wealthy people who have millions to throw around, the reality is that anyone can make money in the stock market. For this week's Throwback Thursday, I thought I'd take a look at what just ONE little share could have done for you over the past 20 years.
This post was inspired by my grandparents who bought me a single share of The Walt Disney Company in the early 1990s as a present. I think they thought they could inspire a life-long love of investing by showing me that there were other ways to be engaged in things that I already liked. I mean, why go to Disney World when you can OWN Disney? Of course, in all honestly, I just really liked the fact that the stock certificate had all my favorite characters printed on it. Regardless of why the stock intrigued me at the time, my one share did get me interested in stock ownership and I can't thank my grandparents enough for that.
Beyond the emotional attachments to my share, I wanted to know how good of an investment it was. I decided to analyze the stock on the basis of long term investment, short term investment, dividend payout, and the cost of buying and selling one share.
Long term, this stock has done extremely well. Over a 20 year period Disney stock rose from $14.50 per share in April 1994 to $78.23 in April 2014. This is a growth rate of 440%, with much of that growth occurring in the last 10 years. While multiple shares certainly would have yielded more, my $68.73 gain is much more than $14.50 would be today if it had been sitting for 20 years in a bank.
Short term is tricky and it makes me glad that I am a value investor. Throughout this time period The Walt Disney Company had significant gains as well as losses. The largest gain was from 2009-10 when shares went from $19.74 to $36.32, a gain of 84%. However, preceding this gain, was a loss of 56% when shares went from $41.63 in 2000 to $18.16 in 2003. As we have been discussing in the MG Book Club, emotional selling is something that you want to avoid. By holding onto my share during this time, I have more than made up for this loss.
From 1994-2014, dividends totaled $7.29, which is just shy of half the purchase price. This makes the one share an even better value and is a great illustration of why the Modern Graham method includes dividends in our analysis.
Shares in The Walt Disney Company can be directly purchased through The Walt Disney Investment Plan for as little as $50 per month. In addition, there are plenty of other companies that also allow you to buy and sell directly from them at a low transaction cost.
Overall, this one share has been a good investment on the basis of stock gain and dividend return. While one share certainly would not have yielded the gain of 10, which earned $63.73 after only 13 months, for someone with limited means investing in one share is always going to be better than not investing at all. I do need to point out though, that as much as I am pleased with how this stock has done in the past, Modern Graham currently rates it as speculative. I'd recommend if you are considering a one share purchase of your own to check out ModernGraham's Valuation of Intel Corporation (INTC), Wells Fargo & Co. (WFC), or Deere & CO. (DE).