Quote of the Week – 8/2/14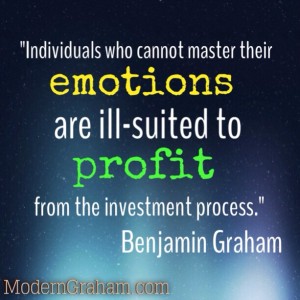 Every day, we encounter many great quotes and select one to post to Instagram. Â Instagram users can then vote to choose the quote of the week by liking posts on our Instagram account. Â The quote which receives the most likes is then selected as the quote of the week and shared here.
This week's quote is a classic from Benjamin Graham, and reads "Individuals who cannot master their emotions are ill-suited to profit from the investment process." Â We must remember to keep our emotions out of investment decisions, or else we will fail to achieve success in the long-term.
To help select next week's quote of the week, be sure to follow ModernGraham on Instagram and like the quotes you enjoy the most.