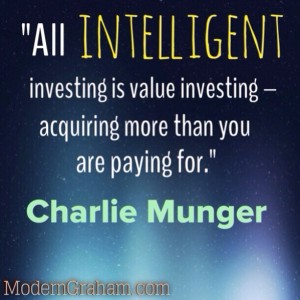 Every day, we encounter many great quotes and select one to post to Instagram.  Instagram users can then vote to choose the quote of the week by liking posts on our Instagram account.  The quote which receives the most likes is then selected as the quote of the week and shared here.
This week's quote is a classic from Charlie Munger, and reads "All intelligent investing is value investing – acquiring more than you are paying for." Â Mr. Munger does a great job reminding all of us of the essence of value investing, which is making sure that we buy when the price is lower than the intrinsic value of the item.
To help select next week's quote of the week, be sure to follow ModernGraham on Instagram and like the quotes you enjoy the most.  Also, if you have a great quote you'd like us to consider, leave it in the comments below.