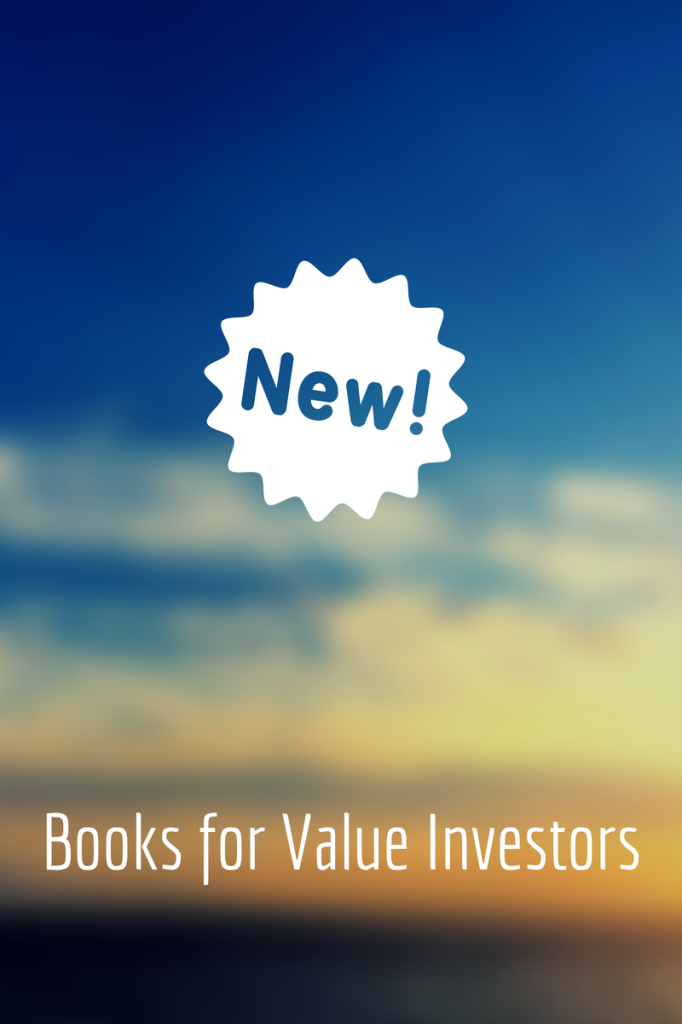 Reading is very important for value investors.  In fact, it is one of the 7 Key Tips to Value Investing.  A great way to continually hone your investing strategies and pursue the greatest level of investing success is through frequently reading new literature.  To that end, here's a list of 5 new books for value investors to consider adding to their reading list.  I highly recommend obtaining an Amazon Prime membership, which allows you to receive free 2-day shipping on most purchases.
Excerpt from Amazon:Â Â With so much at stake in investing and wealth management, investors cannot afford to keep repeating actions that could have serious negative consequences for their financial goals. The Five Mistakes Every Investor Makes and How to Avoid Them focuses on what investors do wrong so often so they can set themselves on the right path to success. In this comprehensive reference, readers learn to navigate the ever-changing variables and market dilemmas that often make investing a risky and daunting endeavor. Well-known and respected author Peter Mallouk shares useful investment techniques, discusses the importance of disciplined investment management, and pinpoints common, avoidable mistakes made by professional and everyday investors alike.

Excerpt from Amazon: Â The Boglehead's Guide to Investing is a DIY handbook that espouses the sage investment wisdom of John C. Bogle. This witty and wonderful book offers contrarian advice that provides the first step on the road to investment success, illustrating how relying on typical "common sense" is destined to leave you poorer. This updated edition includes new information on backdoor Roth IRAs and ETFs as mainstream buy and hold investments, estate taxes and gifting, plus changes to the laws regarding Traditional and Roth IRAs, and 401k and 403b retirement plans. With warnings and principles both precisely accurate and grandly counterintuitive, the Boglehead authors show how beating the market is a zero-sum game.

Amazon Excerpt: Â The Millionaire Master Plan is a unique and fresh approach as to how individuals can not only get a sense of where they stand on the spectrum of personal wealth, but more importantly, how they can learn to ascend from their present state to a higher level. Â Roger James Hamilton, himself a highly successful entrepreneur and successful investor, has designed nine steps – from barely surviving – all the way to the highest level of ultimate wealth for life – and he lays out his nine steps in an easy-to-understand color-coded manner that ranges from red (barely living paycheck-to-paycheck) all the way to ultra-violet (where generating income is simply no longer a worry).

Amazon Excerpt:
The information age is drowning us with an unprecedented deluge of data. At the same time, we're expected to make more—and faster—decisions about our lives than ever before. No wonder, then, that the average American reports frequently losing car keys or reading glasses, missing appointments, and feeling worn out by the effort required just to keep up.
But somehow some people become quite accomplished at managing information flow. In The Organized Mind, Daniel J. Levitin, PhD, uses the latest brain science to demonstrate how those people excel—and how readers can use their methods to regain a sense of mastery over the way they organize their homes, workplaces, and time.
With lively, entertaining chapters on everything from the kitchen junk drawer to health care to executive office workflow, Levitin reveals how new research into the cognitive neuroscience of attention and memory can be applied to the challenges of our daily lives. This Is Your Brain on Music showed how to better play and appreciate music through an understanding of how the brain works. The Organized Mind shows how to navigate the churning flood of information in the twenty-first century with the same neuroscientific perspective.

Amazon Excerpt:
THE WAY FORWARD challenges conventional thinking, outlines his political vision for 2014 and beyond, and shows how essential conservatism is for the future of our nation.
Beginning with a careful analysis of the 2012 election–including a look at the challenge the GOP had in reaching a majority of voters and the prevalence of identity politics–Ryan examines the state of the Republican party and dissects its challenges going forward.
THE WAY FORWARD also offers a detailed critique of not only President Obama but of the progressive movement as a whole–its genesis, its underlying beliefs and philosophies, and how its policies are steering the country to certain ruin.
Culminating in a plan for the future, THE WAY FORWARD argues that the Republican Party is and must remain a conservative party, emphasizing conservatism in a way that demonstrates how it can modernize and appeal to both our deepest concerns and highest ideals.

What books do you recommend for fellow value investors? Â Leave a comment below.