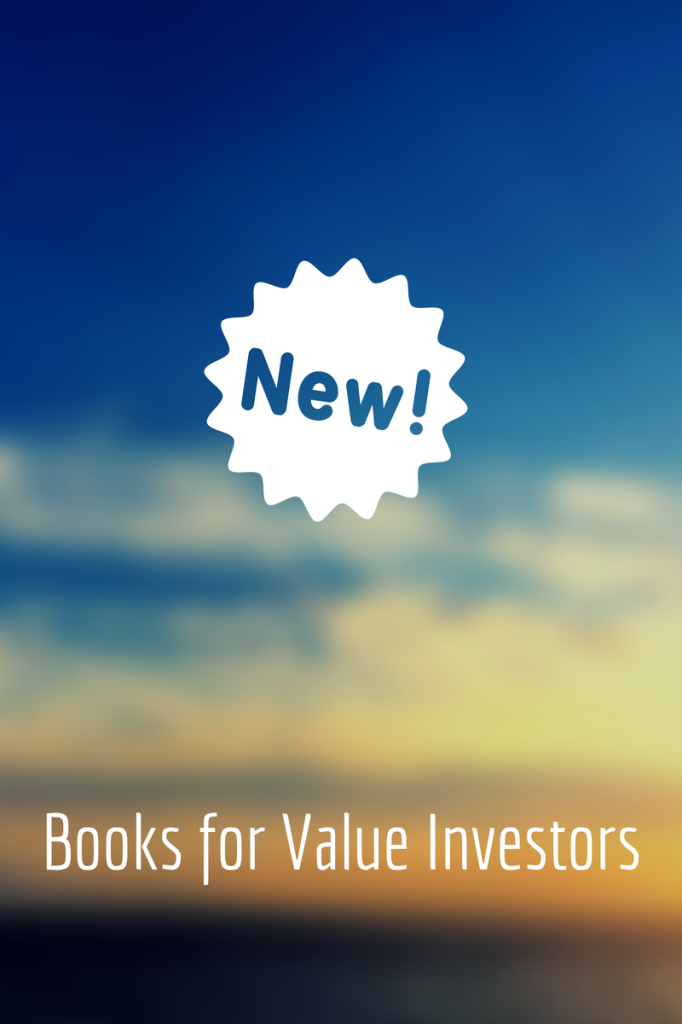 Reading is very important for value investors.  In fact, it is one of the 7 Key Tips to Value Investing.  A great way to continually hone your investing strategies and pursue the greatest level of investing success is through frequently reading new literature.  To that end, here's a list of 5 new books for value investors to consider adding to their reading list.  I highly recommend obtaining an Amazon Prime membership, which allows you to receive free 2-day shipping on most purchases.
Excerpt from Amazon: Â If you want to build a better future, you must believe in secrets.

The great secret of our time is that there are still uncharted frontiers to explore and new inventions to create. In Zero to One, legendary entrepreneur and investor Peter Thiel shows how we can find singular ways to create those new things.
Thiel begins with the contrarian premise that we live in an age of technological stagnation, even if we're too distracted by shiny mobile devices to notice. Information technology has improved rapidly, but there is no reason why progress should be limited to computers or Silicon Valley. Progress can be achieved in any industry or area of business. It comes from the most important skill that every leader must master: learning to think for yourself.
Doing what someone else already knows how to do takes the world from 1 to n, adding more of something familiar. But when you do something new, you go from 0 to 1. The next Bill Gates will not build an operating system. The next Larry Page or Sergey Brin won't make a search engine. Tomorrow's champions will not win by competing ruthlessly in today's marketplace. They will escape competition altogether, because their businesses will be unique.
Zero to One presents at once an optimistic view of the future of progress in America and a new way of thinking about innovation: it starts by learning to ask the questions that lead you to find value in unexpected places.

Excerpt from Amazon: Â The Boglehead's Guide to Investing is a DIY handbook that espouses the sage investment wisdom of John C. Bogle. This witty and wonderful book offers contrarian advice that provides the first step on the road to investment success, illustrating how relying on typical "common sense" is destined to leave you poorer. This updated edition includes new information on backdoor Roth IRAs and ETFs as mainstream buy and hold investments, estate taxes and gifting, plus changes to the laws regarding Traditional and Roth IRAs, and 401k and 403b retirement plans. With warnings and principles both precisely accurate and grandly counterintuitive, the Boglehead authors show how beating the market is a zero-sum game.

Excerpt from Amazon: Â What happens when a young hedge fund manager spends a small fortune to have lunch with Warren Buffett? He becomes a true value investor.
This book traces the arc of a transformation. Author Guy Spier started his career as a Gordon Gekko wannabe — brash, short-sighted and entirely out for himself. Then, a series of transformations and self-realizations led him from an investment banking job with a third-rate firm to managing his own fund, which has generated tremendous returns for his investors. His journey began with the discovery of Ben Graham's The Intelligent Investor, then took him on a path to a life-changing meeting with the renowned investor Mohnish Pabrai, followed by his famous lunch with Warren Buffett. That $650,100 meal proved to be a bargain, teaching Spier some of the most valuable lessons of his life.
Along the way, he has gained many powerful insights about investing and business, including: why the right mentors and role models are the key to long-term success as an investor; how a top-notch education can get in your way; why self-knowledge is so critical to becoming a great investor; and how Buffett taught him that the ultimate goal in life is to be true to yourself.
This book is an extraordinarily candid memoir that takes the reader into some of the darkest corners of Wall Street. It's also a remarkably smart and practical guide to what it takes to become a successful investor. Most important, Guy Spier provides those who want to take a different path with the insight, guidance and inspiration they need to succeed on their own terms.

Excerpt from Amazon:
The author of Getting from College to Career reinvents the concept of management for a new generation, offering a fresh and relevant approach to career success that shows them how to make the next step: becoming a leader.
We are in the midst of a leadership revolution, as power passes from Baby Boomers to Millennials. All grown up, the highly educated Generation Y is moving into executive positions in corporations and government, as well as running their own businesses, where they are beginning to have a profound impact that will last for decades.
Written exclusively for Gen Y readers to address their unique needs, Becoming the Boss is a brisk, tech savvy success manual filled with real-world, actionable tips, from an expert they respect and relate to. Lindsey Pollak defines what leadership is and draws on original research, her own extensive experience, and interviews with newly minted Gen Y managers and entrepreneurs around the world to share the secrets of what makes them successful leaders—and shows young professionals how to use that knowledge to rise in their own careers.
From learning to develop a style that appeals to your older colleagues, to discovering the key trends affecting your career, to mastering the classic rules of excellence that never go out of style, Becoming the Boss helps you identify your next professional move and shows you how to get there.

Excerpt from Amazon:  An essential, galvanizing narrative about making a difference here and abroad—a road map to becoming the most effective global citizens we can be.
In their number one New York Times best seller Half the Sky, husband-and-wife team Nicholas D. Kristof and Sheryl WuDunn brought to light struggles faced by women and girls around the globe, and showcased individuals and institu­tions working to address oppression and expand opportunity. A Path Appears is even more ambi­tious in scale: nothing less than a sweeping tap­estry of people who are making the world a better place and a guide to the ways that we can do the same—whether with a donation of $5 or $5 mil­lion, with our time, by capitalizing on our skills as individuals, or by using the resources of our businesses.
With scrupulous research and on-the-ground reporting, the authors assay the art and science of giving, identify successful local and global initia­tives, and share astonishing stories from the front lines of social progress. We see the compelling, in­spiring truth of how real people have changed the world, upending the idea that one person can't make a difference.
We meet people like Dr. Gary Slutkin, who devel­oped his landmark Cure Violence program to combat inner-city conflicts in the United States by applying principles of epidemiology; Lester Strong, who left a career as a high-powered television anchor to run an organization bringing in older Americans to tu­tor students in public schools across the country; MIT development economist Esther Duflo, whose pioneering studies of aid effectiveness have revealed new truths about, among other things, the power of hope; and Jessica Posner and Kennedy Odede, who are transforming Kenya's most notorious slum by ex­panding educational opportunities for girls.
A Path Appears offers practical, results-driven advice on how best each of us can give and reveals the lasting benefits we gain in return. Kristof and WuDunn know better than most how many urgent challenges communities around the world face to­day. Here they offer a timely beacon of hope for our collective future.

Excerpt from Amazon:  Henry Kissinger offers in World Order a deep meditation on the roots of international harmony and global disorder. Drawing on his experience as one of the foremost statesmen of the modern era—advising presidents, traveling the world, observing and shaping the central foreign policy events of recent decades—Kissinger now reveals his analysis of the ultimate challenge for the twenty-first century: how to build a shared international order in a world of divergent historical perspectives, violent conflict, proliferating technology, and ideological extremism.
There has never been a true "world order," Kissinger observes. For most of history, civilizations defined their own concepts of order. Each considered itself the center of the world and envisioned its distinct principles as universally relevant. China conceived of a global cultural hierarchy with the Emperor at its pinnacle. In Europe, Rome imagined itself surrounded by barbarians; when Rome fragmented, European peoples refined a concept of an equilibrium of sovereign states and sought to export it across the world. Islam, in its early centuries, considered itself the world's sole legitimate political unit, destined to expand indefinitely until the world was brought into harmony by religious principles. The United States was born of a conviction about the universal applicability of democracy—a conviction that has guided its policies ever since.
Now international affairs take place on a global basis, and these historical concepts of world order are meeting. Every region participates in questions of high policy in every other, often instantaneously. Yet there is no consensus among the major actors about the rules and limits guiding this process, or its ultimate destination. The result is mounting tension.
Grounded in Kissinger's deep study of history and his experience as National Security Advisor and Secretary of State, World Order guides readers through crucial episodes in recent world history. Kissinger offers a unique glimpse into the inner deliberations of the Nixon administration's negotiations with Hanoi over the end of the Vietnam War, as well as Ronald Reagan's tense debates with Soviet Premier Gorbachev in Reykjavík. He offers compelling insights into the future of U.S.–China relations and the evolution of the European Union, and examines lessons of the conflicts in Iraq and Afghanistan. Taking readers from his analysis of nuclear negotiations with Iran through the West's response to the Arab Spring and tensions with Russia over Ukraine, World Order anchors Kissinger's historical analysis in the decisive events of our time.
Provocative and articulate, blending historical insight with geopolitical prognostication, World Order is a unique work that could come only from a lifelong policymaker and diplomat.

What books do you recommend for fellow value investors? Â Leave a comment below.