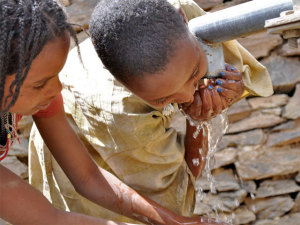 I regularly enjoy watching John Green's vlog on YouTube, and recently he has been posting videos about a trip to Ethiopia he made earlier this year. Â During his trip, he teamed up with Bill Gates to tour parts of the country and one of the biggest issues they found is a lack of access to water. Â As a result, Mr. Green started a fundraiser in conjunction with Water.org, and Mr. Gates promised to match all donations dollar-for-dollar if over $100,000 was raised. Â As of this morning, over $178,000 has been raised, so all donations will be matched by Mr. Gates. Â ModernGraham is making a $100 contribution, and I encourage all readers to donate as you are able. Â This is an opportunity for your contribution to go twice as far because of Mr. Gates's pledge.
Mr. Green does an excellent job explaining some of the issues faced by the people of Ethiopia in this video:
In addition, here's what Mr. Green has to say about the project:
If Nerdfighters come together and raise $100,000 for Ethiopia, Bill Gates will match it.
In July, I joined Bill Gates and the Gates Foundation on a trip to Ethiopia. I visited a hospital in Addis Ababa and various health outposts in rural Ethiopia, speaking to Ethiopian health workers about their day-to-day experiences and the fantastic progress of the country's more recent investments in sustainable healthcare.
While Ethiopia's under-5 mortality rate has dropped, the need for safe water and sanitation access persists; the health centers I visited with the Gates Foundation often did not have running water, and the people I spoke to almost always cited clean water as among their biggest needs. With a population of 96 million, 76 million Ethiopians have no sanitation services and 49 million do not have access to safe water.
To help change this, I invite you to support his fundraiser for Water.org. Co-founded by Matt Damon and Gary White, Water.org has been developing sustainable water solutions for more than 20 years. Through this fundraiser I hope to establish safe water access for 8,000 people in Ethiopia.
Ethiopian health workers are making incredible progress in healthcare, especially when it comes to women's health and decreasing the infant mortality rate, but improving every Ethiopian's access to safe water is critical for this work to continue. Thank you to everyone who has been able to donate and DFTBA.
Read more about John's trip here.