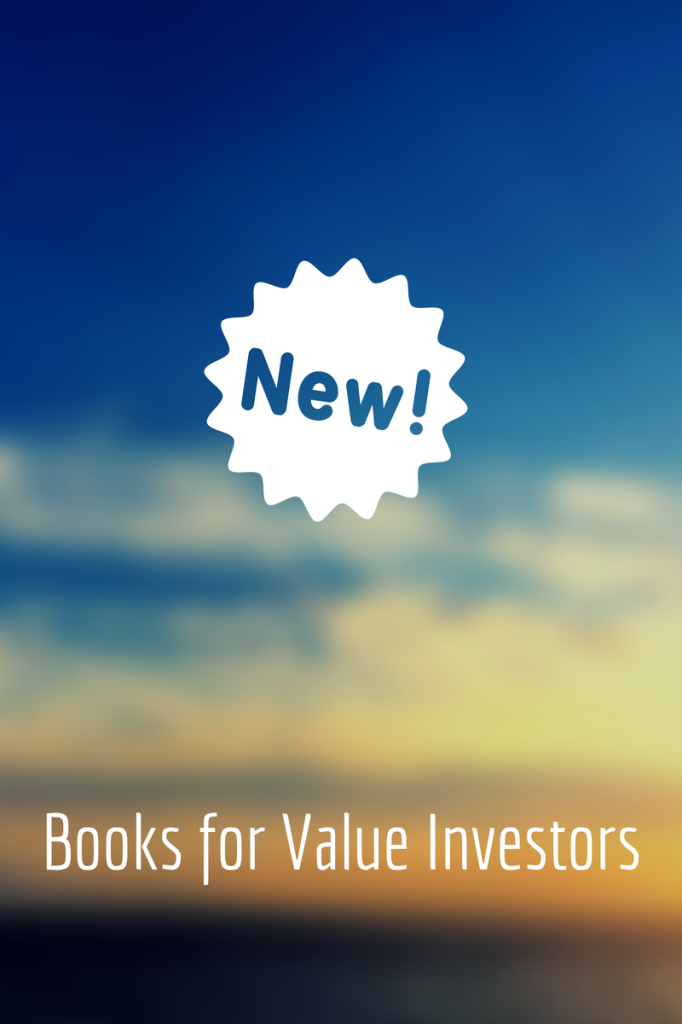 Reading is very important for value investors.  In fact, it is one of the 7 Key Tips to Value Investing.  A great way to continually hone your investing strategies and pursue the greatest level of investing success is through frequently reading new literature.  To that end, here's a list of 5 new books for value investors to consider adding to their reading list.  I highly recommend obtaining an Amazon Prime membership, which allows you to receive free 2-day shipping on most purchases.
Excerpt from Amazon:
If you're a value investor who wants to get your money into the lucrative options market, forget about day trading, chart patterns, and market timing. This systematic book lays out a path to long-term wealth by taking positions on companies with real intrinsic value–the kind Ben Graham and Warren Buffett would invest in.
Leave the complex algorithms and "Greeks" for the floor traders. Erik Kobayashi-Solomon, former investment banker, hedge fund risk manager, and valuation consultant to the World Bank, gives you the knowledge and sophistication to understand what options pricing reveals about the market's estimation of future stock prices. He then demonstrates how to find tremendous opportunity for low-risk, high-profit investments in the difference between the market's mechanized price ranges and ones made by you, a thoughtful human being armed with the insight this book offers.

Excerpt from Amazon:
Fact: the Millennial Generation will not be able to rely on pensions and social security in retirement. Instead, they will have to save and invest in the global stock market to meet their goals. When it comes to thinking about money, Millennials are, as a generation, different from their parents. They are skeptical of expert advice, yet more committed than baby boomers to passing wealth on to future generations. To build wealth, young people must start investing early and buck conventional market wisdom. Millennial Money will explain the most common mistakes that hurt investors' long-term returns and show why their investments in popular stocks or the hottest industry of the day have resulted in such underwhelming results. More importantly, the book will introduce a strategy that can help us overcome our shortcomings as investors. Armed with this strategy, Millennials can become the most successful investing generation in history.
Excerpt from Amazon: Â 
Following his blockbuster biography of Steve Jobs, The Innovators is Walter Isaacson's revealing story of the people who created the computer and the Internet. It is destined to be the standard history of the digital revolution and an indispensable guide to how innovation really happens.
What were the talents that allowed certain inventors and entrepreneurs to turn their visionary ideas into disruptive realities? What led to their creative leaps? Why did some succeed and others fail?
In his masterly saga, Isaacson begins with Ada Lovelace, Lord Byron's daughter, who pioneered computer programming in the 1840s. He explores the fascinating personalities that created our current digital revolution, such as Vannevar Bush, Alan Turing, John von Neumann, J.C.R. Licklider, Doug Engelbart, Robert Noyce, Bill Gates, Steve Wozniak, Steve Jobs, Tim Berners-Lee, and Larry Page.
This is the story of how their minds worked and what made them so inventive. It's also a narrative of how their ability to collaborate and master the art of teamwork made them even more creative.
For an era that seeks to foster innovation, creativity, and teamwork, The Innovators shows how they happen.

Excerpt from Amazon:
This innovative and wildly funny read-aloud by award-winning humorist/actor B.J. Novak will turn any reader into a comedian.
You might think a book with no pictures seems boring and serious. Except . . . here's how books work. Everything written on the page has to be said by the person reading it aloud. Even if the words say BLORK. Or BLUURF.   Even if the words are a preposterous song about eating ants for breakfast, or just a list of astonishingly goofy sounds like BLAGGITY BLAGGITY and GLIBBITY GLOBBITY.
Cleverly irreverent and irresistibly silly, The Book with No Pictures is one that kids will beg to hear again and again. (And parents will be happy to oblige.)

Excerpt from Amazon:
From the New York Times–bestselling author of Where Good Ideas Come From and Everything Bad Is Good for You, a new look at the power and legacy of great ideas.
In this illustrated history, Steven Johnson explores the history of innovation over centuries, tracing facets of modern life (refrigeration, clocks, and eyeglass lenses, to name a few) from their creation by hobbyists, amateurs, and entrepreneurs to their unintended historical consequences. Filled with surprising stories of accidental genius and brilliant mistakes—from the French publisher who invented the phonograph before Edison but forgot to include playback, to the Hollywood movie star who helped invent the technology behind Wi-Fi and Bluetooth—How We Got to Now investigates the secret history behind the everyday objects of contemporary life.
In his trademark style, Johnson examines unexpected connections between seemingly unrelated fields: how the invention of air-conditioning enabled the largest migration of human beings in the history of the species—to cities such as Dubai or Phoenix, which would otherwise be virtually uninhabitable; how pendulum clocks helped trigger the industrial revolution; and how clean water made it possible to manufacture computer chips. Accompanied by a major six-part television series on PBS, How We Got to Now is the story of collaborative networks building the modern world, written in the provocative, informative, and engaging style that has earned Johnson fans around the globe.

What books do you recommend for fellow value investors? Â Leave a comment below.