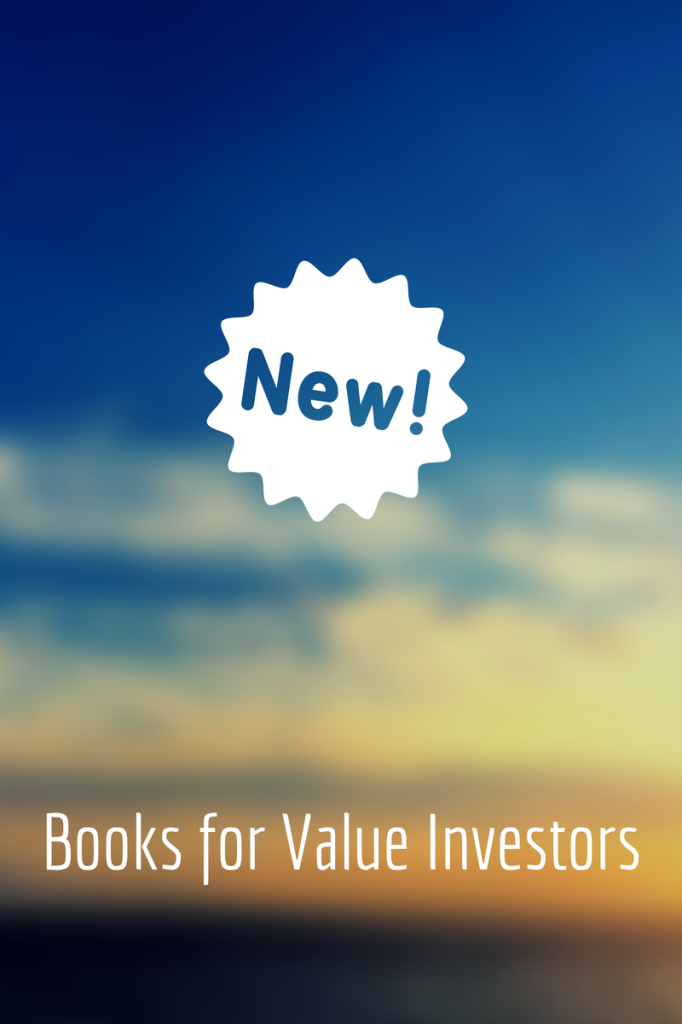 Reading is very important for value investors.  In fact, it is one of the 7 Key Tips to Value Investing.  A great way to continually hone your investing strategies and pursue the greatest level of investing success is through frequently reading new literature.  To that end, here's a list of 5 new books for value investors to consider adding to their reading list.  I highly recommend obtaining an Amazon Prime membership, which allows you to receive free 2-day shipping on most purchases.  Be sure to check out the master list of all recommended reading from ModernGraham!
Excerpt from Amazon:
Tony Robbins has coached and inspired more than 50 million people from over 100 countries. More than 4 million people have attended his live events. Oprah Winfrey calls him "super-human." Now for the first time—in his first book in two decades—he's turned to the topic that vexes us all: How to secure financial freedom for ourselves and our families.
Based on extensive research and one-on-one interviews with more than 50 of the most legendary financial experts in the world—from Carl Icahn and Warren Buffett, to Ray Dalio and Steve Forbes—Tony Robbins has created a simple 7-step blueprint that anyone can use for financial freedom.
Robbins has a brilliant way of using metaphor and story to illustrate even the most complex financial concepts—making them simple and actionable. With expert advice on our most important financial decisions, Robbins is an advocate for the reader, dispelling the myths that often rob people of their financial dreams.
Tony Robbins walks readers of every income level through the steps to become financially free by creating a lifetime income plan. This book delivers invaluable information and essential practices for getting your financial house in order.
Excerpt from Amazon:
There is a new cold war underway, driven by a massive geopolitical power shift to Russia that went almost unnoticed across the globe. In The Colder War: How the Global Energy Trade Slipped from America's Grasp, energy expert Marin Katusa takes a look at the ways the western world is losing control of the energy market, and what can be done about it.
Russia is in the midst of a rapid economic and geopolitical renaissance under the rule of Vladimir Putin, a tenacious KGB officer turned modern-day tsar. Understanding his rise to power provides the keys to understanding the shift in the energy trade from Saudi Arabia to Russia. This powerful new position threatens to unravel the political dominance of the United States once and for all.
Discover how political coups, hostile takeovers, and assassinations have brought Russia to the center of the world's energy market
Follow Putin's rise to power and how it has led to an upsetting of the global balance of trade
Learn how Russia toppled a generation of robber barons and positioned itself as the most powerful force in the energy market
Study Putin's long-range plans and their potential impact on the United States and the U.S. dollar
If Putin's plans are successful, not only will Russia be able to starve other countries of power, but the BRIC countries (Brazil, Russia, India, and China) will replace the G7 in wealth and clout. The Colder War takes a hard look at what is to come in a new global energy market that is certain to cause unprecedented impact on the U.S. dollar and the American way of life.
Excerpt from Amazon: Â 
Berkshire Hathaway, the $300+ billion conglomerate that Warren Buffett built, is among the world's largest and most famous corporations. Yet, for all its power and celebrity, few people understand Berkshire, and many assume it cannot survive without Buffett. This book challenges that assumption.
In a comprehensive portrait of the corporate culture that unites Berkshire's subsidiaries, Lawrence Cunningham unearths the traits that assure the conglomerate's perpetual prosperity. Riveting stories of each subsidiary's origins, triumphs, and journey to Berkshire reveal how managers generate economic value from intangibles like thrift, integrity, entrepreneurship, autonomy, and a sense of permanence.
Berkshire Beyond Buffett explores not only what will happen to Berkshire after Buffett, but presents all of Berkshire behind Buffett, the inspiring managerial luminaries, innovative entrepreneurs, and devotees of deep values that define this esteemed organization.
Whether or not you are convinced that Berkshire can endure without Buffett, the book is full of management lessons for small and large businesses, entrepreneurs, family firms, and Fortune 500 CEOs.  Enjoy entertaining tales from Berkshire's 50 main subsidiaries, including Dairy Queen, GEICO, Benjamin Moore, Fruit of the Loom, BNSF, Justin, Pampered Chef, Marmon, Clayton Homes, FlightSafety, and more.
Excerpt from Amazon:
Forty-three men have served as President of the United States. Countless books have been written about them. But never before has a President told the story of his father, another President, through his own eyes and in his own words. A unique and intimate biography, the book covers the entire scope of the elder President Bush's life and career, including his service in the Pacific during World War II, his pioneering work in the Texas oil business, and his political rise as a Congressman, U.S. Representative to China and the United Nations, CIA Director, Vice President, and President.  The book shines new light on both the accomplished statesman and the warm, decent man known best by his family. In addition, George W. Bush discusses his father's influence on him throughout his own life, from his childhood in West Texas to his early campaign trips with his father, and from his decision to go into politics to his own two-term Presidency.
Excerpt from Amazon:
From the New York Times–bestselling author of Where Good Ideas Come From and Everything Bad Is Good for You, a new look at the power and legacy of great ideas.
In this illustrated history, Steven Johnson explores the history of innovation over centuries, tracing facets of modern life (refrigeration, clocks, and eyeglass lenses, to name a few) from their creation by hobbyists, amateurs, and entrepreneurs to their unintended historical consequences. Filled with surprising stories of accidental genius and brilliant mistakes—from the French publisher who invented the phonograph before Edison but forgot to include playback, to the Hollywood movie star who helped invent the technology behind Wi-Fi and Bluetooth—How We Got to Now investigates the secret history behind the everyday objects of contemporary life.
In his trademark style, Johnson examines unexpected connections between seemingly unrelated fields: how the invention of air-conditioning enabled the largest migration of human beings in the history of the species—to cities such as Dubai or Phoenix, which would otherwise be virtually uninhabitable; how pendulum clocks helped trigger the industrial revolution; and how clean water made it possible to manufacture computer chips. Accompanied by a major six-part television series on PBS, How We Got to Now is the story of collaborative networks building the modern world, written in the provocative, informative, and engaging style that has earned Johnson fans around the globe.

What books do you recommend for fellow value investors? Â Leave a comment below.