Great Gifts for Value Investors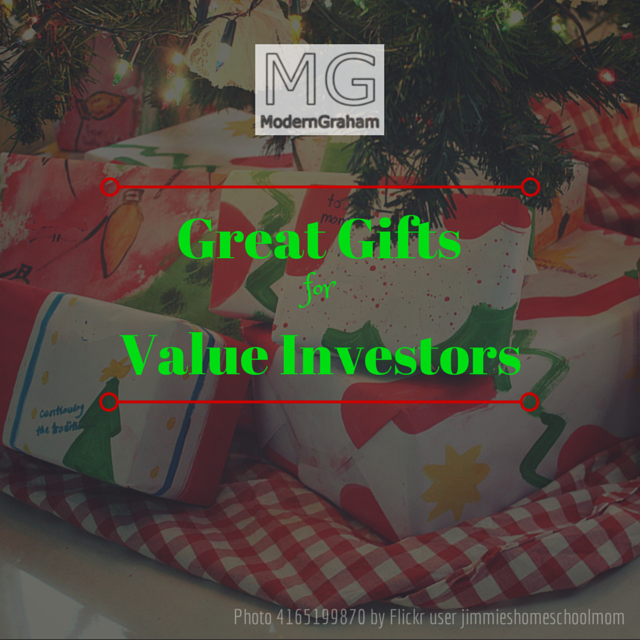 It's getting to be that time of year again, with Black Friday on the horizon this week followed up by a few weeks of frantic holiday shopping. Â Get ahead of the game this year by shopping for your value investing loved ones (or those you wish were value investors!) with some of these gift ideas. Â Some are geared specifically towards value investing, but others are just plain solid gifts for anyone.
1. Â ModernGraham Premium Membership
Let's get a brief promo out of the way – it's easy to give someone else access to ModernGraham's premium content. Â Simply sign up as a premium member using their contact information, then enter your own information for payment. Â That way you can be billed for the $4.99/month subscription, and they can log in to enjoy the content. Â This would give them access to ModernGraham Stocks & Screens, a monthly pdf with screens and tables of over 450 companies covered by ModernGraham, along with a weekly spreadsheet listing all the companies and their valuations.
Everyone loves to get free shipping from Amazon, especially value investors as this allows one to shop from home without spending money on gas, and not have to worry about shipping costs.  Amazon Prime Membership includes free two-day shipping for sales fulfilled through Amazon, instant streaming of thousands of TV shows and movies, and unlimited ad-free access to millions of songs.
3. Â Recommended Books from ModernGraham
Each month, we put out a list of five new books for value investors, and have now compiled the list into a handy page. Â Any book on the list would be a great gift for value investors!
4. Â Kindle Fire HDX 8.9
For those who do not have a tablet yet, or those who need to upgrade, check out the Kindle Fire HDX. Â This is a great new tablet featuring a great screen, cameras, and includes a free month of Amazon Prime Membership. Â A tablet is a great gift because of its versatility from magazines to books to movies to games.

5. Â The Intelligent Investor
Always a great gift, this is the classic text from Benjamin Graham which inspired the ModernGraham site. Â Graham is the father of value investing and the teacher of Warren Buffett.

6. Â Subscription to The Economist
The Economist is a global weekly magazine written for those who share an uncommon interest in being well and broadly informed. Each issue explores domestic and international issues, business, finance, current affairs, science, technology and the arts. Depending on your selection, your subscription to The Economist includes the print or digital edition. Â This is a great gift for value investors who like to remain informed of what's going on in the world.

7. Â Amazon Gift Card
If you're having trouble finding the perfect gift, just give an Amazon gift card. Â The recipient can choose from a huge selection of products, music, books, and more.