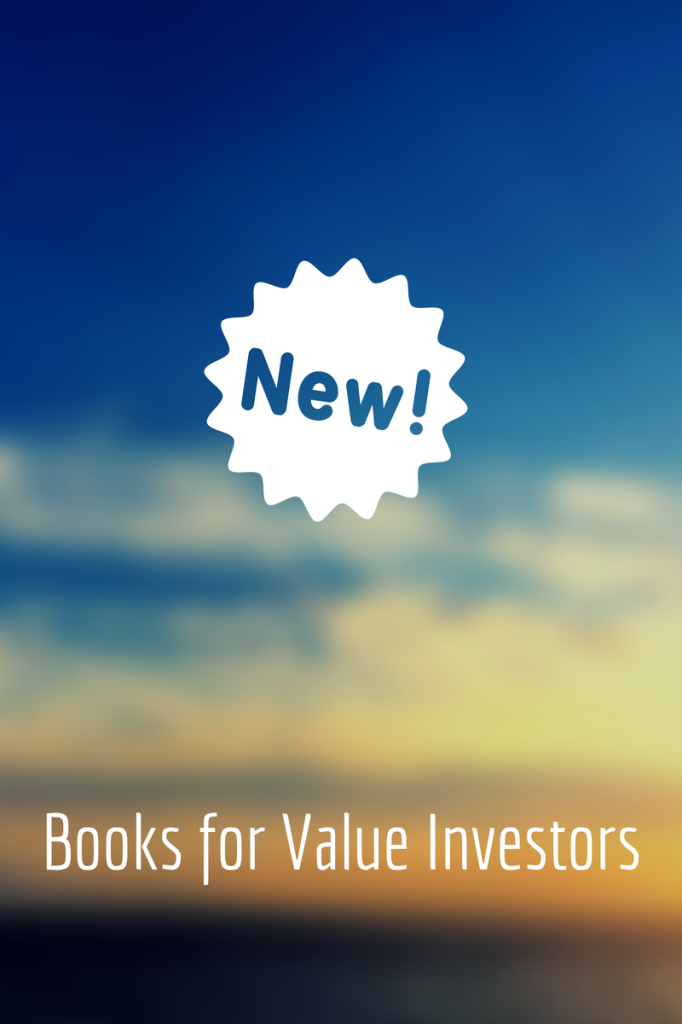 Reading is very important for value investors.  In fact, it is one of the 7 Key Tips to Value Investing.  A great way to continually hone your investing strategies and pursue the greatest level of investing success is through frequently reading new literature.  To that end, here's a list of 5 new books for value investors to consider adding to their reading list.  This month's list is entirely pleasure reading, as the holidays are a great time to step back and enjoy some free time.  I highly recommend obtaining an Amazon Prime membership, which allows you to receive free 2-day shipping on most purchases.  Be sure to check out the master list of all recommended reading from ModernGraham!
Excerpt from Amazon:
The Far Side® is back in this much-anticipated three-volume slipcased paperback edition of The Complete Far Side!
"Every one of these cartoons is just something that drifted into my head when I was alone with my thoughts. And, for better or worse, I 'jotted' them down. It was only later, when perhaps I received an angry letter from someone, that it struck me: Hey! Someone's been reading my diary!" –Gary Larson, from the preface to The Complete Far Side
Originally published in hardcover in 2003, The Complete Far Side was a New York Times bestseller. Now it's back as a paperback set with a newly designed slipcase that will delight Far Side fans.
Revered by its fans as the funniest, most original, most "What the … ?"-inspiring cartoon ever, The Far Side® debuted in January 1980 and enjoyed an illustrious 14 years on the world's comics pages until Gary Larson's retirement in 1994. The Complete Far Side celebrates Larson's twisted, irreverent genius in this ultimate Far Side book.
A masterpiece of comic brilliance, The Complete Far Side contains every Far Side cartoon ever syndicated–over 4,000 if you must know–presented in (more or less) chronological order by year of publication, with more than 1,100 that had never before appeared in a book. Also included are additionalFar Side cartoons Larson created after his retirement: 13 that appeared in the last Far Side book, Last Chapter and Worse, and six cartoons that periodically ran as a special feature in the New York TimesScience Times section as The Far Side® of Science. Creator Gary Larson offers a rare glimpse into the mind of The Far Side® in quirky and thoughtful introductions to each of the 14 chapters. Complaint letters, fan letters, and queries from puzzled readers appear alongside some of the more provocative or elusive panels. Actor, author, and comedian Steve Martin offers his sagacious thoughts in a foreword, and Larson's former editor describes what it was like to be "the guy who could explain every Far Sidecartoon."

Excerpt from Amazon:
Detective Alex Cross is being stalked by a psychotic genius, forced to play the deadliest game of his career. Cross's family–his loving wife Bree, the wise and lively Nana Mama, and his precious children–have been ripped away. Terrified and desperate, Cross must give this mad man what he wants if he has any chance of saving the most important people in his life. The stakes have never been higher: What will Cross sacrifice to save the ones he loves?
Widely praised by the greatest crime and thriller writers of our time, Cross My Heart set a jaw-dropping story in motion. Hope to Die propels Alex Cross's greatest challenge to its astonishing finish, proving why Jeffery Deaver says "nobody does it better" than James Patterson.

Excerpt from Amazon:
Now a major motion picture
From 1999 to 2009, U.S. Navy SEAL Chris Kyle recorded the most career sniper kills in United States military history. His fellow American warriors, whom he protected with deadly precision from rooftops and stealth positions during the Iraq War, called him "The Legend"; meanwhile, the enemy feared him so much they named him al-Shaitan ("the devil") and placed a bounty on his head. Kyle, who was tragically killed in 2013, writes honestly about the pain of war—including the deaths of two close SEAL teammates—and in moving first-person passages throughout, his wife, Taya, speaks openly about the strains of war on their family, as well as on Chris. Gripping and unforgettable, Kyle's masterful account of his extraordinary battlefield experiences ranks as one of the great war memoirs of all time.
Includes new material by Taya Kyle about the making of the American Sniper film

Excerpt from Amazon:
In this highly entertaining and insightful memoir, one of television's most respected broadcasters interweaves the story of his life and career with lively firsthand tales of some of the most thrilling events and fascinating figures in modern sports.
No sportscaster has covered more major sporting events than Al Michaels. Over the course of his forty-plus year career, he has logged more hours on live network television than any other broadcaster in history, and is the only play-by-play commentator to have covered all four major sports championships: the Super Bowl, World Series, NBA Finals, and the Stanley Cup Final. He has also witnessed first-hand some of the most memorable events in modern sports, and in this highly personal and revealing account, brings them vividly to life.
Michaels shares never-before-told stories from his early years and his rise to the top, covering some of the greatest moments of the past half century—from the "Miracle on Ice"—the historic 1980 Olympic hockey finals—to the earthquake that rocked the 1989 World Series. Some of the greatest names on and off the field are here—Michael Jordan, Bill Walton, Pete Rose, Bill Walsh, Peyton and Eli Manning, Brett Favre, John Madden, Howard Cosell, Cris Collinsworth, and many, many more.
Forthright and down-to-earth, Michaels tells the truth as he sees it, giving readers unique insight into the high drama, the colorful players, and the heroes and occasional villains of an industry that has become a vital part of modern culture.

Excerpt from Amazon:
David Baldacci is one of the world's most popular, widely read storytellers. In his blockbuster thrillersZero Day and The Forgotten, he enthralled readers with John Puller. A combat veteran and special agent with the U.S. Army, Puller is the man they call to investigate the toughest crimes facing the nation. But all his training, all his experience, all his skills will not prepare him for his newest case, one that will force him to hunt down the most formidable and brilliant prey he has ever tracked: his own brother.
THE ESCAPE
It's a prison unlike any other. Military discipline rules. Its security systems are unmatched. None of its prisoners dream of escaping. They know it's impossible . . . until now.
John Puller's older brother, Robert, was convicted of treason and national security crimes. His inexplicable escape from prison makes him the most wanted criminal in the country. Some in the government believe that John Puller represents their best chance at capturing Robert alive, and so Puller must bring in his brother to face justice.
But Puller quickly discovers that his brother is pursued by others who don't want him to survive. Puller is in turn pushed into an uneasy, fraught partnership with another agent, who may have an agenda of her own.
They dig more deeply into the case together, and Puller finds that not only are her allegiances unclear, but there are troubling details about his brother's conviction . . . and someone out there doesn't want the truth to ever come to light. As the nationwide manhunt for Robert grows more urgent, Puller's masterful skills as an investigator and strengths as a fighter may not be enough to save his brother-or himself.

What books do you recommend for fellow value investors? Â Leave a comment below.