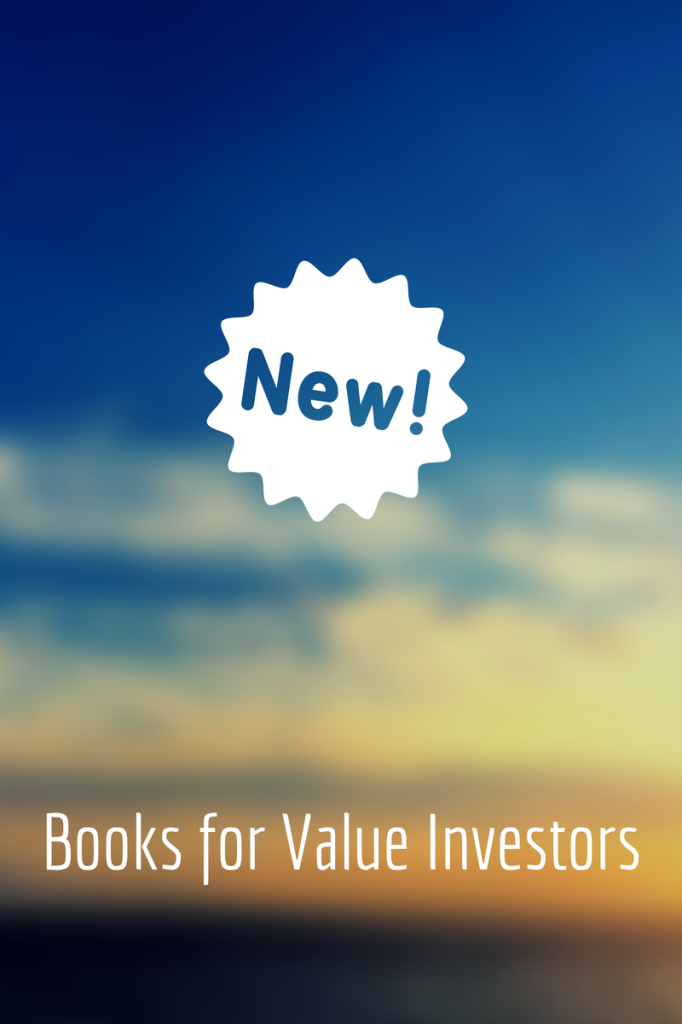 Reading is very important for value investors.  In fact, it is one of the 7 Key Tips to Value Investing.  A great way to continually hone your investing strategies and pursue the greatest level of investing success is through frequently reading new literature.  To that end, here's a list of 5 new books for value investors to consider adding to their reading list.  I highly recommend obtaining an Amazon Prime membership, which allows you to receive free 2-day shipping on most purchases.  Be sure to check out the master list of all recommended reading from ModernGraham!
Excerpt from Amazon:
You'll never see leadership the same way again after reading this book. These fifteen commitments are a distillation of decades of work with CEOs and other leaders. They are radical or provocative for many. They have been game changers for us and for our clients. We trust that they will be for you too. Our experience is that unconscious leadership is not sustainable. It won't work for you, your team or your organization in the long term. Unconscious leadership can deliver short term results, but the costs of living and leading unconsciously are great. Fear drives most leaders to make choices that are at odds with healthy relationships, vitality and balance. This fear leaves a toxic residue that won't be as easily tolerated in an increasingly complex business environment. Conscious leadership offers the antidote to fear. These pages contain a comprehensive road map to guide you to shift from fear-based to trust-based leadership. Once you learn and start practicing conscious leadership you'll get results in the form of more energy, clarity, focus and healthier relationships. You'll do more and more of what you are passionate about, and less of what you do out of obligation. You'll have more fun, be happier, experience less drama and be more on purpose. Your team will get results as well. They'll be more collaborative, creative, energized and engaged. They'll solve issues faster, and once resolved the issues won't resurface. Drama and gossip will all but disappear, and the energy and resources that fueled them will be redirected towards innovation and creativity. Any one of these commitments will change your life. All of them together are revolutionary. Leaders who practice the 15 commitments: · End blame and criticism · Speak candidly, openly and honestly, in a way that invites others to do the same · Find their unique genius · Let go of taking everything—especially themselves and their problems—so seriously · Create win for all solutions · Experience a new relationship to time and money where there is always enough What do you need to bring to the table? Be curious. Sounds so simple, and yet in our experience it's a skill few have mastered. Most of us are far more interested in being right and proving it, than we are in learning, growing and shifting out of our old patterns. By default we gravitate towards the familiar. We're asking you to take a chance and explore the unfamiliar. You'll get scared and reactive. We all do. So what? Just stay curious and let us introduce you to a whole new world of leadership.

Excerpt from Amazon:
Have you ever that your life–and budget–is spiraling out of control?  Do you sometimes wish you could pull yourself together but wonder exactly how to manage all the scattered pieces of a chaotic life?  Is it possible to find balance?
In a word, yes.
Ruth Soukup knows firsthand how stressful an unorganized life and budget can be. Through personal stories, biblical truth, and practical action plans, she will inspire you to make real and lasting changes to your personal goals, home, and finances. With honesty and the wisdom of someone who has been there, Ruth will help you:
*Â Â Â  Discover your "sweet spot"–that place where your talents and abilities intersect.
*Â Â Â  Take back your time and schedule by making simple shifts in your daily habits.
*Â Â Â  Reduce stress in your home and family by clearing out the clutter.
*Â Â Â  Stop busting your budget and learn to cut your grocery bill in half.
*Â Â Â  Bring order to a messy life and create a practical cleaning schedule that works.

Excerpt from Amazon:
A growing chorus of prominent voices in Congress and elsewhere are calling for the expansion of our Social Security system—people who know that Social Security will not "go broke" and does not add a penny to the national debt. Social Security Works! will amplify these voices and offer a powerful antidote to the three-decade-long, billionaire-funded campaign to make us believe that this vital institution is destined to collapse. It isn't.
From the Silent Generation to Baby Boomers, from Generation X to Millennials and Generation Z, we all have a stake in understanding the real story about Social Security. Critical to addressing the looming retirement crisis that will affect two- thirds of today's workers, Social Security is a powerful program that can help stop the collapse of the middle class, lessen the pressure squeezing families from all directions, and help end the upward redistribution of wealth that has resulted in perilous levels of inequality.
All Americans deserve to have dignified retirement years as well as an umbrella to protect them and their families in the event of disability or premature death. Sure to be a game-changer, Social Security Works! cogently presents the issues and sets forth both an agenda and a political strategy that will benefit us all. At stake are our values and the kind of country we want for ourselves and for those that follow.

Excerpt from Amazon:
In God, Guns, Grits and Gravy, Mike Huckabee asks, "Have I been taken to a different planet than the one on which I grew up?"  The New York Times bestselling author explores today's fractious American culture, where divisions of class, race, politics, religion, gender, age, and other fault lines make polite conversation dicey, if not downright dangerous. As Huckabee notes, the differences of opinion between the "Bubble-villes" of the big power centers and the "Bubba-villes" where most people live are profound, provocative, and sometimes pretty funny. Where else but in Washington, D.C. could two presidential golf outings cost the American taxpayers $2.9 million in travel expenses?
Government bailouts, politician pig-outs, and popular culture provocations from Jay-Z and Beyoncé to Honey Boo-Boo to the Duck Dynasty's Robertson family. Gun rights, gay marriage, the decline of patriotism, and the mainstream media's contempt for those who cherish a faith-based life. The trouble with Democrats, the even bigger trouble with Republicans, our national security complex, and how our Constitution is eroding under our noses. Stories of everyday Americans surviving tough times, reflections on our way of life as it once was, as it is, and as it might become…these subjects and many more are covered with Mike Huckabee's signature wit, insight, and honesty.
At times lighthearted, at others bracingly realistic, Huckabee's brand of optimistic patriotism highlights American ideals, offering a bright outlook for future generations.
With a wry eye for the ridiculous and a clear-eyed look at the most controversial issues of our time,God, Guns, Grits and Gravy is Mike Huckabee at his very best.

Excerpt from Amazon:
Rachel takes the same commuter train every morning. Every day she rattles down the track, flashes past a stretch of cozy suburban homes, and stops at the signal that allows her to daily watch the same couple breakfasting on their deck. She's even started to feel like she knows them. "Jess and Jason," she calls them. Their life—as she sees it—is perfect. Not unlike the life she recently lost.
And then she sees something shocking. It's only a minute until the train moves on, but it's enough. Now everything's changed. Unable to keep it to herself, Rachel offers what she knows to the police, and becomes inextricably entwined in what happens next, as well as in the lives of everyone involved. Has she done more harm than good?
Compulsively readable, The Girl on the Train is an emotionally immersive, Hitchcockian thriller and an electrifying debut.

What books do you recommend for fellow value investors? Â Leave a comment below.