Glance at the Dow and a Summary of Each Component's Valuation – February 2015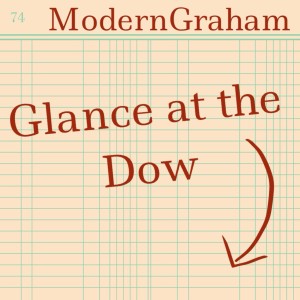 As one of the features of Premium Membership, I take a look each month at the Dow Jones Industrial Average, listing out each individual component in an easy to read table, and calculate a value for the index that is based on the ModernGraham valuation model's estimates for intrinsic values for each component.  This "Glance at the Dow" is also included in a regular post on the blog once each month, and will continue to be included in each month's ModernGraham Stocks & Screens, which is released to premium subscribers on the fourth Wednesday of every month.  I hope this is useful to all my subscribers, as another tool for evaluating Mr. Market's current prices.
Readers may find a screen of some of the best components of the Dow by reviewing 5 Undervalued Dow Companies to Research, and may find it useful to review the history of this screen.
At the time of writing, the Dow Jones Industrial Average (DJIA) was at 17,868.76. The ModernGraham Valuation of the DJIA was 20,230.50. As a result, the DJIA was trading at 88.33% of its estimated value. This figure is within the ModernGraham margin of error, and therefore it appears the DJIA is presently fairly valued. Â To see the individual valuation articles, please click on the company name in the table below.
Disclaimer: Â The author held a long position in DIS and HD but did not hold a position in any other company mentioned in this article at the time of publication.