5 New Books for Value Investors – February 2015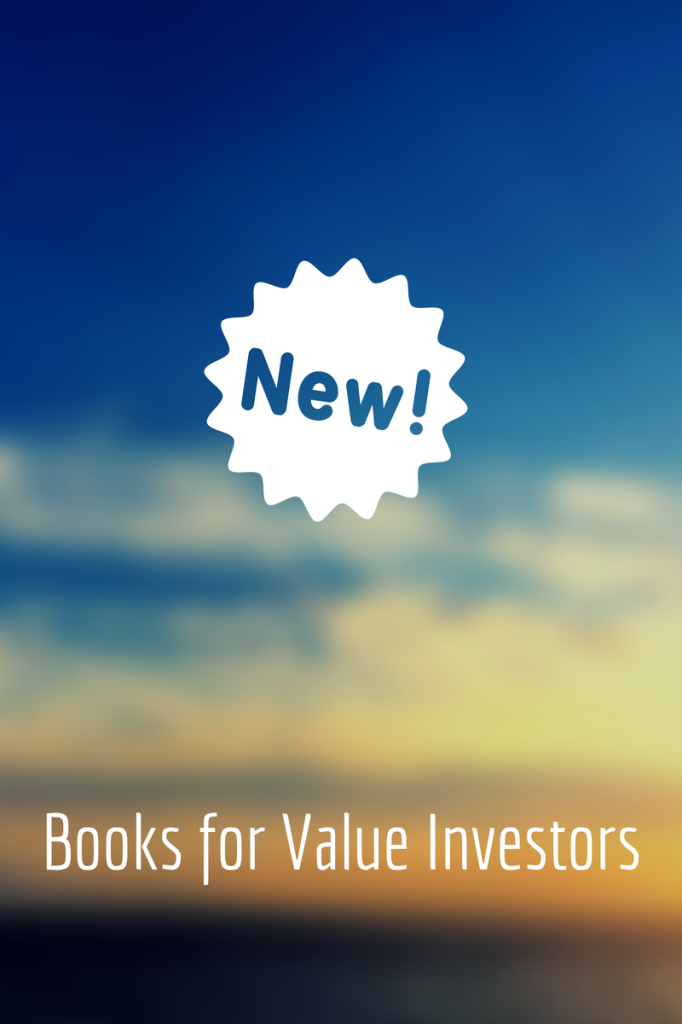 Reading is very important for value investors.  In fact, it is one of the 7 Key Tips to Value Investing.  A great way to continually hone your investing strategies and pursue the greatest level of investing success is through frequently reading new literature.  To that end, here's a list of 5 new books for value investors to consider adding to their reading list.  I highly recommend obtaining an Amazon Prime membership, which allows you to receive free 2-day shipping on most purchases.  Be sure to check out the master list of all recommended reading from ModernGraham!
Excerpt from Amazon:
Build the optimal, income-generating investment portfolio using the power of dividends to achieve absolute financial security. In The Dividend Machine, Bill Spetrino proves his investment philosophy will provide for a solid and secure financial future.
Traders who jump from stock to stock in the hunt for a major Wall Street score lose money or, at best, break even. That's not an acceptable fate for the retirement nest egg. Instead, true investors trust in The Dividend Machine by taking Spetrino's proven advice: "Keep investments boring and the rest of life fun and exciting."
By valuing safety and income above all else, Spetrino guides the reader through the process of unearthing true bargains in the marketplace. Adhering to the author's model, The Dividend Machineportfolio is made up of mostly large, multinational companies that are involved in diverse businesses.

Excerpt from Amazon:
Get Rich with Dividends is the bestselling dividend-investing book that shows investors how to achieve double-digit returns using a time-tested conservative strategy. Written by a nineteen-year veteran of the equity markets, this invaluable guide shows you how to set up your investments for minimal maintenance and higher returns, so you can accumulate wealth while you focus on the things that matter. Using the author's proprietary 10-11-12 system, you'll learn how to generate the income you need on a quarterly or even monthly basis. You'll discover the keys to identifying stocks that will return twelve percent or more every year, and how to structure your investments for greater security and financial well being. This method is so easy to use, you'll want to teach it to your children early to set them up for financial independence and help them avoid the problems that plagued many investors over the past decade.
Dividends are responsible for 44 percent of the S&P 500's returns over the last eighty years. They represent an excellent opportunity today, especially for investors who have been burned in recent meltdowns and are desperate for sensible and less risky ways to make their money grow. This book describes a framework that allows investors to reap higher returns with a low-to-no maintenance plan.

A real-life political thriller about an American financier in the Wild East of Russia, the murder of his principled young tax attorney, and his dangerous mission to expose the Kremlin's corruption.
Bill Browder's journey started on the South Side of Chicago and moved through Stanford Business School to the dog-eat-dog world of hedge fund investing in the 1990s. It continued in Moscow, where Browder made his fortune heading the largest investment fund in Russia after the Soviet Union's collapse. But when he exposed the corrupt oligarchs who were robbing the companies in which he was investing, Vladimir Putin turned on him and, in 2005, had him expelled from Russia.
In 2007, a group of law enforcement officers raided Browder's offices in Moscow and stole $230 million of taxes that his fund's companies had paid to the Russian government. Browder's attorney Sergei Magnitsky investigated the incident and uncovered a sprawling criminal enterprise. A month after Sergei testified against the officials involved, he was arrested and thrown into pre-trial detention, where he was tortured for a year. On November 16, 2009, he was led to an isolation chamber, handcuffed to a bedrail, and beaten to death by eight guards in full riot gear.
Browder glimpsed the heart of darkness, and it transformed his life: he embarked on an unrelenting quest for justice in Sergei's name, exposing the towering cover-up that leads right up to Putin. A financial caper, a crime thriller, and a political crusade, Red Notice is the story of one man taking on overpowering odds to change the world.

David Axelrod has always been a believer. Whether as a young journalist investigating city corruption, a campaign consultant guiding underdog candidates against entrenched orthodoxy, or as senior adviser to the president during one of the worst crises in American history, Axelrod held fast to his faith in the power of stories to unite diverse communities and ignite transformative political change. Now this legendary strategist, the mastermind behind Barack Obama's historic election campaigns, shares a wealth of stories from his forty-year journey through the inner workings of American democracy. Believeris the tale of a political life well lived, of a man who never gave up on the deepest promises our country has to offer.
Believer reveals the roots of Axelrod's devotion to politics and his faith in democratic change. As a child of the '60s in New York City, Axelrod worked his first campaigns during a tumultuous decade that began with soaring optimism and ended in violence and chaos. As a young newspaperman in Chicago during the 1970s and '80s, Axelrod witnessed another world transformed when he reported on the dissolution of the last of the big city political machines—Richard Daley, Dan Rostenkowski, and Harold Washington—along with the emergence of a dynamic black independent movement that ultimately made Obama's ascent possible.
After cutting his teeth in the rollicking world of Chicago journalism, Axelrod switched careers to become a political strategist. His unorthodox tactics during his first campaign helped him get Paul Simon unexpectedly elected to the Senate, and soon Axelrod's counsel was sought by the greatest lights of the Democratic Party. Working for path breakers like Hillary Clinton, Deval Patrick, and Rahm Emanuel—and morally conflicted characters like Rod Blagojevich and John Edwards—Axelrod, for better and worse, redefined the techniques by which modern political campaigns are run.
The heart of Believer is Axelrod's twenty-year friendship with Barack Obama, a warm partnership that inspired both men even as it propelled each to great heights. Taking a chance on an unlikely candidate for the U.S. Senate, Axelrod ultimately collaborated closely with Obama on his political campaigns, and served as the invaluable strategist who contributed to the tremendous victories of 2008 and 2012. Switching careers again, Axelrod served as senior adviser to the president during one of the most challenging periods in national history: working at Obama's side as he battled an economic disaster; navigated America through two wars; and fought to reform health care, the financial sector, and our gridlocked political institutions. In Believer, Axelrod offers a deeper and richer profile of this extraordinary figure—who in just four years vaulted from the Illinois State Senate to the Oval Office—from the perspective of one who was at his side every step of the way.
Spanning forty years that include corruption and transformation, turmoil and progress, Believer takes readers behind the closed doors of politics even as it offers a thrilling call to democratic action. Axelrod'sBeliever is a powerful and inspiring memoir enlivened by the charm and candor of one of the greatest political strategists in recent American history.

Excerpt from Amazon:
From the coauthors of the New York Times bestseller Abundance comes their much anticipated follow-up: Bold—a radical, how-to guide for using exponential technologies, moonshot thinking, and crowd-powered tools to create extraordinary wealth while also positively impacting the lives of billions.
Bold unfolds in three parts. Part One focuses on the exponential technologies that are disrupting today's Fortune 500 companies and enabling upstart entrepreneurs to go from "I've got an idea" to "I run a billion-dollar company" far faster than ever before. The authors provide exceptional insight into the power of 3D printing, artificial intelligence, robotics, networks and sensors, and synthetic biology. Part Two of the book focuses on the Psychology of Bold, drawing on insights from billionaire entrepreneurs Larry Page, Elon Musk, Richard Branson, and Jeff Bezos. In addition, Diamandis reveals his entrepreneurial secrets garnered from building fifteen companies, including such audacious ventures as Singularity University, XPRIZE, Planetary Resources, and Human Longevity, Inc. Finally, Bold closes with a look at the best practices that allow anyone to leverage today's hyper-connected crowd like never before. Here, the authors teach how to design and use incentive competitions, launch million-dollar crowdfunding campaigns to tap into ten's of billions of dollars of capital, and finally how to build communities—armies of exponentially enabled individuals willing and able to help today's entrepreneurs make their boldest dreams come true.
Bold is both a manifesto and a manual. It is today's exponential entrepreneur's go-to resource on the use of emerging technologies, thinking at scale, and the awesome power of crowd-powered tools.

What books do you recommend for fellow value investors? Â Leave a comment below.