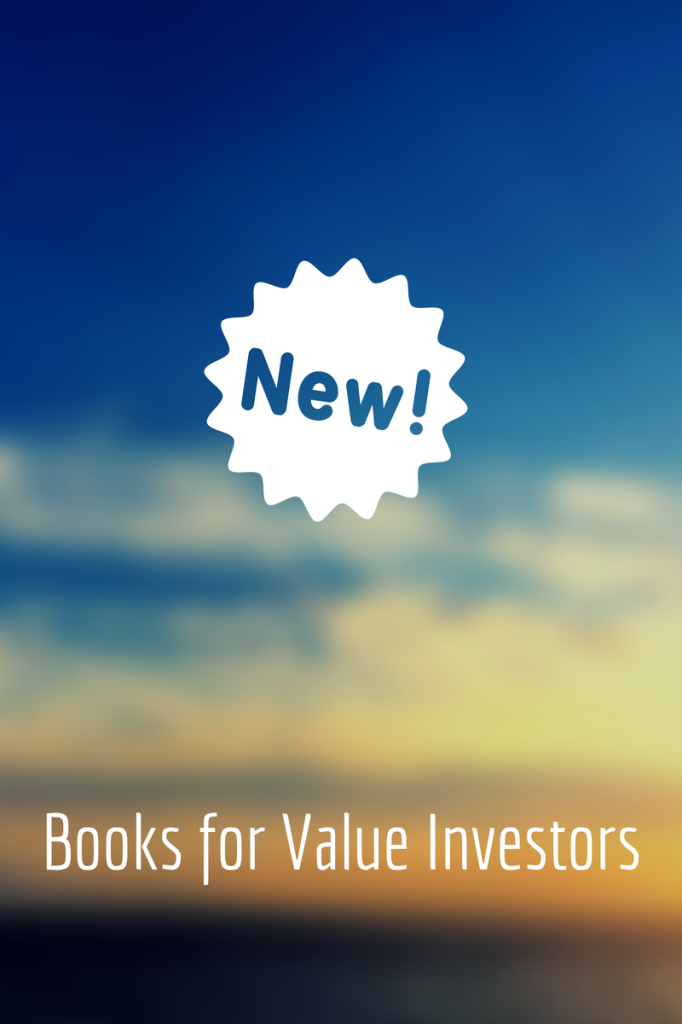 Reading is very important for value investors.  In fact, it is one of the 7 Key Tips to Value Investing.  A great way to continually hone your investing strategies and pursue the greatest level of investing success is through frequently reading new literature.  To that end, here's a list of 5 new books for value investors to consider adding to their reading list.  I highly recommend obtaining an Amazon Prime membership, which allows you to receive free 2-day shipping on most purchases.  Be sure to check out the master list of all recommended reading from ModernGraham!
Excerpt from Amazon:
Becoming Steve Jobs takes on and breaks down the existing myth and stereotypes about Steve Jobs. The conventional, one-dimensional view of Jobs is that he was half-genius, half-jerk from youth, an irascible and selfish leader who slighted friends and family alike. Becoming Steve Jobs answers the central question about the life and career of the Apple cofounder and CEO: How did a young man so reckless and arrogant that he was exiled from the company he founded become the most effective visionary business leader of our time, ultimately transforming the daily life of billions of people?
Drawing on incredible and sometimes exclusive access, Schlender and Tetzeli tell a different story of a real human being who wrestled with his failings and learned to maximize his strengths over time. Their rich, compelling narrative is filled with stories never told before from the people who knew Jobs best, and who decided to open up to the authors, including his family, former inner circle executives, and top people at Apple, Pixar and Disney, most notably Tim Cook, Jony Ive, Eddy Cue, Ed Catmull, John Lasseter, Robert Iger and many others. In addition, Brent knew Jobs personally for 25 years and draws upon his many interviews with him, on and off the record, in writing the book. He and Rick humanize the man and explain, rather than simply describe, his behavior. Along the way, the book provides rich context about the technology revolution we all have lived through, and the ways in which Jobs changed our world.
Schlender and Tetzeli make clear that Jobs's astounding success at Apple was far more complicated than simply picking the right products: he became more patient, he learned to trust his inner circle, and discovered the importance of growing the company incrementally rather than only shooting for dazzling game-changing products.
A rich and revealing account that will change the way we view Jobs, Becoming Steve Jobs shows us how one of the most colorful and compelling figures of our times was able to combine his unchanging, relentless passion with a more mature management style to create one of the most valuable and beloved companies on the planet.

Excerpt from Amazon:
This is a bold book by James Altucher because he not only gives you a new map for the new financial landscape, but he also has skin in the game. This is the first financial book in which the author REVEALS HOW HE, PERSONALLY, MAKES HIS OWN MONEY. We are living in an epic period of change, danger and opportunity. The economy is crashing and booming every few years. People are getting fired and replaced by computers and Chinese workers. The stock market crashes with regularity. Every "fix" from the government makes things worse. The Old World has been demolished… and people are desperate for answers. James Altucher's "The Choose Yourself Guide To Wealth" contains those answers. This is the field guide to the "New World" we live in. You can play by the old rules and get left behind, or you can use these new ideas and become wealthy. This is not a book for the faint of heart. Read at your own risk, because sometimes the truth is hard to take. But for those who are ready to hear, James provides an updated map of the new territory for generating wealth and freedom. This book is the eye-opener of the century, it is the guide to building, keeping, and investing your money and breaking free from the chains of rusted, old thinking.

Excerpt from Amazon:
In the annals of consumer crazes, nothing compares to Beanie Babies. In just three years, collectors who saw the toys as a means of speculation made creator Ty Warner, an eccentric college dropout, a billionaire–without advertising or big-box distribution. Beanie Babies were ten percent of eBay's sales in its early days, with an average selling price of $30–six times the retail price. At the peak of the bubble in 1999, Warner reported a personal income of $662 million–more than Hasbro and Mattel combined.
The end of the craze was swift and devastating, with "rare" Beanie Babies deemed worthless as quickly as they'd once been deemed priceless.
Bissonnette draws on hundreds of interviews (including a visit to a man who lives with his 40,000 Ty products and an in-prison interview with a guy who killed a coworker over a Beanie Baby debt) for the first book on the strangest speculative mania of all time.
Excerpt from Amazon:
On May 1, 1915, with WWI entering its tenth month, a luxury ocean liner as richly appointed as an English country house sailed out of New York, bound for Liverpool, carrying a record number of children and infants. The passengers were surprisingly at ease, even though Germany had declared the seas around Britain to be a war zone. For months, German U-boats had brought terror to the North Atlantic. But the Lusitania was one of the era's great transatlantic "Greyhounds"—the fastest liner then in service—and her captain, William Thomas Turner, placed tremendous faith in the gentlemanly strictures of warfare that for a century had kept civilian ships safe from attack.
Germany, however, was determined to change the rules of the game, and Walther Schwieger, the captain of Unterseeboot-20, was happy to oblige. Meanwhile, an ultra-secret British intelligence unit tracked Schwieger's U-boat, but told no one. As U-20 and the Lusitania made their way toward Liverpool, an array of forces both grand and achingly small—hubris, a chance fog, a closely guarded secret, and more—all converged to produce one of the great disasters of history.
It is a story that many of us think we know but don't, and Erik Larson tells it thrillingly, switching between hunter and hunted while painting a larger portrait of America at the height of the Progressive Era. Full of glamour and suspense, Dead Wake brings to life a cast of evocative characters, from famed Boston bookseller Charles Lauriat to pioneering female architect Theodate Pope to President Woodrow Wilson, a man lost to grief, dreading the widening war but also captivated by the prospect of new love.
Gripping and important, Dead Wake captures the sheer drama and emotional power of a disaster whose intimate details and true meaning have long been obscured by history.

Excerpt from Amazon:
A groundbreaking examination of the growing inequality gap from the bestselling author of Bowling Alone: why fewer Americans today have the opportunity for upward mobility.
It's the American dream: get a good education, work hard, buy a house, and achieve prosperity and success. This is the America we believe in—a nation of opportunity, constrained only by ability and effort. But during the last twenty-five years we have seen a disturbing "opportunity gap" emerge. Americans have always believed in equality of opportunity, the idea that all kids, regardless of their family background, should have a decent chance to improve their lot in life. Now, this central tenet of the American dream seems no longer true or at the least, much less true than it was.
Robert Putnam—about whom The Economist said, "his scholarship is wide-ranging, his intelligence luminous, his tone modest, his prose unpretentious and frequently funny"—offers a personal but also authoritative look at this new American crisis. Putnam begins with his high school class of 1959 in Port Clinton, Ohio. By and large the vast majority of those students—"our kids"—went on to lives better than those of their parents. But their children and grandchildren have had harder lives amid diminishing prospects. Putnam tells the tale of lessening opportunity through poignant life stories of rich and poor kids from cities and suburbs across the country, drawing on a formidable body of research done especially for this book.
Our Kids is a rare combination of individual testimony and rigorous evidence. Putnam provides a disturbing account of the American dream that should initiate a deep examination of the future of our country.

What books do you recommend for fellow value investors? Â Leave a comment below.