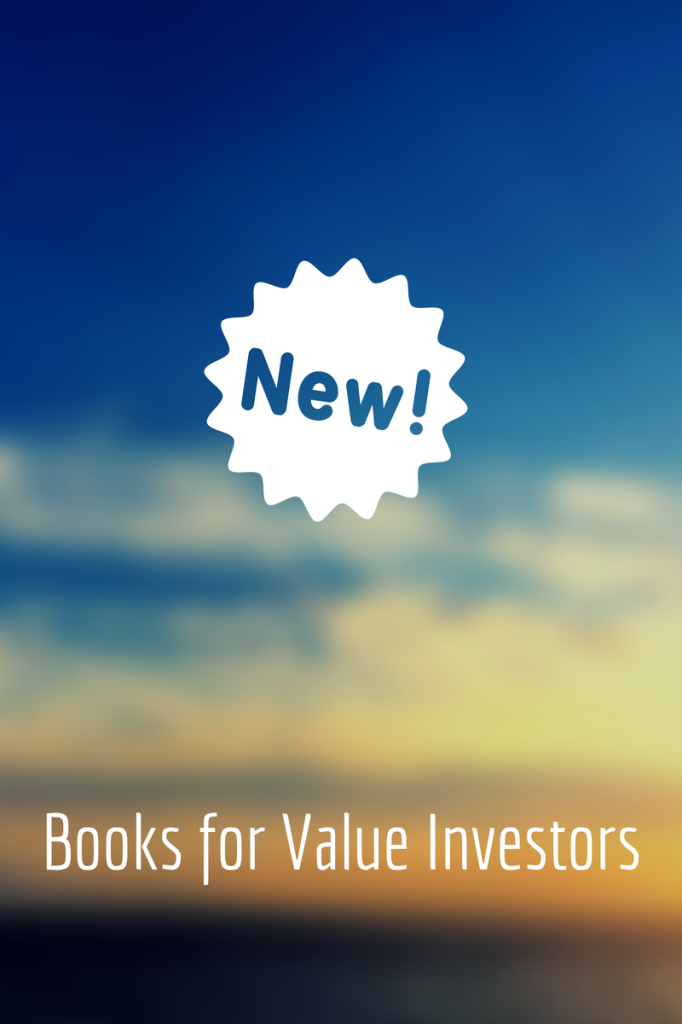 Reading is very important for value investors.  In fact, it is one of the 7 Key Tips to Value Investing.  A great way to continually hone your investing strategies and pursue the greatest level of investing success is through frequently reading new literature.  To that end, here's a list of 5 new books for value investors to consider adding to their reading list.  I highly recommend obtaining an Amazon Prime membership, which allows you to receive free 2-day shipping on most purchases.  Be sure to check out the master list of all recommended reading from ModernGraham!
Excerpt from Amazon:
David McCullough, two-time winner of the Pulitzer Prize, tells the surprising, profoundly American story of Wilbur and Orville Wright.
Far more than a couple of unschooled Dayton bicycle mechanics who happened to hit on success, they were men of exceptional courage and determination, and of far-ranging intellectual interests and ceaseless curiosity, much of which they attributed to their upbringing. The house they lived in had no electricity or indoor plumbing, but there were books aplenty, supplied mainly by their preacher father, and they never stopped reading.
When they worked together, no problem seemed to be insurmountable. Wilbur was unquestionably a genius. Orville had such mechanical ingenuity as few had ever seen. That they had no more than a public high school education, little money and no contacts in high places, never stopped them in their "mission" to take to the air. Nothing did, not even the self-evident reality that every time they took off in one of their contrivances, they risked being killed.
In this thrilling book, master historian David McCullough draws on the immense riches of the Wright Papers, including private diaries, notebooks, scrapbooks, and more than a thousand letters from private family correspondence to tell the human side of the Wright Brothers' story, including the little-known contributions of their sister, Katharine, without whom things might well have gone differently for them.

Excerpt from Amazon:
In Elon Musk: Tesla, SpaceX, and the Quest for a Fantastic Future, veteran technology journalist Ashlee Vance provides the first inside look into the extraordinary life and times of Silicon Valley's most audacious entrepreneur. Written with exclusive access to Musk, his family and friends, the book traces the entrepreneur's journey from a rough upbringing in South Africa to the pinnacle of the global business world. Vance spent more than 30 hours in conversation with Musk and interviewed close to 300 people to tell the tumultuous stories of Musk's world-changing companies: PayPal, Tesla Motors, SpaceX and SolarCity, and to characterize a man who has renewed American industry and sparked new levels of innovation while making plenty of enemies along the way.
Vance uses Musk's story to explore one of the pressing questions of our time: can the nation of inventors and creators which led the modern world for a century still compete in an age of fierce global competition? He argues that Musk–one of the most unusual and striking figures in American business history–is a contemporary amalgam of legendary inventors and industrialists like Thomas Edison, Henry Ford, Howard Hughes, and Steve Jobs. More than any other entrepreneur today, Musk has dedicated his energies and his own vast fortune to inventing a future that is as rich and far-reaching as the visionaries of the golden age of science-fiction fantasy.

Excerpt from Amazon:
Certain books have redefined the way we view the world of finance and investing—books that should be on every investor's shelf. Bogle On Mutual Funds—the definitive work on mutual fund investing by one of finance's great luminaries—is just such a work, and has been added to the catalog of Wiley's Investment Classic collection. Updated with a new introduction by expert John Bogle, this comprehensive book provides investors with the wisdom of the pioneer of mutual funds to help you identify and execute the ideal mutual fund investment choices for your portfolio.
The former Vanguard Chief Executive, Bogle has long been mutual funds' most outspoken critic; in this classic book, he provides guidance on what you should and shouldn't believe when it comes to mutual funds, along with the story of persistence and perseverance that led to this seminal work. You'll learn the differences between common stock, bond, money market, and balanced funds, and why a passively managed "index" fund is a smarter investment than a fund managed by someone making weighted bets on individual securities, sectors, and the economy. Bogle reveals the truth behind the advertising, the mediocre performance, and selfishness, and highlights the common mistakes many investors make.
Consider the risks and rewards of investing in mutual funds
Learn how to choose between the four basic types of funds
Choose the lower-cost, more reliable investment structure
See through misleading advertising, and watch out for pitfalls
Take a look into this timeless classic and let Bogle On Mutual Funds show you how to invest in mutual funds the right way, with the expert perspective of an industry leader.

Excerpt from Amazon:
What are the jobs of the future? How many will there be? And who will have them? We might imagine—and hope—that today's industrial revolution will unfold like the last: even as some jobs are eliminated, more will be created to deal with the new innovations of a new era. In Rise of the Robots, Silicon Valley entrepreneur Martin Ford argues that this is absolutely not the case. As technology continues to accelerate and machines begin taking care of themselves, fewer people will be necessary. Artificial intelligence is already well on its way to making "good jobs" obsolete: many paralegals, journalists, office workers, and even computer programmers are poised to be replaced by robots and smart software. As progress continues, blue and white collar jobs alike will evaporate, squeezing working- and middle-class families ever further. At the same time, households are under assault from exploding costs, especially from the two major industries—education and health care—that, so far, have not been transformed by information technology. The result could well be massive unemployment and inequality as well as the implosion of the consumer economy itself.
In Rise of the Robots, Ford details what machine intelligence and robotics can accomplish, and implores employers, scholars, and policy makers alike to face the implications. The past solutions to technological disruption, especially more training and education, aren't going to work, and we must decide, now, whether the future will see broad-based prosperity or catastrophic levels of inequality and economic insecurity. Rise of the Robots is essential reading for anyone who wants to understand what accelerating technology means for their own economic prospects—not to mention those of their children—as well as for society as a whole.

Excerpt from Amazon:
Firebrand conservative columnist, commentator, Internet entrepreneur, and #1 New York Timesbestselling author Michelle Malkin tells the fascinating, little-known stories of the inventors who have contributed to American exceptionalism and technological progress.
In July 2012, President Obama infamously proclaimed: "If you've got a business—you didn't build that. Somebody else made that happen."
Malkin wholeheartedly disagrees. Who Built That is a rousing tribute to the hidden American capitalists who pioneered everyday inventions. They're the little big things we take for granted: bottle caps and glassware, tissue paper, flashlights, railroad signals, bridge cables, revolutionary plastics, and more.
Malkin takes readers on an eclectic journey of American capitalism, from the colonial period to the Industrial Age to the present, spotlighting awe-inspiring and little-known "tinkerpreneurs" who achieved their dreams of doing well by doing good. You'll learn how famous patent holders Abraham Lincoln and Mark Twain championed the nation's unique system of intellectual property rights; how glass manufacturing mavericks Edward Libbey and Mike Owens defied naysayers to revolutionize food, beverage, and pharmaceutical packaging; how penniless Croatian immigrant Anthony Maglica started his $400 million Maglite flashlight business in a rented garage; and many more riveting stories that explain our country's fertile climate for scientific advancement and entrepreneurship.
To understand who we are as people, we need to first understand what motivates America's ordinary and extraordinary makers and risk-takers. Driven by her own experience as a second-generation beneficiary of the American Dream, Malkin skillfully and passionately rebuts collectivist orthodoxy to celebrate the engineers, mechanics, designers, artisans, and relentless tinkerers of all backgrounds who embody our nation's spirit of self-made entrepreneurialism.

What books do you recommend for fellow value investors? Â Leave a comment below.