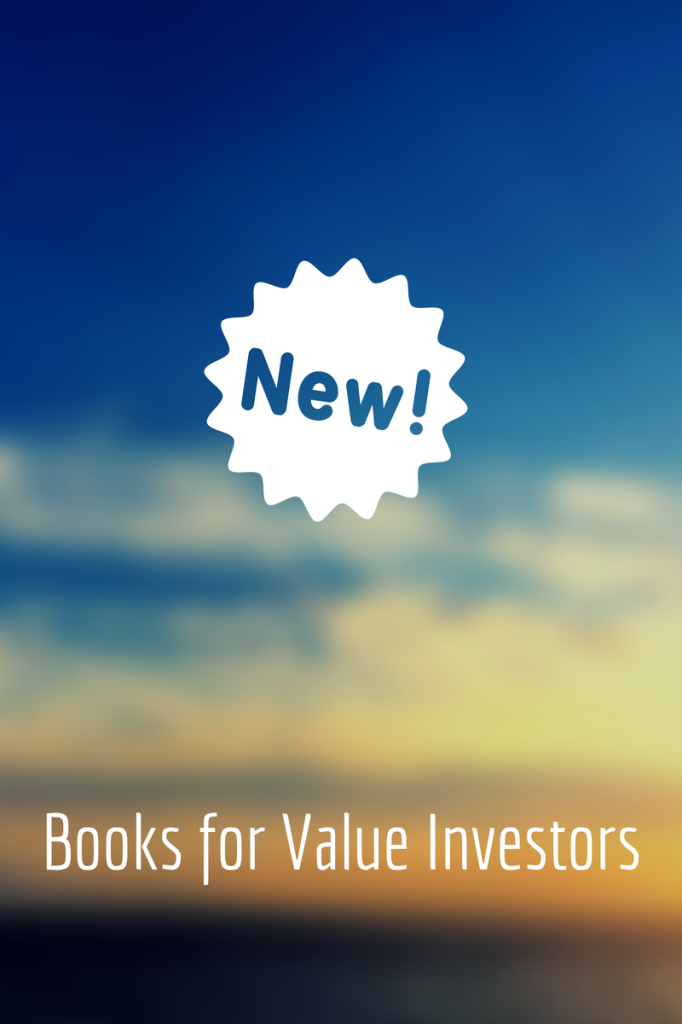 Reading is very important for value investors.  In fact, it is one of the 7 Key Tips to Value Investing.  A great way to continually hone your investing strategies and pursue the greatest level of investing success is through frequently reading new literature.  To that end, here's a list of 5 new books for value investors to consider adding to their reading list.  I highly recommend obtaining an Amazon Prime membership, which allows you to receive free 2-day shipping on most purchases.  Be sure to check out the master list of all recommended reading from ModernGraham!
Excerpt from Amazon:
In his powerful new book, bestselling author and world-renowned executive coach Marshall Goldsmith examines the environmental and psychological triggers that can derail us at work and in life.
Do you ever find that you are not the patient, compassionate problem solver you believe yourself to be? Are you surprised at how irritated or flustered the normally unflappable you becomes in the presence of a specific colleague at work? Have you ever felt your temper accelerate from zero to sixty when another driver cuts you off in traffic?
As Marshall Goldsmith points out, our reactions don't occur in a vacuum. They are usually the result of unappreciated triggers in our environment—the people and situations that lure us into behaving in a manner diametrically opposed to the colleague, partner, parent, or friend we imagine ourselves to be. These triggers are constant and relentless and omnipresent. The smell of bacon wafts up from the kitchen, and we forget our doctor's advice on lowering our cholesterol. Our phone chirps, and we glance instinctively at the glaring screen instead of looking into the eyes of the person we are with. So often the environment seems to be outside our control. Even if that is true, as Goldsmith points out, we have a choice in how we respond.
In Triggers, his most powerful and insightful book yet, Goldsmith shows how we can overcome the trigger points in our lives, and enact meaningful and lasting change.

Excerpt from Amazon:
The star of Parks and Recreation and author of the New York Times bestseller Paddle Your Own Canoe returns with a second book that humorously highlights twenty-one figures from our nation's history, from her inception to present day—Nick's personal pantheon of "great Americans."
To millions of people, Nick Offerman is America. Both Nick and his character, Ron Swanson, are known for their humor and patriotism in equal measure.
After the great success of his autobiography, Paddle Your Own Canoe, Offerman now focuses on the lives of those who inspired him. From George Washington to Willie Nelson, he describes twenty-one heroic figures and why they inspire in him such great meaning. He'll combine both serious history with light-hearted humor—comparing, say, George Washington's wooden teeth to his own experience as a woodworker. The subject matter will also allow Offerman to expound upon his favorite topics, which readers love to hear—areas such as religion, politics, woodworking and handcrafting, agriculture, creativity, philosophy, fashion, and, of course, meat.

Excerpt from Amazon:
In 1676, an unlikely pair—a young Puritan widow and an English spy—journeys across a land where greed and treachery abound.
Prudence Cotton has recently lost her husband and is desperate to find her daughter, captured by the Nipmuk tribe during King Philip's war. She's convinced her daughter is alive but cannot track her into the wilderness alone. Help arrives in the form of James Bailey, an agent of the crown sent to Boston to investigate the murder of Prudence's husband and to covertly cause a disturbance that would give the king just cause to install royal governors. After his partner is murdered, James needs help too. He strikes a deal with Prudence, and together they traverse the forbidding New England landscape looking for clues. What they confront in the wilderness—and what they discover about each other—could forever change their allegiances and alter their destinies.

Excerpt from Amazon:
Beating the stock market isn't very difficult. Yet almost all mutual funds consistently fail. Hedge fund manager Andreas F. Clenow takes you behind the scenes to show you why this is the case and how anyone can beat the mutual funds. Momentum investing has been one of very few ways of consistently beating the markets. This book offers you a unique back stage pass, guiding you through how established hedge funds achieve their results. The stock markets are widely misunderstood. Buying and selling stocks seems so simple. We all know what stocks are and what the companies produce. We're told that stocks always go up in the long run and that everyone should be in the stock markets. Oversimplifications like that can end up costing you. In the long run, the major stock indexes show a performance of five to six percent per year. For that return, you will have to bear occasional losses of over half your capital and be forced to wait many years to recover your money. Yes, in the long run stocks do go up. But the story isn't that simple. Stocks on the Move outlines a rational way to invest in the markets for the long term. It will walk you through the problems of the stock markets and how to address them. It will explain how to achieve twice the return of the stock markets at considerably lower risk. All rules and all details will be explained in this book, allowing anyone to replicate the strategies and research. Andreas F. Clenow is the chief investment officer and partner of ACIES Asset Management, based in Zurich, Switzerland. Starting out as a successful IT entrepreneur in the 90s boom, he enjoyed a stellar career as global head of equity and commodity quant modeling for Reuters before leaving for the hedge fund world. Having founded and managed multiple hedge funds, Mr. Clenow is now overseeing asset management and trading across all asset classes. He is the author of best-selling and critically acclaimed book Following the Trend and can be reached via his popular website www.FollowingTheTrend.com.

Excerpt from Amazon:
A masterful, intensely suspenseful novel about a reader whose obsession with a reclusive writer goes far too far—a book about the power of storytelling, starring the same trio of unlikely and winning heroes King introduced in Mr. Mercedes.
"Wake up, genius." So begins King's instantly riveting story about a vengeful reader. The genius is John Rothstein, an iconic author who created a famous character, Jimmy Gold, but who hasn't published a book for decades. Morris Bellamy is livid, not just because Rothstein has stopped providing books, but because the nonconformist Jimmy Gold has sold out for a career in advertising. Morris kills Rothstein and empties his safe of cash, yes, but the real treasure is a trove of notebooks containing at least one more Gold novel.
Morris hides the money and the notebooks, and then he is locked away for another crime. Decades later, a boy named Pete Saubers finds the treasure, and now it is Pete and his family that Bill Hodges, Holly Gibney, and Jerome Robinson must rescue from the ever-more deranged and vengeful Morris when he's released from prison after thirty-five years.
Not since Misery has King played with the notion of a reader whose obsession with a writer gets dangerous. Finders Keepers is spectacular, heart-pounding suspense, but it is also King writing about how literature shapes a life—for good, for bad, forever.

What books do you recommend for fellow value investors? Â Leave a comment below.