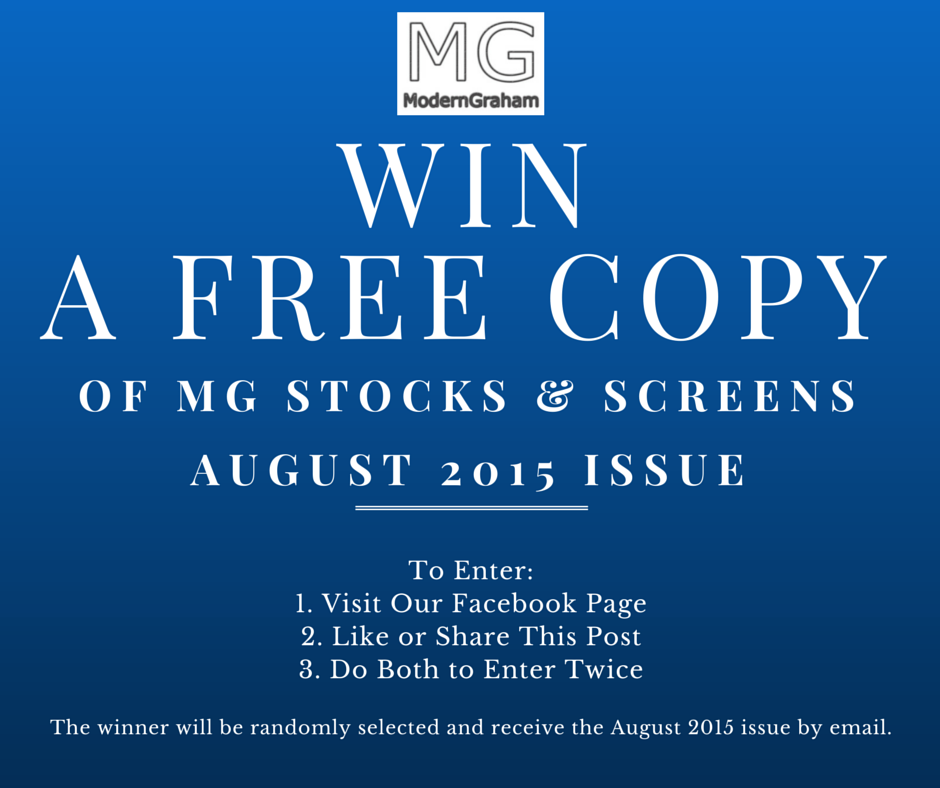 How to Enter:
Visit ModernGraham's Facebook Page.
Find the post with the above image about the contest.
"Like" or "Share" our Facebook post about the contest by 11:59 PM (CST) August 9, 2015.
Double your chance of winning by doing both.  One winner will be chosen randomly to receive a free copy of MG Stocks & Screens: August 2015.
About MG Stocks & Screens:
Inside this monthly publication available for premium subscribers is a listing of all the companies reviewed by ModernGraham (currently over 520Â different companies) in a handy table with some key figures. Â It then proceeds to screen the companies regarding different topics.
Inside the PDF report, you will find screens for:
Undervalued Companies
Fairly Valued Companies
Lowest PEmg Ratio – Defensive Investor
Lowest PEmg Ratio – Enterprising Investor
Companies Trading Closest to NCAVÂ 

Companies Trading Close to 52 Week High
Companies Trading Close to 52 Week Low
Companies With the Highest Beta
Companies With the Lowest Beta 
Undervalued Companies with a High Dividend Yield
You will also find the following mock portfolios:
Defensive Undervalued (up 11.84% vs. the DJIA's 8.69% since inception!)
Enterprising Undervalued (up 19.6% vs. the S&P 500's 15.12% since inception!)
As always, remember that ModernGraham makes no recommendations for investments in specific situations. Â Please consult a registered broker or investment advisor regarding your individual investment decisions.
Testimonials
With so much talk about stocks being overvalued, I'm glad to find someone that helps with the legwork of determining value investments. When the downturn occurs I feel confident ill be better prepared than most. I purchased your March screens and am looking forward to April. Thanks.
Excellent modernizing application of Graham's life work. Thank you!
I just discovered your web site and find it intriguing. I inherited some div stocks 20 yrs ago and just recently decided to reallocate using "Seeking Alpha as " as a tool and discovered a whole different world. And now with MG further frontiers seem to be unfolding. I'm looking forward to spending my mornings with MG and making my investments with sound tried and true, (and profitable) assistance.
Although Canada based, I've just started to dip a toe into
the U.S. market, so, as a novice in that market and Defensive investor, I've found your MG summaries very
useful and illuminating.
History shows that people who save and invest grow and prosper. ModernGraham gives us the knowledge and wisdom to help us invest wisely in order to grow our investments.
Invest with knowledge on your side. ModernGraham provides that.
Before I buy a stock, I always check first to see if MG has evaluated it. Buying within your criteria for a defensive investor, I always feel that at a minimum, I will be able to sleep at night and very possibly earn a handsome gain in the process. Thanks for helping me plot an even course through all the "vicissitudes" and profit from Mr. Market's emotional ups and downs. Keep up the great work!
Since I've been using Modern Graham's recommendations my portfolio is moving into the black! I thoroughly recommend this service as a way to improve buying choices in a volatile market.