Introducing Enhanced Individual Company Valuations

Introducing Enhanced Individual Company Valuations
A few weeks ago, we posted a survey asking for some feedback regarding what you like about the site, and one of your favorite features of ModernGraham is getting better.  We've taken your feedback and improved the formatting of our valuations in order to give you more information.  Now you can be better informed when conducting your investment research.  Starting today, all individual valuations on ModernGraham will be in a new format.
The New Design
The ModernGraham approach is three-fold, and the new design will highlight that fact. Â This will enable you to conduct your research as efficiently as possible. Â Stage 1 looks to determine if the company is suitable for either the Defensive Investor or the Enterprising Investor; Stage 2 presents ModernGraham's calculation of intrinsic value and gives some brief comments; and, Stage 3 provides some data to assist with your further research.
The PDF Version
In addition, a PDF version of the entire valuation is included and can easily be printed for your quick reference. Â This PDF has all of the information from the valuation, from the Stage 1 analysis to useful links for research purposes. Â But don't just listen to what it includes – take a look for yourself! Â Here's a free sample valuation!
The Data
ModernGraham has always utilized ten years worth of financial data when calculating the intrinsic value of a company. Â Now, we download twenty years worth of data in order to provide you with more historical context. Â This means that we can look back on the company to calculate the intrinsic value for up to fifteen years, giving you an opportunity to compare how the company's price has moved in relation to the intrinsic value over time.
The Charts
All of this also allows us to provide you with charts of information exclusive to ModernGraham, such as a chart showing the EPSmg (normalized Earnings Per Share) or the PEmg (price over EPSmg) ratio over time.
Additional Dividend Information
We know dividends are important to you, as they should be to any intelligent investor! Â We also know that dividend growth is a key factor for many investors when they are conducting further research. Â That's why we added some brief data regarding dividend growth. Â Now you can see how many consecutive years the company has grown its dividend!
Other Useful Links
ModernGraham isn't your only source of information because you like to be as thorough as possible when deciding where you put your money. Â With our valuations, you can start your research here and have quick access to the company's page on other sites. Â Each valuation will have a link to Google Finance, Yahoo Finance, GuruFocus, Morningstar, MSN Money, Seeking Alpha, and the company's SEC filings. Â If you use another site, just let us know and we'll see about adding it to the list.
Preview A Valuation
Our recent valuation of Arthur J Gallagher & Company (AJG) is set up as a preview so all visitors to the site can see the new format.  Go check it out!
Is Something Missing That You Need?
Send me an email at ben@moderngraham.com or leave a comment on this post, and I will work on including it. Â The goal is to make sure you have everything you need in one place for your research as a value investor.
How to Gain Access to the Valuations
All of the individual company valuations are available to premium members.  A membership is only $4.99/month but for TODAY ONLY you can get a membership for only $3.99/month!  Just enter the coupon code VALUATION20 when registering.

MG Stocks & Screens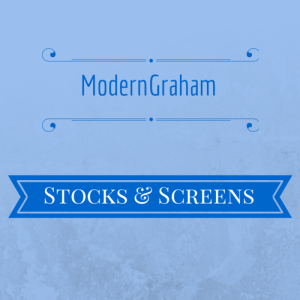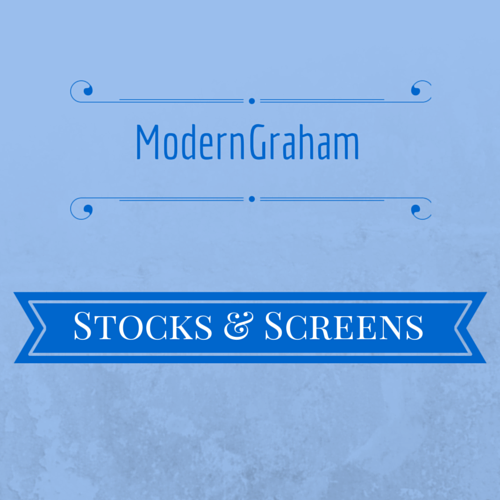 By becoming a premium member, you also get access to the monthly publication, MG Stocks & Screens which has data on all companies reviewed by ModernGraham.  At least once a month, a spreadsheet is made available for download with MG Values, Dividend Yields, NCAV, and more information. In addition, once a month a pdf report is released with screens for:
Undervalued Companies
Fairly Valued Companies
Lowest PEmg Ratio – Defensive Investor
Lowest PEmg Ratio – Enterprising Investor
Stocks Trading Closest to NCAV
Companies Trading Close to 52 Week High
Companies Trading Close to 52 Week Low
Companies With the Highest Beta
Companies With the Lowest Beta
Undervalued Companies with a High Dividend Yield
Mock Portfolio – Defensive Undervalued
Mock Portfolio – Enterprising Undervalued
Issues Included in Premium Membership:
August 2015 (522 companies)
July 2015 (504 companies)
June 2015 (504 companies)
May 2015 (506 companies)
April 2015 (506 companies)
March 2015 (506 companies)
February 2015 (505 companies)
January 2015 (499 companies)
December 2014 (470 companies)
November 2014 (434 companies)
October 2014 (415 companies)
September 2014 (390 companies)
August 2014 (353 companies)
July 2014 (327 companies)
June 2014 (300 companies)
May 2014 (257 companies)
April 2014 (217 companies)
March 2014 (184 companies)
February 2014 (126 companies)
January 2014 (76 companies)

December 2013 (36 companies)Â 
Testimonials
With so much talk about stocks being overvalued, I'm glad to find someone that helps with the legwork of determining value investments. When the downturn occurs I feel confident ill be better prepared than most. I purchased your March screens and am looking forward to April. Thanks.
Excellent modernizing application of Graham's life work. Thank you!
I just discovered your web site and find it intriguing. I inherited some div stocks 20 yrs ago and just recently decided to reallocate using "Seeking Alpha as " as a tool and discovered a whole different world. And now with MG further frontiers seem to be unfolding. I'm looking forward to spending my mornings with MG and making my investments with sound tried and true, (and profitable) assistance.
Although Canada based, I've just started to dip a toe into the U.S. market, so, as a novice in that market and Defensive investor, I've found your MG summaries very useful and illuminating.
History shows that people who save and invest grow and prosper. ModernGraham gives us the knowledge and wisdom to help us invest wisely in order to grow our investments.
Invest with knowledge on your side. ModernGraham provides that.
Before I buy a stock, I always check first to see if MG has evaluated it. Buying within your criteria for a defensive investor, I always feel that at a minimum, I will be able to sleep at night and very possibly earn a handsome gain in the process. Thanks for helping me plot an even course through all the "vicissitudes" and profit from Mr. Market's emotional ups and downs. Keep up the great work!
Since I've been using Modern Graham's recommendations my portfolio is moving into the black! I thoroughly recommend this service as a way to improve buying choices in a volatile market.