Valuation of the Dow Jones Industrial Average – August 2015 Update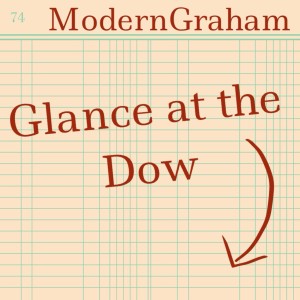 Each month ModernGraham takes a look at the Dow Jones Industrial Average, listing out each individual component in an easy to read table, and calculates a value for the index that is based on the ModernGraham valuation model's estimates for intrinsic values for each component.  Over time this figure can be useful for determining whether the market as a whole is undervalued or overvalued.  Readers may find it useful to review the history of this screen to see how the index has moved in relation to its intrinsic value.
Readers may also find a screen of some of the best components of the Dow by reviewing 5 Undervalued Dow Companies to Research.
At the time of writing, the Dow Jones Industrial Average (DJIA) was at 17,402.51. The ModernGraham Valuation of the DJIA was 19,118.97. As a result, the DJIA was trading at 91.02% of its estimated value. This figure is within the ModernGraham margin of error, and therefore it appears the DJIA is presently fairly valued.  To see the individual valuation articles, please click on the company name in the table below.
Disclaimer: Â The author held a long position in DIS and HD but did not hold a position in any other company mentioned in this article at the time of publication.