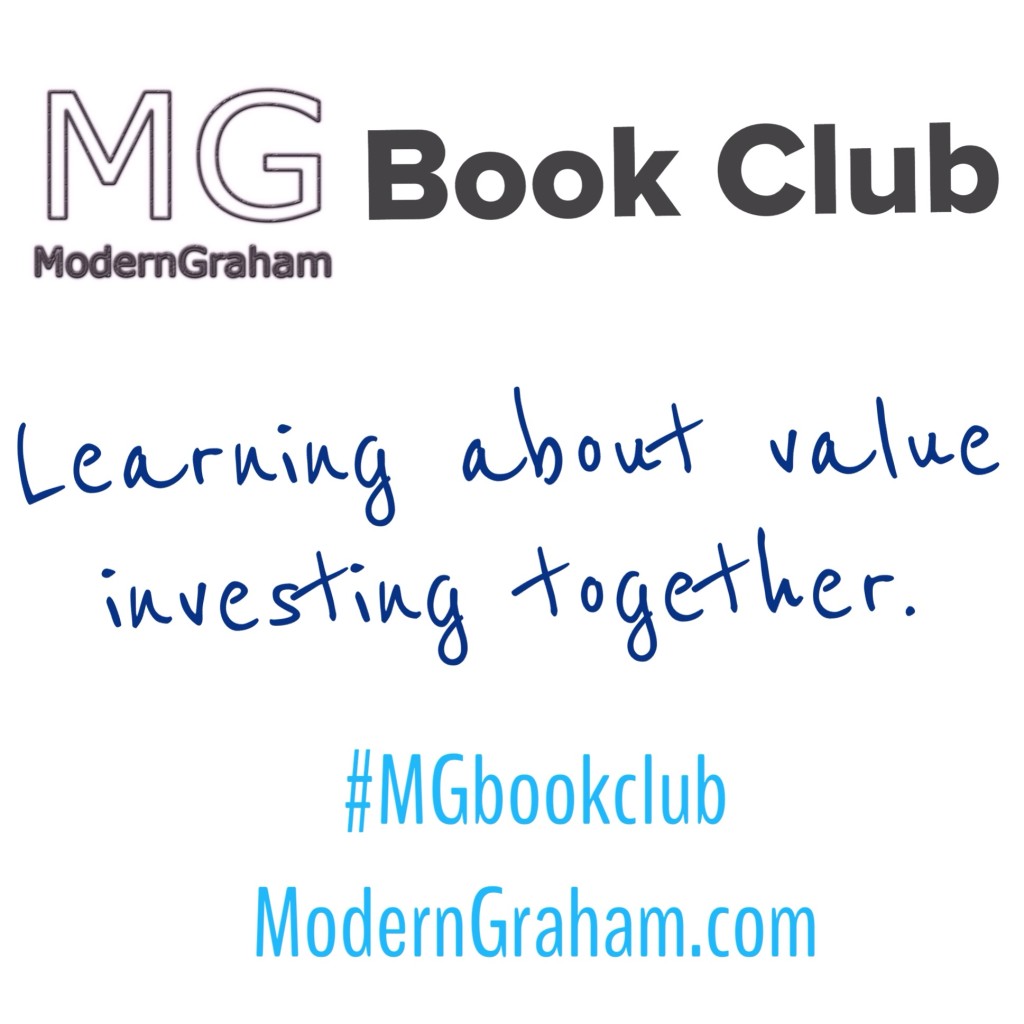 This is the first discussion of the ModernGraham Book Club's reading of Business Adventures: Twelve Classic Tales from the World of Wall Street. Â This week we are discussing your first impressions of the book. Â I encourage you to purchase the book (preferably by clicking the link to Amazon, because a purchase through that link will help support the club) and join in with us as we read through a chapter each week; however, even if you don't have the book I think you will find our discussions to be very useful in your own understanding of value investing, and you can still bring a lot to the discussion from your own experiences as an investor. Â Whether this is the first day you've ever been interested in investing, or you have decades of experience with the stock market, we'd love to hear your thoughts in the comments below!
For this particular book's discussion, frequent ModernGraham commentator John Michler will lead the discussion. Â John brings experience in banking to the discussion, and his passion for value investing will drive some great commentary as we read through Business Adventures. Â It is planned that each post will include each of our thoughts about the chapter followed by some discussion questions.
Please feel free to leave a comment on this post with your own responses to the questions, along with any other thoughts you have, and return throughout the next couple of days to see what others have said.
ModernGraham's Comments
John
I have been a follower of Modern Graham for a few years now, and I participated in the last book club book for The Intelligent Investor. I was led to Benjamin Graham from my search for financial knowledge after grad school. I had worked at some of the largest banks in the world as a commercial banker, and I was always interested in investing, but to my surprise the investment specialists I worked with did not have any special insight into investing. They were just trying to make a paycheck and not help build the financial well-being of their clients.
I wanted to learn about the pillars of business that founded America, and I started with Titan, a book about John D Rockefeller. I was fascinated that the richest self made person the world has known was horrible at investing in securities. John D was a wonderful entrepreneur, and he know the oil industry well, but he had a hard time translating that over to other industries. That naturally brought my attention to the story of Warren Buffet in Snow Ball. Although Warren had read many books on investing by the time he was thinking of college, he only trusted The Intelligent Investor and the teachings of Benjamin Graham. That foundation has served him well, and his teachings can help us all.
Business Adventures caught my attention because Warren Buffet and Bill Gates have discussed its merits and how they translate to modern businesses. I believe that we should not only know financial fundamentals, but also be aware of how successful businesses navigate economic ebbs and flows. This can help in our own creation of a company SWOT analysis effectively finding internal strengths and weaknesses or uncovering external opportunities and threats.
Ben
I'll be honest that I hadn't heard of this book until recently, so this will be a fun adventure for me as well (sorry for the bad pun). Â I found the book last year when writing a list of new books for value investors as a new edition of Business Adventures was being published at that time. Â I haven't read the book yet, but I am looking forward to reading through some of these stories, and believe there is great merit to learning from the experiences of others.
I also want to say from the beginning that I'm excited to have John on board to help lead this book's discussion. Â The last MG Book Club run was a lot of fun, partially because of John's comments, and John was so enthusiastic about the club that he approached me a couple months ago about getting it going again.
So, without further ado let's get this ball rolling!
Discussion Questions
Please leave a comment below and feel free to answer any of these questions, or just give your general thoughts.
Please introduce yourself, giving particular emphasis on your background in investing.
Do you consider yourself a value investor?

What do you expect to get out of reading Business Adventures? Â Have you read it before?

What is your motivation for reading?

If you already have the book, did anything catch your eye upon your initial review of the contents?

Which story are you most looking forward to?
Next Week's Discussion: Chapter One
Chapter Title -Â The Fluctuation: The Little Crash in '62
When reading the next chapter, try to think about whether the events of the chapter have repeated at periodic times in the stock market since '62.
What are some other ways to participate?
If you are a blogger, you can give your thoughts in a post on your own site, link to the discussion here on ModernGraham, and I will be sure to let our readers know that the conversation is going on over at your site as well.
In addition, you can use the hashtag #MGBookClub in social media to talk about the book on Twitter or Facebook!