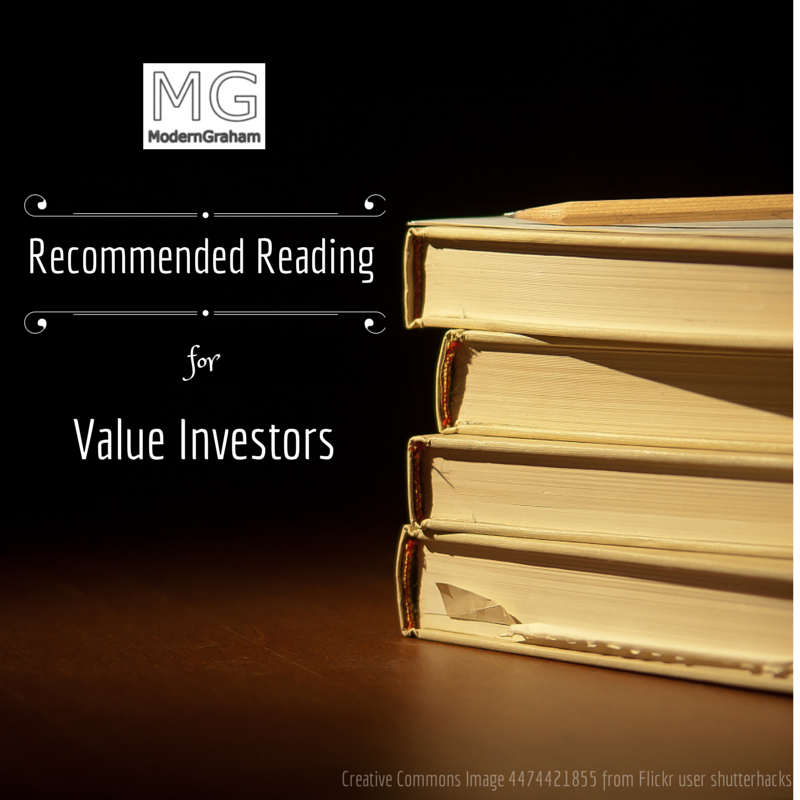 Reading is very important for value investors.  In fact, it is one of the 7 Key Tips to Value Investing.  A great way to continually hone your investing strategies and pursue the greatest level of investing success is through frequently reading new literature.  To that end, here's a list of 5 classic books for value investors to consider adding to their reading list.
Be sure to check out the master list of all recommended reading from ModernGraham!
Here are the 5 Classic Books for Value Investors:
No list of books for value investors is complete without including Graham's classic. Â This is the book that inspired me to create the ModernGraham website, and includes outstanding advice for all considering investing. Â For more information, you may also want to check out the MG Book Club's discussions of the book.
Excerpt from Amazon:
The greatest investment advisor of the 20th century, Benjamin Graham taught and inspired people worldwide. Graham's philosophy of "value investing" – which shields investors from substantial error and teaches them to develop long-term strategies – has made The Intelligent Investor the stock market Bible ever since its original publication in 1949.
Over the years, market developments have proven the wisdom of Graham's strategies. While preserving the integrity of Graham's original text, this revised edition includes updated commentary by noted financial journalist Jason Zweig, whose perspective incorporates the realities of today's market, draws parallels between Graham's examples and today's financial headlines, and gives listeners a more thorough understanding of how to apply Graham's principles.

Excerpt from Amazon:
First published in 1934, Security Analysis is one of the most influential financial books ever written. Selling more than one million copies through five editions, it has provided generations of investors with the timeless value investing philosophy and techniques of Benjamin Graham and David L. Dodd.
As relevant today as when they first appeared nearly 75 years ago, the teachings of Benjamin Graham, "the father of value investing," have withstood the test of time across a wide diversity of market conditions, countries, and asset classes.
This new sixth edition, based on the classic 1940 version, is enhanced with 200 additional pages of commentary from some of today's leading Wall Street money managers. These masters of value investing explain why the principles and techniques of Graham and Dodd are still highly relevant even in today's vastly different markets.
The contributor list includes:
Seth A. Klarman, president of The Baupost Group, L.L.C. and author of Margin of Safety
James Grant, founder of Grant's Interest Rate Observer, general partner of Nippon Partners
Jeffrey M. Laderman, twenty-five year veteran of BusinessWeek
Roger Lowenstein, author of Buffett: The Making of an American Capitalist and When America Aged and Outside Director, Sequoia Fund
Howard S. Marks, CFA, Chairman and Co-Founder, Oaktree Capital Management L.P.
J. Ezra Merkin, Managing Partner, Gabriel Capital Group .
Bruce Berkowitz, Founder, Fairholme Capital Management.
Glenn H. Greenberg, Co-Founder and Managing Director, Chieftain Capital Management
Bruce Greenwald, Robert Heilbrunn Professor of Finance and Asset Management, Columbia Business School
David Abrams, Managing Member, Abrams Capital
Featuring a foreword by Warren E. Buffett (in which he reveals that he has read the 1940 masterwork "at least four times"), this new edition of Security Analysis will reacquaint you with the foundations of value investing―more relevant than ever in the tumultuous 21st century markets.

Excerpt from Amazon:
By arranging Buffett's lengthy writings thematically, Cunningham's classic clarifies all the principles of Buffett's philosophy of business and investing.
Amazon Review:
Buffett, the Bard of Omaha, is a genuine American folk hero, if folk heroes are allowed to build fortunes worth upward of $15 billion. He's great at homespun metaphor, but behind those catchy phrases is a reservoir of financial acumen that's generally considered the best of his generation. For example, in an essay on CEO stock options, he writes, "Negotiating with one's self seldom produces a barroom brawl." This is his way of saying that an executive who can give himself compensation totally disproportionate to his performance surely will. There are uncountable gems of financial wisdom to be harvested from these essays, taken from the annual reports he writes for Berkshire Hathaway, his holding company. Just to pick one more, here's a now-famous line about those he competes with when making stock-market investments: "What could be more advantageous in an intellectual contest–whether it be chess, bridge, or stock selection–than to have opponents who have been taught that thinking is a waste of energy?"
While Buffett has a policy of seldom commenting on stocks he owns–he feels public pronouncements will only lead to the public's expectation of more public pronouncements, and he likes to keep his cards close to his vest–he loves to discuss the principles behind his investments. These come primarily from Ben Graham, under whom Buffett studied at Columbia University and for whom he worked in the 1950s. First among them is the idea that price is what you pay and value is what you get–and if you're a smart investor, the first will always be less than the second. In that sense, the value of the lessons learned from Buffett's Essays could be far greater than the book's price. –Lou Schuler

Excerpt from Amazon:
More than one million copies have been sold of this seminal book on investing in which legendary mutual-fund manager Peter Lynch explains the advantages that average investors have over professionals and how they can use these advantages to achieve financial success.
America's most successful money manager tells how average investors can beat the pros by using what they know. According to Lynch, investment opportunities are everywhere. From the supermarket to the workplace, we encounter products and services all day long. By paying attention to the best ones, we can find companies in which to invest before the professional analysts discover them. When investors get in early, they can find the "tenbaggers," the stocks that appreciate tenfold from the initial investment. A few tenbaggers will turn an average stock portfolio into a star performer.
Lynch offers easy-to-follow advice for sorting out the long shots from the no-shots by reviewing a company's financial statements and knowing which numbers really count. He offers guidelines for investing in cyclical, turnaround, and fast-growing companies.
As long as you invest for the long term, Lynch says, your portfolio can reward you. This timeless advice has made One Up on Wall Street a #1 bestseller and a classic book of investment know-how.

Excerpt from Amazon:
Especially in the wake of the financial meltdown, readers will hunger for Burton G. Malkiel's reassuring, authoritative, gimmick-free, and perennially best-selling guide to investing. With 1.5 million copies sold,A Random Walk Down Wall Street has long been established as the first book to purchase when starting a portfolio. In addition to covering the full range of investment opportunities, the book features new material on the Great Recession and the global credit crisis as well as an increased focus on the long-term potential of emerging markets. With a new supplement that tackles the increasingly complex world of derivatives, along with the book's classic life-cycle guide to investing, A Random Walk Down Wall Street remains the best investment guide money can buy.

What books do you recommend for fellow value investors? Â Leave a comment below.