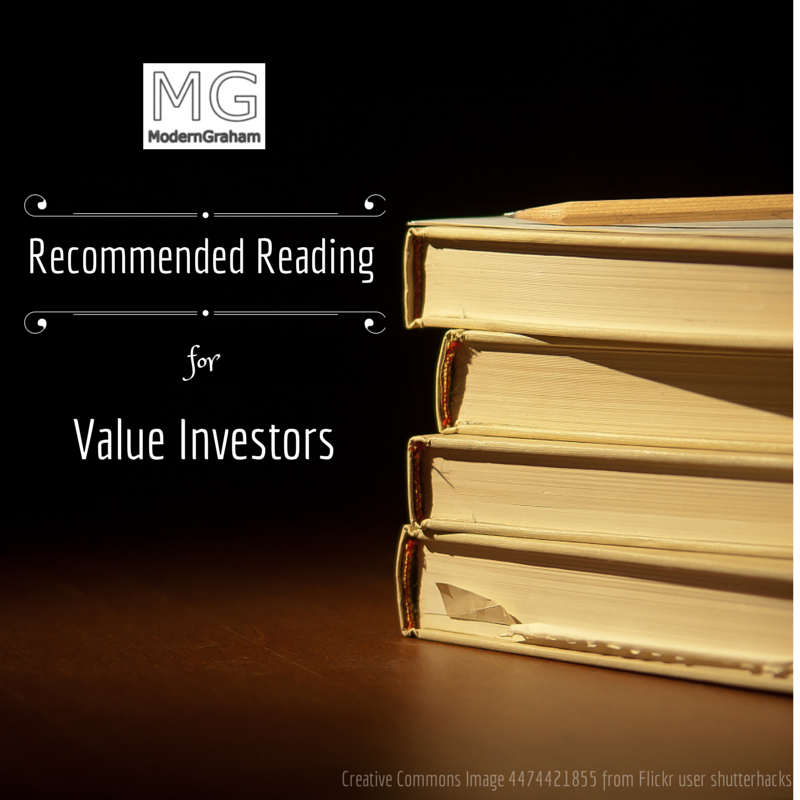 Reading is very important for value investors.  In fact, it is one of the 7 Key Tips to Value Investing.  A great way to continually hone your investing strategies and pursue the greatest level of investing success is through frequently reading new literature.  To that end, here's a list of 5 new books for value investors to consider adding to their reading list.
Be sure to check out the master list of all recommended reading from ModernGraham!
Here are the 5 New Books for Value Investors:
Excerpt from Amazon:
Charlie Munger, Berkshire Hathaway's visionary vice chairman and Warren Buffett's indispensable financial partner, has outperformed market indexes again and again, and he believes any investor can do the same. His notion of "elementary, worldly wisdom"–a set of interdisciplinary mental models involving economics, business, psychology, ethics, and management–allows him to keep his emotions out of his investments and avoid the common pitfalls of bad judgment.
Munger's system has steered his investments for forty years and has guided generations of successful investors. This book presents the essential steps of Munger's investing strategy, condensed here for the first time from interviews, speeches, writings, and shareholder letters, and paired with commentary from fund managers, value investors, and business-case historians. Derived from Ben Graham's value-investing system, Munger's approach is straightforward enough that ordinary investors can apply it to their portfolios. This book is not simply about investing. It is about cultivating mental models for your whole life, but especially for your investments.

Excerpt from Amazon:
Not everyone is cut out to be an entrepreneur. Many of us are happy to have a job, we just want a better job, one that fulfills us, makes us wealthy, and brings us satisfaction. Still, income is now permanently going down versus inflation for the average employee. Industry, knowledge, and management are all being outsourced cheaply to other countries or to technology. Many people mistakenly think that the solution is entrepreneurship. That "entrepreneurship is the pathway to riches". This is not true. Being an entrepreneur does have great upside but also it has a well-known rate of failure of 85%. There is no way to predict your way out of that 85%. The solution is to become a Rich Employee with the mindset and techniques described in this book. This is the first book ever to detail how one can become a rich employee in our times. And there is more: companies in this new century will only succeed if they encourage their employees to develop The Rich Employee mindset. Written by the author of "The Choose Yourself Guide to Wealth" which USA Today has called "One of the 12 Best Business Books of All Time" and also the author of WSJ and USA Today bestseller "Choose Yourself" which Forbes recently called one of the "Top Five Books Every Entrepreneur Must Read", this book gives you the tools to find satisfaction, meaning, and true wealth as a rich employee

Excerpt from Amazon:
Failure is your key to success.
So says Hall of Fame quarterback and hugely successful serial entrepreneur Fran Tarkenton.
Don't get him wrong—there's no one more competitive or keener on winning than Fran.
But in his inspiring and insightful new book, The Power of Failure, Tarkenton illustrates with hard, real-life examples why the most successful entrepreneurs are those with the courage, the resilience, the intelligence, and the competitive spirit to fail often, fail faster, and fail better—to achieve ultimate success.
Candid, concise, quotable, and realistic, Fran Tarkenton is the best possible guide to finding success through the power of failure.

Excerpt from Amazon:
Walter Isaacson's "enthralling" (The New Yorker) worldwide bestselling biography of Apple co-founder Steve Jobs—the inspiration for the movie Steve Jobs starring Michael Fassbender, Kate Winslet, Seth Rogen, and Jeff Daniels, directed by Danny Boyle with a screenplay by Aaron Sorkin.
Based on more than forty interviews with Steve Jobs conducted over two years—as well as interviews with more than 100 family members, friends, adversaries, competitors, and colleagues—Walter Isaacson has written a riveting story of the roller-coaster life and searingly intense personality of a creative entrepreneur whose passion for perfection and ferocious drive revolutionized six industries: personal computers, animated movies, music, phones, tablet computing, and digital publishing. Isaacson's portrait touched millions of readers.
At a time when America is seeking ways to sustain its innovative edge, Jobs stands as the ultimate icon of inventiveness and applied imagination. He knew that the best way to create value in the twenty-first century was to connect creativity with technology. He built a company where leaps of the imagination were combined with remarkable feats of engineering.
Although Jobs cooperated with the author, he asked for no control over what was written. He put nothing off-limits. He encouraged the people he knew to speak honestly. He himself spoke candidly about the people he worked with and competed against.
His friends, foes, and colleagues offer an unvarnished view of the passions, perfectionism, obsessions, artistry, devilry, and compulsion for control that shaped his approach to business and the innovative products that resulted.
His tale is instructive and cautionary, filled with lessons about innovation, character, leadership, and values.

Excerpt from Amazon:
Tom Brady and Peyton Manning are perhaps the two greatest quarterbacks of all time. They are living legends who have come to embody the quarterback position and shape an entire generation of the NFL. They have also been fierce rivals every step of the way, and their many epic duels have not only ranked among the best and most exciting games ever played, they have fundamentally shaped the lives of and careers of both men.
But for all their shared brilliance, they are a study in contrasts. Tom is the underdog turned ultimate winner, an unheralded draft pick who went on to win a miraculous Super Bowl and become the leader of one of the NFL's greatest dynasties. He is as firmly associated with big game brilliance as anyone who has ever played. Meanwhile Peyton was born into NFL royalty and a mountain of outsized expectations, yet somehow lived up to and exceeded all the hype, claiming virtually every passing record along his path to football immortality.
The contrast in greatness—between the overachieving underdog and the crown prince of football, between postseason brilliance and statistical dominance—has served as an endless source of fascination for fans and media, and over the years as the two players have faced off again and again in classic games, the argument has only intensified.
But until now, there has never been a definitive treatment of the debate that tells the real story.
What do Tom and Peyton actually think of each other? What do their coaches think of them? What about teammates and opposing players? What are they like behind closed doors and in the locker room, and how does that influence their careers? How did their vastly different upbringings shape them, and how has each handled the injuries, setbacks and defeats they've dealt with over their careers?
In this extraordinary book, veteran NFL correspondent Gary Myers tackles this subject from every angle and with unprecedented access and insight, drawing on a huge number of never-before-heard interviews with Brady and Manning, their coaches, their families, and those who have played with them and against them. The result is a remarkable collection of the most entertaining and revealing stories ever told about Peyton and Tom, from how they developed their vastly different leadership styles, to the unlikely friendship they've built over the years, to their respective exploits as locker room pranksters.
Wildly entertaining and deeply thought-provoking, Brady vs Manning is essential reading for anyone who truly wants to understand these extraordinary players.

What books do you recommend for fellow value investors? Â Leave a comment below.