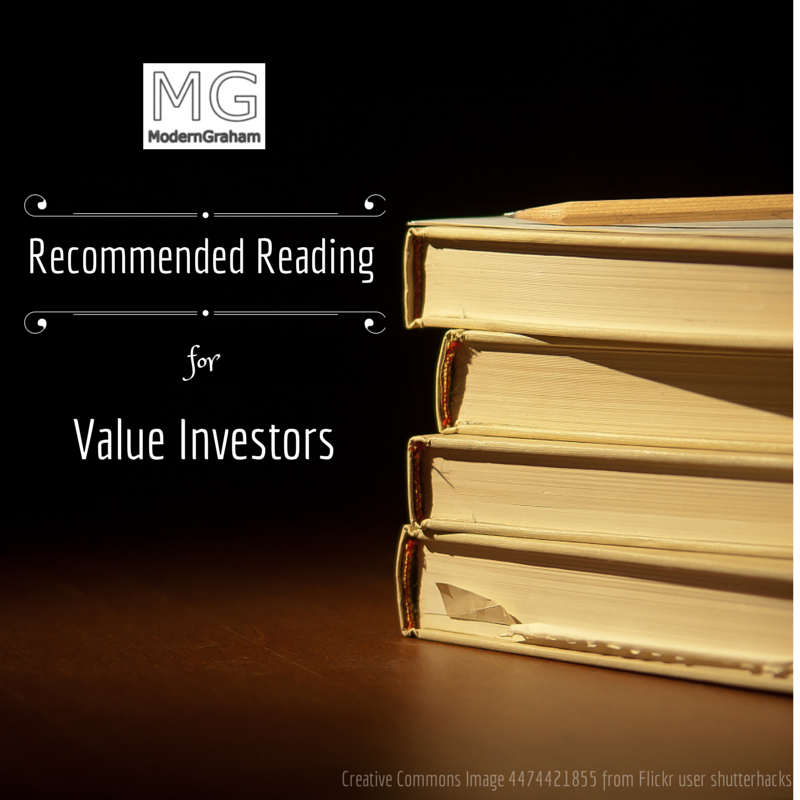 Reading is very important for value investors.  In fact, it is one of the 7 Key Tips to Value Investing.  A great way to continually hone your investing strategies and pursue the greatest level of investing success is through frequently reading new literature.  To that end, here's a list of 5 new books for value investors to consider adding to their reading list.
Be sure to check out the master list of all recommended reading from ModernGraham!
Here are the 5 New Books for Value Investors:
Excerpt from Amazon:
In 1961, Charles Koch joined his father's Wichita-based company, then valued at $21 million. Six years later, he was named chairman of the board and CEO of Koch Industries, Inc. Today, Koch Industries' estimated worth is $100 billion — making it one of the largest private companies in the world. Koch exceeds the S&P 500's five-decade growth by 27-fold and plans to double its value on average every six years.
What exactly does this company do and why is it so remarkably profitable? Koch's name may not be on your stain-resistant carpet, stretch denim jeans, the connectors in your smart phone, or your baby's ultra-absorbent diapers but it makes them all. And Koch's Market-Based Management® system is what drives these innovations and many more.
Based on five decades of interdisciplinary studies, experimental discovery, and practical implementation across Koch businesses worldwide, the core objective of MBM is to generate good profit. Good profit results from products and services that customers vote for freely with their dollars, products that improve people's lives.  It results from a culture where employees are empowered to act entrepreneurially to discover customers' preferences and the best ways to satisfy them. Good profit is what follows when long-term value is created for customers, employees, shareholders, and society.
Here, drawing on revealing, honest, and previously untold stories from his nearly six decades in business, Koch walks the reader through the five dimensions of MBM to show how to apply its framework to generate more good profit in any business, industry, or organization of any size. Â Readers will learn how to:
Craft a vision for how to thrive in spite of increasingly rapid disruption
Select and retain a workforce possessing both virtue and talent
Create an environment of knowledge sharing that prizes respectful challenges from everyone at every level
Award employees with ownership and decision rights based on their proven contributions, not job title
Motivate all employees to maximize their contributions by structuring incentives so compensation is limited only by the value they create
A must-read for any leader, entrepreneur, or student, as well as anyone who wants a more civil, fair, and prosperous society, Good Profit is destined to rank as one of the greatest management books of all time.

Excerpt from Amazon:
Everyone would benefit from seeing further into the future, whether buying stocks, crafting policy, launching a new product, or simply planning the week's meals. Unfortunately, people tend to be terrible forecasters. As Wharton professor Philip Tetlock showed in a landmark 2005 study, even experts' predictions are only slightly better than chance. However, an important and underreported conclusion of that study was that some experts do have real foresight, and Tetlock has spent the past decade trying to figure out why. What makes some people so good? And can this talent be taught?
In Superforecasting, Tetlock and coauthor Dan Gardner offer a masterwork on prediction, drawing on decades of research and the results of a massive, government-funded forecasting tournament. The Good Judgment Project involves tens of thousands of ordinary people—including a Brooklyn filmmaker, a retired pipe installer, and a former ballroom dancer—who set out to forecast global events. Some of the volunteers have turned out to be astonishingly good. They've beaten other benchmarks, competitors, and prediction markets. They've even beaten the collective judgment of intelligence analysts with access to classified information. They are "superforecasters."
In this groundbreaking and accessible book, Tetlock and Gardner show us how we can learn from this elite group. Weaving together stories of forecasting successes (the raid on Osama bin Laden's compound) and failures (the Bay of Pigs) and interviews with a range of high-level decision makers, from David Petraeus to Robert Rubin, they show that good forecasting doesn't require powerful computers or arcane methods. It involves gathering evidence from a variety of sources, thinking probabilistically, working in teams, keeping score, and being willing to admit error and change course.Superforecasting offers the first demonstrably effective way to improve our ability to predict the future—whether in business, finance, politics, international affairs, or daily life—and is destined to become a modern classic.

Excerpt from Amazon:
Fanatical Prospecting gives salespeople, sales leaders, entrepreneurs, and executives a practical, eye-opening guide that clearly explains the why and how behind the most important activity in sales and business development—prospecting.
The brutal fact is the number one reason for failure in sales is an empty pipe and the root cause of an empty pipeline is the failure to consistently prospect. By ignoring the muscle of prospecting, many otherwise competent salespeople and sales organizations consistently underperform.
Step by step, Jeb Blount outlines his innovative approach to prospecting that works for real people, in the real world, with real prospects.
Learn how to keep the pipeline full of qualified opportunities and avoid debilitating sales slumps by leveraging a balanced prospecting methodology across multiple prospecting channels.
This book reveals the secrets, techniques, and tips of top earners. You'll learn:
Why the 30-Day Rule is critical for keeping the pipeline full
Why understanding the Law of Replacement is the key to avoiding sales slumps
How to leverage the Law of Familiarity to reduce prospecting friction and avoid rejection
The 5 C's of Social Selling and how to use them to get prospects to call you
How to use the simple 5 Step Telephone Framework to get more appointments fast
How to double call backs with a powerful voice mail technique
How to leverage the powerful 4 Step Email Prospecting Framework to create emails that compel prospects to respond
How to get text working for you with the 7 Step Text Message Prospecting Framework
And there is so much more!
Fanatical Prospecting is filled with the high-powered strategies, techniques, and tools you need to fill your pipeline with high quality opportunities.
In the most comprehensive book ever written about sales prospecting, Jeb Blount reveals the real secret to improving sales productivity and growing your income fast. You'll gain the power to blow through resistance and objections, gain more appointments, start more sales conversations, and close more sales.
Break free from the fear and frustration that is holding you and your team back from effective and consistent prospecting. It's time to get off the feast or famine sales roller-coaster for good!

Excerpt from Amazon:
In the New York Times bestseller that the Washington Post called "Lean In for misfits," Sophia Amoruso shares how she went from dumpster diving to founding one of the fastest-growing retailers in the world.

Sophia Amoruso spent her teens hitchhiking, committing petty theft, and scrounging in dumpsters for leftover bagels. By age twenty-two she had dropped out of school, and was broke, directionless, and checking IDs in the lobby of an art school—
a job she'd taken for the health insurance. It was in that lobby that Sophia decided to start selling vintage clothes on eBay.
Flash forward ten years to today, and she's the founder and executive chairman of Nasty Gal, a $250-million-plus fashion retailer with more than four hundred employees. Sophia was never a typical CEO, or a typical anything, and she's written #GIRLBOSS for other girls like her: outsiders (and insiders) seeking a unique path to success, even when that path is windy as all hell and lined with naysayers.
#GIRLBOSS proves that being successful isn't about where you went to college
or how popular you were in high school. It's about trusting your instincts and following your gut; knowing which rules to follow and which to break; when to button up and when to let your freak flag fly.

Excerpt from Amazon:
In the summer of 2010, photographer Brandon Stanton began an ambitious project -to single-handedly create a photographic census of New York City. The photos he took and the accompanying interviews became the blog Humans of New York. His audience steadily grew from a few hundred followers to, at present count, over fifteen million. In 2013, his book Humans of New York, based on that blog, was published and immediately catapulted to the top of the NY Times Bestseller List where it has appeared for over forty-five weeks. Now, Brandon is back with the Humans of New York book that his loyal followers have been waiting for: Humans of New York: Stories. Ever since Brandon began interviewing people on the streets of New York, the dialogue he's had with them has increasingly become as in-depth, intriguing and moving as the photos themselves. Humans of New York: Stories presents a whole new group of people in stunning photographs, with a rich design and, most importantly, longer stories that delve deeper and surprise with greater candor. Let Brandon Stanton and the Humans of New York he's photographed astonish you all over again this October.

What books do you recommend for fellow value investors? Â Leave a comment below.