5 New Books for Value Investors – November 2015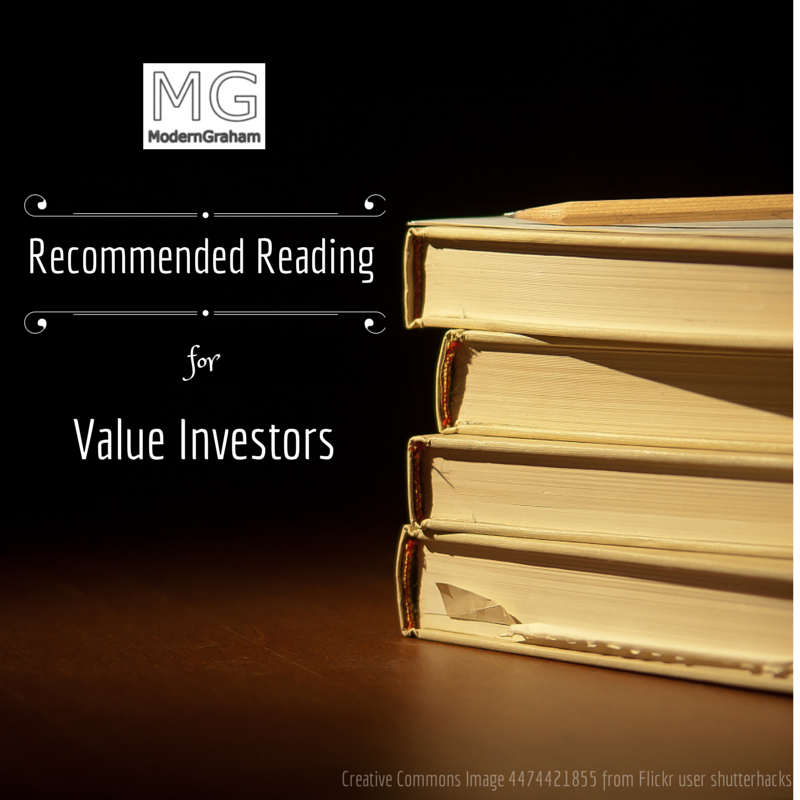 Reading is very important for value investors.  In fact, it is one of the 7 Key Tips to Value Investing.  A great way to continually hone your investing strategies and pursue the greatest level of investing success is through frequently reading new literature.  To that end, here's a list of 5 new books for value investors to consider adding to their reading list.
Be sure to check out the master list of all recommended reading from ModernGraham!
Here are the 5 New Books for Value Investors:
Excerpt from Amazon:
An instant New York Times bestseller
In Extreme Ownership, Jocko Willink and Leif Babin share hard-hitting, Navy SEAL combat stories that translate into lessons for business and life. With riveting first-hand accounts of making high-pressure decisions as Navy SEAL battlefield leaders, this book is equally gripping for leaders who seek to dominate other arenas. Jocko and Leif served together in SEAL Task Unit Bruiser, the most highly decorated Special Operations unit from the war in Iraq. Their efforts contributed to the historic triumph for U.S. forces in Ramadi. Through those difficult months of sustained combat, Jocko, Leif and their SEAL brothers learned that leadership–at every level–is the most important thing on the battlefield. They started Echelon Front to teach these same leadership principles to companies across industries throughout the business world that want to build their own high-performance, winning teams.
This book explains the SEAL leadership concepts crucial to accomplishing the most difficult missions in combat and how to apply them to any group, team, or organization. It provides the reader with Jocko and Leif's formula for success: the mindset and guiding principles that enable SEAL combat units to achieve extraordinary results. It demonstrates how to apply these directly to business and life to likewise achieve victory.

Excerpt from Amazon:
When a career-ending injury left elite athlete and professional football player Lewis Howes out of work and living on his sister's couch, he decided he needed to make a change for the better. He started by reaching out to people he admired, searching for mentors, and applying his past coaches' advice from sports to life off the field. Lewis did more than bounce back: He built a multimillion-dollar online business and is now a sought-after business coach, speaker, and podcast host.
In The School of Greatness, Howes shares the essential tips and habits he gathered in interviewing "the greats" on his wildly popular podcast of the same name. In discussion with people like Olympic gold medalist Shawn Johnson and Pencils of Promise CEO Adam Braun, Howes figured out that greatness is unearthed and cultivated from within. The masters of greatness are not successful because they got lucky or are innately more talented, but because they applied specific habits and tools to embrace and overcome adversity in their lives.
A framework for personal development, The School of Greatness gives you the tools, knowledge, and actionable resources you need to reach your potential. Howes anchors each chapter with a specific lesson he culled from his greatness "professors" and his own experiences to teach you how to create a vision, develop hustle, and use dedication, mindfulness, joy, and love to reach goals. His lessons and practical exercises prove that anyone is capable of achieving success and that we can all strive for greatness in our everyday lives.

Excerpt from Amazon:
Remarkable lessons in leadership and teambuilding from one of the greatest college football coaches of our time
In only thirteen years as a head football coach, first at Bowling Green and then at Utah, Florida, and Ohio State, Urban Meyer has established himself as one of the elite coaches in the annals of his sport, with three national championships and a cumulative record of 142 wins and only 26 losses. But sheer statistics are not the measure of his true accomplishment, nor do they speak to his own extraordinary learning journey. Now, in Above the Line, he offers to readers his unparalleled insights into leadership, team building and the keys to empowering people to achieve things they might never have thought possible.
Despite winning two national championships at Florida in only six seasons, Meyer stepped back from the game at the end of the 2010 season, amid health concerns and a growing awareness that his almost maniacal pursuit of perfection was distorting his priorities, distancing him from his family and taking him away from the reasons he wanted to coach in the first place. When he returned to the sport in 2012 as the head  coach at Ohio State, the school he grew up rooting for, Meyer did so with a renewed sense of the deeper purpose of his work and a profound commitment to life balance that had previously been lacking. What remained constant was his passion for leading, teaching and motivating, forging his football teams into a cohesive whole, playing for one another with selfless commitment and uncommon intensity.
Ohio State's 2014 season was in many ways Urban Meyer's master class in leadership. The world knows how the story ended: with the Buckeyes capturing the inaugural College Football Playoff Championship with a 42–20 victory over Oregon, with the team's third-string quarterback at the helm, in only his third collegiate start. Few remember how it began: with a bad early season loss that sent OSU out of the Top 20, season-ending injuries at the most important position on the team, and then, infinitely worse, the tragic death of a teammate. But this team's resilience was no accident. In Above the Line, Urban Meyer shares with readers OSU's groundbreaking game plan—the game plan he followed every day in the Buckeyes' historic 2014 season—for creating a culture of success that engages and inspires the people around them
A student of psychology long before he became a coach, Meyer believes that trust is the bedrock of great achievements and healthy relationships, and explains how to build it, step by step—whether in a team, a family, or a Fortune 500 company. With trust in place, a deep bond unites us in common purpose, and cultivates what he calls "Above the Line" behavior—a learned, empowered response to the challenges we face every day.
Writing with his customary candor and humility, Meyer delivers insights both practical and profound—and applicable far beyond the football field. Packed with real-life examples from a storied season,Above the Line offers wisdom and inspiration for taking control and turning setbacks into victories.

Excerpt from Amazon:
In this brilliant biography, Jon Meacham, the Pulitzer Prize–winning author, chronicles the life of George Herbert Walker Bush. Drawing on President Bush's personal diaries, on the diaries of his wife, Barbara, and on extraordinary access to the forty-first president and his family, Meacham paints an intimate and surprising portrait of an intensely private man who led the nation through tumultuous times. From the Oval Office to Camp David, from his study in the private quarters of the White House to Air Force One, from the fall of the Berlin Wall to the first Gulf War to the end of Communism, Destiny and Power charts the thoughts, decisions, and emotions of a modern president who may have been the last of his kind. This is the human story of a man who was, like the nation he led, at once noble and flawed.
His was one of the great American lives. Born into a loving, privileged, and competitive family, Bush joined the navy on his eighteenth birthday and at age twenty was shot down on a combat mission over the Pacific. He married young, started a family, and resisted pressure to go to Wall Street, striking out for the adventurous world of Texas oil. Over the course of three decades, Bush would rise from the chairmanship of his county Republican Party to serve as congressman, ambassador to the United Nations, head of the Republican National Committee, envoy to China, director of Central Intelligence, vice president under Ronald Reagan, and, finally, president of the United States. In retirement he became the first president since John Adams to see his son win the ultimate prize in American politics.
With access not only to the Bush diaries but, through extensive interviews, to the former president himself, Meacham presents Bush's candid assessments of many of the critical figures of the age, ranging from Richard Nixon to Nancy Reagan; Mao to Mikhail Gorbachev; Dick Cheney to Donald Rumsfeld; Henry Kissinger to Bill Clinton. Here is high politics as it really is but as we rarely see it.
From the Pacific to the presidency, Destiny and Power charts the vicissitudes of the life of this quietly compelling American original. Meacham sheds new light on the rise of the right wing in the Republican Party, a shift that signaled the beginning of the end of the center in American politics. Destiny and Power is an affecting portrait of a man who, driven by destiny and by duty, forever sought, ultimately, to put the country first.

Excerpt from Amazon:
When a mysterious package is delivered to Robin Ellacott, she is horrified to discover that it contains a woman's severed leg.
Her boss, private detective Cormoran Strike, is less surprised but no less alarmed. There are four people from his past who he thinks could be responsible–and Strike knows that any one of them is capable of sustained and unspeakable brutality.
With the police focusing on the one suspect Strike is increasingly sure is not the perpetrator, he and Robin take matters into their own hands, and delve into the dark and twisted worlds of the other three men. But as more horrendous acts occur, time is running out for the two of them…
Career of Evil is the third in the highly acclaimed series featuring private detective Cormoran Strike and his assistant Robin Ellacott. A fiendishly clever mystery with unexpected twists around every corner, it is also a gripping story of a man and a woman at a crossroads in their personal and professional lives.
What books do you recommend for fellow value investors? Â Leave a comment below.