5 New Books for Value Investors – January 2016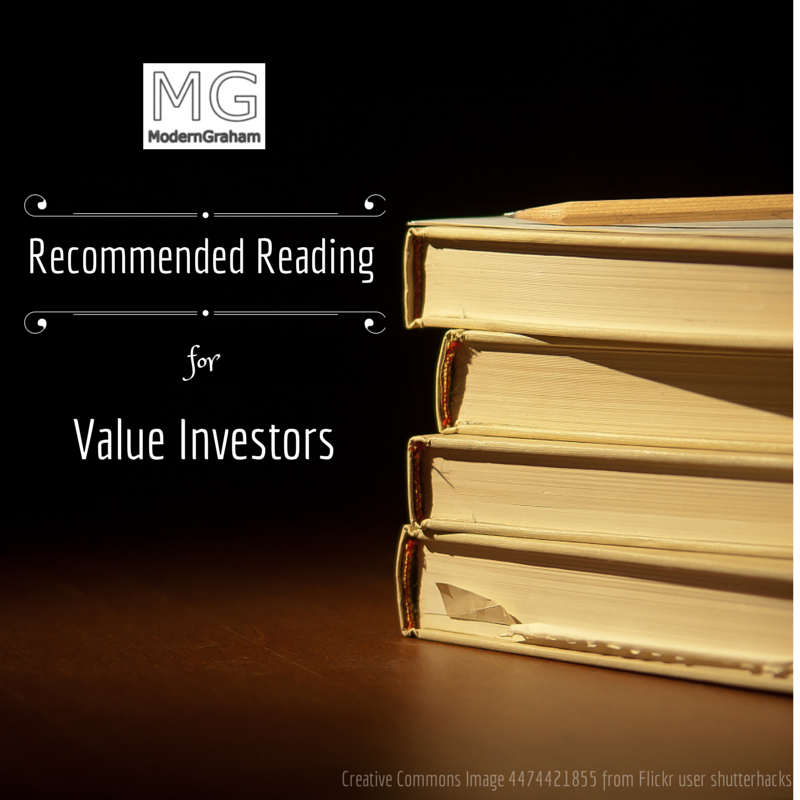 Reading is very important for value investors.  In fact, it is one of the 7 Key Tips to Value Investing.  A great way to continually hone your investing strategies and pursue the greatest level of investing success is through frequently reading new literature.  To that end, here's a list of 5 new books for value investors to consider adding to their reading list.
Be sure to check out the master list of all recommended reading from ModernGraham!
Here are the 5 New Books for Value Investors:
Excerpt from Amazon:
Expanded and updated for 2016, the Jonathan Clements Money Guide is the indispensable companion for Americans looking to stay on track financially. Written by The Wall Street Journal's longtime personal-finance columnist, this annual guide tackles retirement, college, home buying, estate planning and more. The Money Guide was named the Institute for Financial Literacy's Money Management Book of the Year and was a silver medal winner in the Axiom Business Book Awards. Here are just some of this year's new features:
• How to build your own financial plan in 18 easy steps
• My story: Clements details how he tackled crucial money issues
• Dos and don'ts for 2016
• What the 2015 Budget Act means for claiming Social Security
• Great debates: A look at seven of the fiercest financial arguments
• Fascinating statistics on how Americans are faring financially
• Tax information for 2015 and 2016
• Up-to-date facts and figures on the economy and markets
"It's hard to imagine a finer place to begin your search for financial peace of mind than with Jonathan Clements Money Guide. Yes, it's long. But so is the list of financial challenges faced by American families. Don't be intimidated. He's made it easy to navigate through these challenges, identify those where you need help, and successfully deal with them. Don't just scan this fine, readable, and insightful guide. Keep it by your desk and return to it as your circumstances change, as financial markets change, and as the world turns."—John C. Bogle, founder, The Vanguard Group
"A comprehensive financial guide ranging from navigating health insurance alternatives to forming sensible investment portfolios. Clements is a first-rate financial writer who is a genius at making sophisticated advice accessible to everyone and a delight to read."—Burton G. Malkiel, author of A Random Walk Down Wall Street
"Since the early 1990s, Jonathan Clements's columns taught his readers, profited them, and made them smile. Trouble was, you needed to have read all his Wall Street Journal articles. Until now, that is. His Money Guide wraps this bounty, and then some, into a tidy package, destined to be enjoyed and referred to over and over by readers for decades to come."—William J. Bernstein, author of The Investor's Manifesto
"How do you get nearly 30 years of personal-finance wisdom and advice in an engaging, entertaining and easy-to-use format? Keep Jonathan Clements's Money Guide on your desk or tablet for instant answers to your essential money questions."—Consuelo Mack, anchor, Consuelo Mack WealthTrack
"Would you like to have a friend who knew a lot and would share the straight scoop with you on any investment topic at any time in clear language, with candor and a wry sense of humor? Well, here it is. What a break!"—Charles D. Ellis, author of What It Takes and Winning the Loser's Game
"As someone who has read just about every personal-finance book ever published, I can honestly say this is the best money manual ever written—period! Jonathan Clements's Money Guide offers readers a host of brilliant insights on how to grow their money. It's required reading for anyone striving for financial independence."—Allan Roth, author of How a Second Grader Beats Wall Street

Excerpt from Amazon:
Small Stocks, Big Money provides first-hand perspective and insider information on the fast world of microcap investing. In a series of interviews with the superstars of small stocks, you'll learn how to discover the right companies and develop a solid investment strategy with a potentially big payoff. Each chapter includes a short bio of the investor in question, and provides key insight into the lessons learned from the investments that made them millions—or in some cases, hundreds of millions. You'll learn each investor's top stock picks, and how they originally chose the investments that became their gold mines. Whether you're a professional investor or a novice, this book is a unique and valuable source of information for anyone interested in the volatile world of small stocks and big money.
The smaller the company, the bigger the risk—and the bigger the potential payoff. These interviews show you how to avoid or mitigate those risks, and how to choose the stocks with the best potential from the perspective of those who have done it very, very successfully.
Learn the nuances of microcap investing
Read the stories of the pros who have made millions
Gain expert insight from top microcap investors
Avoid the potential pitfalls and reap the big rewards
Taking a risk on a small company can lead to tremendous gains when they become an industry giant. The trick is in choosing the company that is likely to follow that trajectory, and allocating your investment appropriately to protect yourself in case of disaster. Small Stocks, Big Money gives you a head start by teaching you what the pros wish they knew then.

Excerpt from Amazon:
WE ARE WIRED TO FAIL WITH MONEY AND INVESTING.
Most books misinform, or intimidate the reader, and often are not backed by real life experience.
This book is a one of a kind, comprehensive, straightforward, and easy to follow guide to investing. It's written by an experienced investor trained in the value investing, Buffett-Graham school of thought.
Like no other book, it covers both the intellectual and emotional discipline needed to be a successful investor. It provides the proper philosophy, shows the path, and emphasizes the principles required to keep and grow your wealth over a lifetime.
"Over more than a decade, Bogumil has assiduously assembled a set of rules from the writings and the speeches of the world's most lastingly successful investors: these rules have become his chosen investment discipline. […] He has written a great road map for young investors as well as a thoughtful and very readable guide to spare older neophytes the most common investment mistakes." — François D. Sicart, Founder and Chairman of Tocqueville Asset Management.
"Now comes his book. Obviously, Bogumil was augmenting what we were teaching him over the years about the investment process with extensive readings by the great thinkers on this subject. Unlike some of these tomes, however, Bogumil's "Outsmarting the Crowd" is an easily digestible, common sense approach to a subject that is too often wrapped in jargon made to make it appear more difficult and less intuitive than it actually is." — Robert W. Kleinschmidt, President, Chief Executive Officer and Chief Investment Officer of Tocqueville Asset Management.

Excerpt from Amazon:
The #1 New York Times bestseller—Now a Major Motion Picture from Paramount Pictures
From the author of The Blind Side and Moneyball, The Big Short tells the story of four outsiders in the world of high-finance who predict the credit and housing bubble collapse before anyone else. The film adaptation by Adam McKay (Anchorman I and II, The Other Guys) features Academy Award® winners Christian Bale, Brad Pitt, Melissa Leo and Marisa Tomei; Academy Award® nominees Steve Carell and Ryan Gosling.
When the crash of the U.S. stock market became public knowledge in the fall of 2008, it was already old news. The real crash, the silent crash, had taken place over the previous year, in bizarre feeder markets where the sun doesn't shine and the SEC doesn't dare, or bother, to tread. Who understood the risk inherent in the assumption of ever-rising real estate prices, a risk compounded daily by the creation of those arcane, artificial securities loosely based on piles of doubtful mortgages? In this fitting sequel to Liar's Poker, Michael Lewis answers that question in a narrative brimming with indignation and dark humor.

Excerpt from Amazon:
In "All Good Things," you'll find out how Adam Hennick entered the financial business in 1988, starting out as a 'gopher' for the president of a national brokerage firm and worked through all aspects of the front and back office before starting his own wealth management practice. Through trial and error, Adam learned what properties had long-term fundamental value and what to avoid. He studied the methods of the truly successful investors. Adam has grown his client book almost exclusively through investment success and referrals from existing customers. His clients have been the beneficiaries of long-term returns that few have been able to achieve.
Adam describes what he's learned from over 25 years in financial advisory, partly documented in real time through "A View From Here" monthly newsletters, September 2009 through to November 2015.
ADAM HENNICK has been a financial advisor for more than 25 years. He lives in Toronto with his wife and three children.

What books do you recommend for fellow value investors? Â Leave a comment below.