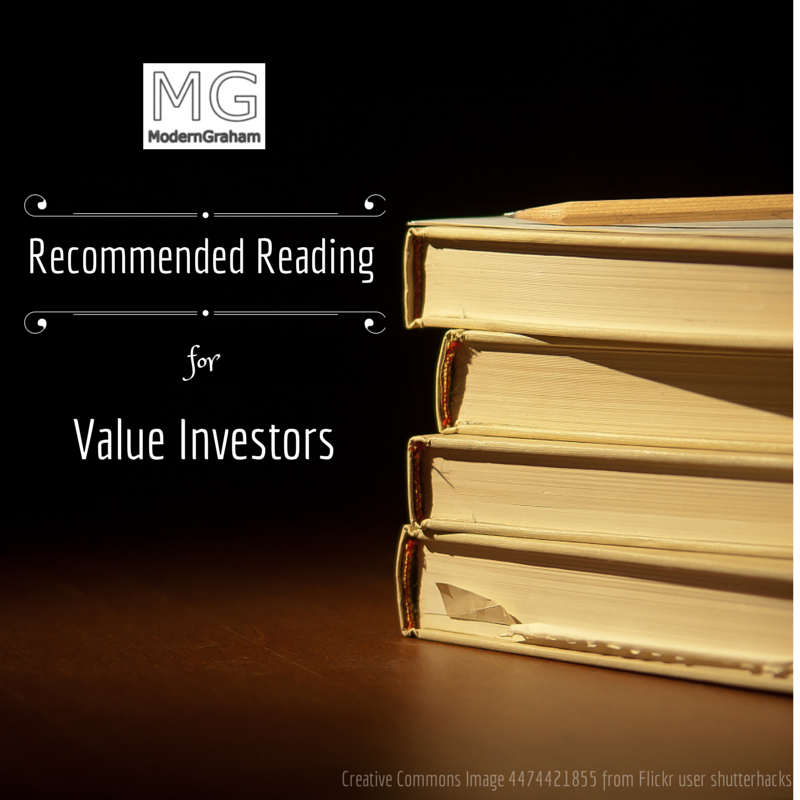 Reading is very important for value investors.  In fact, it is one of the 7 Key Tips to Value Investing.  A great way to continually hone your investing strategies and pursue the greatest level of investing success is through frequently reading new literature.  To that end, here's a list of 5 new books for value investors to consider adding to their reading list.
Be sure to check out the master list of all recommended reading from ModernGraham!
Here are the 5 New Books for Value Investors:
Excerpt from Amazon:
Unfortunately, benign neglect of things financial leaves you open to the charlatans of the financial world. The people who make investing endlessly complex, because if it can be made complex it becomes more profitable for them, more expensive for us, and we are forced into their waiting arms.
Here's an important truth: Complex investments exist only to profit those who create and sell them. Not only are they more costly to the investor, they are less effective.
The simple approach I created for her and present now to you, is not only easy to understand and implement, it is more powerful than any other.

Excerpt from Amazon:
Imagine a chimpanzee rampaging through a datacenter powering everything from Google to Facebook. Infrastructure engineers use a software version of this "chaos monkey" to test online services' robustness—their ability to survive random failure and correct mistakes before they actually occur. Tech entrepreneurs are society's chaos monkeys, disruptors testing and transforming every aspect of our lives, from transportation (Uber) and lodging (AirBnB) to television (Netflix) and dating (Tinder). One of Silicon Valley's most audacious chaos monkeys is Antonio García Martínez.
After stints on Wall Street and as CEO of his own startup, García Martínez joined Facebook's nascent advertising team, turning its users' data into profit for COO Sheryl Sandberg and chairman and CEO Mark "Zuck" Zuckerberg. Forced out in the wake of an internal product war over the future of the company's monetization strategy, García Martínez eventually landed at rival Twitter. He also fathered two children with a woman he barely knew, committed lewd acts and brewed illegal beer on the Facebook campus (accidentally flooding Zuckerberg's desk), lived on a sailboat, raced sport cars on the 101, and enthusiastically pursued the life of an overpaid Silicon Valley wastrel.
Now, this gleeful contrarian unravels the chaotic evolution of social media and online marketing and reveals how it is invading our lives and shaping our future. Weighing in on everything from startups and credit derivatives to Big Brother and data tracking, social media monetization and digital "privacy," García Martínez shares his scathing observations and outrageous antics, taking us on a humorous, subversive tour of the fascinatingly insular tech industry. Chaos Monkeys lays bare the hijinks, trade secrets, and power plays of the visionaries, grunts, sociopaths, opportunists, accidental tourists, and money cowboys who are revolutionizing our world. The question is, will we survive?
Excerpt from Amazon:
From one of our leading technology thinkers and writers, a guide through the 12 technological imperatives that will shape the next 30 years and transform our lives.
Much of what will happen in the next 30 years is inevitable, driven by technological trends that are already in motion. In this fascinating, provocative new book, Kevin Kelly provides an optimistic road map for the future, showing how the coming changes in our lives – from virtual reality in the home to an on-demand economy to artificial intelligence embedded in everything we manufacture – can be understood as the result of a few long-term accelerating forces. Kelly both describes these deep trends – flowing, screening, accessing, sharing, filtering, remixing, tracking, and questioning – and demonstrates how they overlap and are codependent on one another. These larger forces will completely revolutionize the way we buy, work, learn, and communicate with each other. By understanding and embracing them, says Kelly, it will be easier for us to remain on top of the coming wave of changes and to arrange our day-to-day relationships with technology in ways that bring forth maximum benefits.
Kelly's bright, hopeful book will be indispensable to anyone who seeks guidance on where their business, industry, or life is heading – what to invent, where to work, in what to invest, how to better reach customers, and what to begin to put into place – as this new world emerges.
Excerpt from Amazon:
For fans of Girl Boss by Sophie Amoruso, I Am That Girl by Alexis Jones and You Are a Badass by Jen Sincero comes the latest book from best-selling author, entrepreneur, and master life coach Cara Alwill Leyba. Girl Code is a roadmap for female entrepreneurs, professional women, "side hustlers" (those with a day job who are building a business on the side), and anyone in between who wants to become a better woman. This book will not teach you how to build a multimillion dollar business. It won't teach you about systems or operational processes. But it will teach you how to build confidence in yourself, reconnect with your "why", eradicate jealousy, and ultimately learn the power of connection. Because at the end of the day, that's what life and business is all about.
"I am witnessing a phenomenon. It seems as though a growing group of women entrepreneurs all around the world has discovered the secret to success and happiness in both their lives and careers. It's almost as though there is a hidden, underground world of power-playing females who have all cracked a magical code: they think positively, they support one another, and they truly believe they can have it all – and you can, too. There is something dynamic that happens when women genuinely show up for each other. When we lose the facades, when we cut the bulls–t, and when we truly have each other's backs. When we stop pretending everything is perfect, and we show the messy, beautiful parts of ourselves and our work that all look awfully similar. When we talk about our fears, our missteps, and our breakdowns. And most importantly, when we share our celebrations, our breakthroughs, and dish on what works. There is no reason to hoard information, connections, or insight. Wisdom is meant to be shared, so let's start sharing what we've learned to make each other better. Let's start building each other up. Let's live up to our potential and start ruling the world."

Excerpt from Amazon:
"When you turn an election into a three-ring circus, there's always a chance that the dancing bear will win," says Isenberg of the political climate surrounding Sarah Palin. And we recognize how right she is today. Yet the voters boosting Trump have been a permanent part of our American fabric, argues Isenberg.
The wretched and landless poor have existed from the time of the earliest British colonial settlement. They were alternately known as "waste people," "offals," "rubbish," "lazy lubbers," and "crackers." By the 1850s, the downtrodden included so-called "clay eaters" and "sandhillers," known for prematurely aged children distinguished by their yellowish skin, ragged clothing, and listless minds.
Surveying political rhetoric and policy, popular literature and scientific theories over four hundred years, Isenberg upends assumptions about America's supposedly class-free society––where liberty and hard work were meant to ensure real social mobility. Poor whites were central to the rise of the Republican Party in the early nineteenth century, and the Civil War itself was fought over class issues nearly as much as it was fought over slavery. Reconstruction pitted poor white trash against newly freed slaves, which factored in the rise of eugenics–-a widely popular movement embraced by Theodore Roosevelt that targeted poor whites for sterilization. These poor were at the heart of New Deal reforms and LBJ's Great Society; they haunt us in reality TV shows like Here Comes Honey Boo Boo and Duck Dynasty. Marginalized as a class, white trash have always been at or near the center of major political debates over the character of the American identity.
 
We acknowledge racial injustice as an ugly stain on our nation's history. With Isenberg's landmark book, we will have to face the truth about the enduring, malevolent nature of class as well.