Citizens Financial Group Inc Valuation – Initial Coverage $CFG
Benjamin Graham taught that Intelligent Investors must do a thorough fundamental analysis of investment opportunities to determine their intrinsic value and inherent risk.  This is best done by utilizing a systematic approach to analysis that will provide investors with a sense of how a specific company compares to another company or by reviewing the 10 Stocks for Using A Benjamin Graham Value Investing Strategy – August 2016.  By using the ModernGraham method one can review a company's historical accomplishments and determine an intrinsic value that can be compared across industries.  What follows is a stock analysis showing a specific look at how Citizens Financial Group Inc (CFG) fares in the ModernGraham valuation model.
Company Profile (obtained from Google Finance): Citizens Financial Group, Inc. is a retail bank holding company in the United States. The Company offers a range of retail and commercial banking products and services to individuals, institutions and companies. The Company operates in two segments: Consumer Banking and Commercial Banking. The Company's Consumer Banking serves retail customers and small businesses. The Company offers traditional banking products and services, including checking, savings, home loans, student loans, credit cards, business loans and financial management services. Its subsidiaries are Citizens Bank, N.A. (CBNA) and Citizens Bank of Pennsylvania (CBPA). Its Commercial Banking offers financial products and solutions, including loans, leases, trade financing, deposits, cash management, commercial cards, foreign exchange, interest rate risk management, corporate finance and capital markets advisory capabilities.
[level-free]
To read the details of this valuation, you must be logged in as a premium member. If you are not a premium member, please consider becoming one.
Premium members can view a full ModernGraham valuation of the company and have access to download a PDF version of the valuation for easy reference. Recent valuations of the components of the Dow Jones Industrial Average are available for free members, including this one of Microsoft Corporation.  In addition, here is a post detailing what can be found within each individual company's valuation.
[/level-free]
[not-level-free]
Downloadable PDF version of this valuation:
moderngraham-valuation-of-cfg-december-2016
Stage 1: Is this company suitable for the Defensive Investor or the Enterprising Investor?
What kind of Intelligent Investor are you?
Defensive Investor; must pass all 6 of the following tests.
1. Adequate Size of the Enterprise
Market Cap > $2Bil
$17,363,686,469
Pass
2. Earnings Stability
Positive EPS for 10 years prior
Fail
3. Dividend Record
Dividend Payments for 10 years prior
Fail
4. Earnings Growth
Increase of 33% in EPS in past 10 years using 3 year averages at beginning and end
16733233.33%
Pass
5. Moderate PEmg Ratio
PEmg < 20
54.73
Fail
6. Moderate Price to Assets
PB Ratio < 2.5 OR PB*PEmg < 50
0.88
Pass
Enterprising Investor; must pass all 3 of the following tests, or be suitable for the Defensive Investor.
1. Earnings Stability
Positive EPS for 5 years prior
Fail
2. Dividend Record
Currently Pays Dividend
Pass
3. Earnings Growth
EPSmg greater than 5 years ago
Pass
Stage 2: Determination of Intri
nsic Value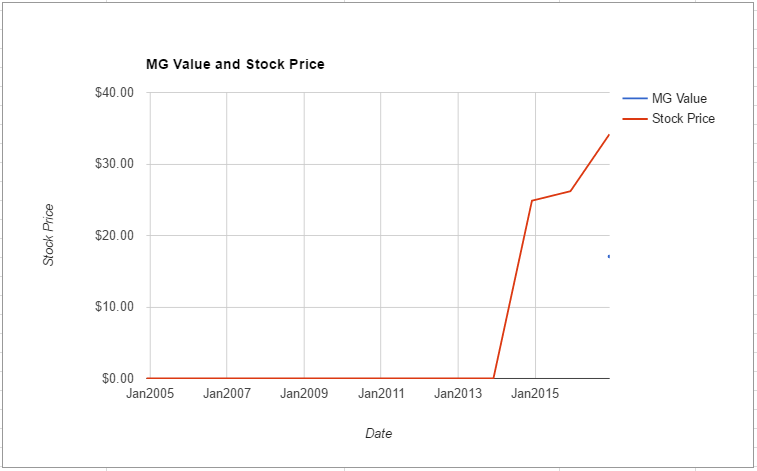 | | |
| --- | --- |
| EPSmg | $0.62 |
| MG Growth Estimate | 9.42% |
| MG Value | $17.06 |
| Opinion | Overvalued |
| MG Grade | D+ |
| MG Value based on 3% Growth | $9.05 |
| MG Value based on 0% Growth | $5.30 |
| Market Implied Growth Rate | 23.11% |
| Current Price | $34.15 |
| % of Intrinsic Value | 200.21% |
Citizens Financial Group Inc does not satisfy the requirements of either the Enterprising Investor or the more conservative Defensive Investor. The Defensive Investor is concerned with the insufficient earnings stability over the last ten years, and the poor dividend history, and the high PEmg ratio. The Enterprising Investor has concerns regarding the lack of earnings stability over the last five years. As a result, all value investors following the ModernGraham approach should explore other opportunities at this time or proceed cautiously with a speculative attitude.
As for a valuation, the company appears to be Overvalued after growing its EPSmg (normalized earnings) from $0.38 in 2012 to an estimated $0.62 for 2016. This level of demonstrated earnings growth does not support the market's implied estimate of 23.11% annual earnings growth over the next 7-10 years. As a result, the ModernGraham valuation model, based on Benjamin Graham's formula, returns an estimate of intrinsic value below the price.
At the time of valuation, further research into Citizens Financial Group Inc revealed the company was trading below its Graham Number of $40.77. The company pays a dividend of $0.44 per share, for a yield of 1.3% Its PEmg (price over earnings per share – ModernGraham) was 54.73, which was above the industry average of 13.43.
Citizens Financial Group Inc scores quite poorly in the ModernGraham grading system, with an overall grade of D+.
Stage 3: Information for Further Research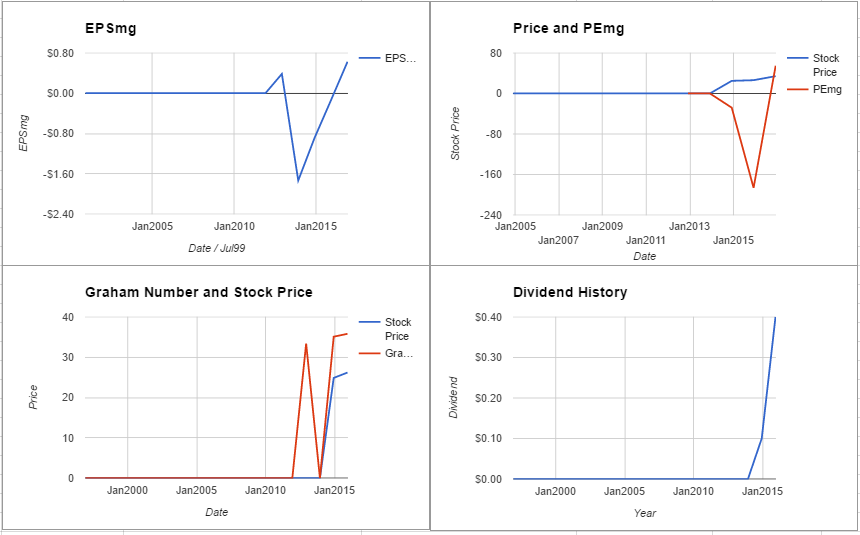 | | |
| --- | --- |
| Graham Number | $40.77 |
| PEmg | 54.73 |
| PB Ratio | 0.88 |
| Dividend Yield | 1.29% |
| TTM Dividend | $0.44 |
| Number of Consecutive Years of Dividend Growth | 3 |
[/not-level-free]
Useful Links:
Most Recent Balance Sheet Figures
| | |
| --- | --- |
| Balance Sheet Information | 9/16/2016 |
| Long-Term Debt & Capital Lease Obligation | $11,902,000,000 |
| Total Assets | $147,015,000,000 |
| Intangible Assets | $6,876,000,000 |
| Total Liabilities | $126,834,000,000 |
| Shares Outstanding (Diluted Average) | 521,122,000 |
Earnings Per Share History
| | |
| --- | --- |
| Next Fiscal Year Estimate | $1.92 |
| Dec2015 | $1.55 |
| Dec2014 | $1.55 |
| Dec2013 | -$6.12 |
| Dec2012 | $1.15 |
Earnings Per Share – ModernGraham History
| | |
| --- | --- |
| Next Fiscal Year Estimate | $0.62 |
| Dec2015 | -$0.14 |
| Dec2014 | -$0.89 |
| Dec2013 | -$1.73 |
| Dec2012 | $0.38 |
Recommended Reading:
Other ModernGraham posts about the company
None. Â This is the first time ModernGraham has covered the company.
Other ModernGraham posts about related companies
Disclaimer:
The author did not hold a position in any company mentioned in this article at the time of publication and had no intention of changing that position within the next 72 hours.  See my current holdings here.  This article is not investment advice; any reader should speak to a registered investment adviser prior to making any investment decisions.  ModernGraham is not affiliated with the company in any manner.  Please be sure to review our detailed disclaimer.