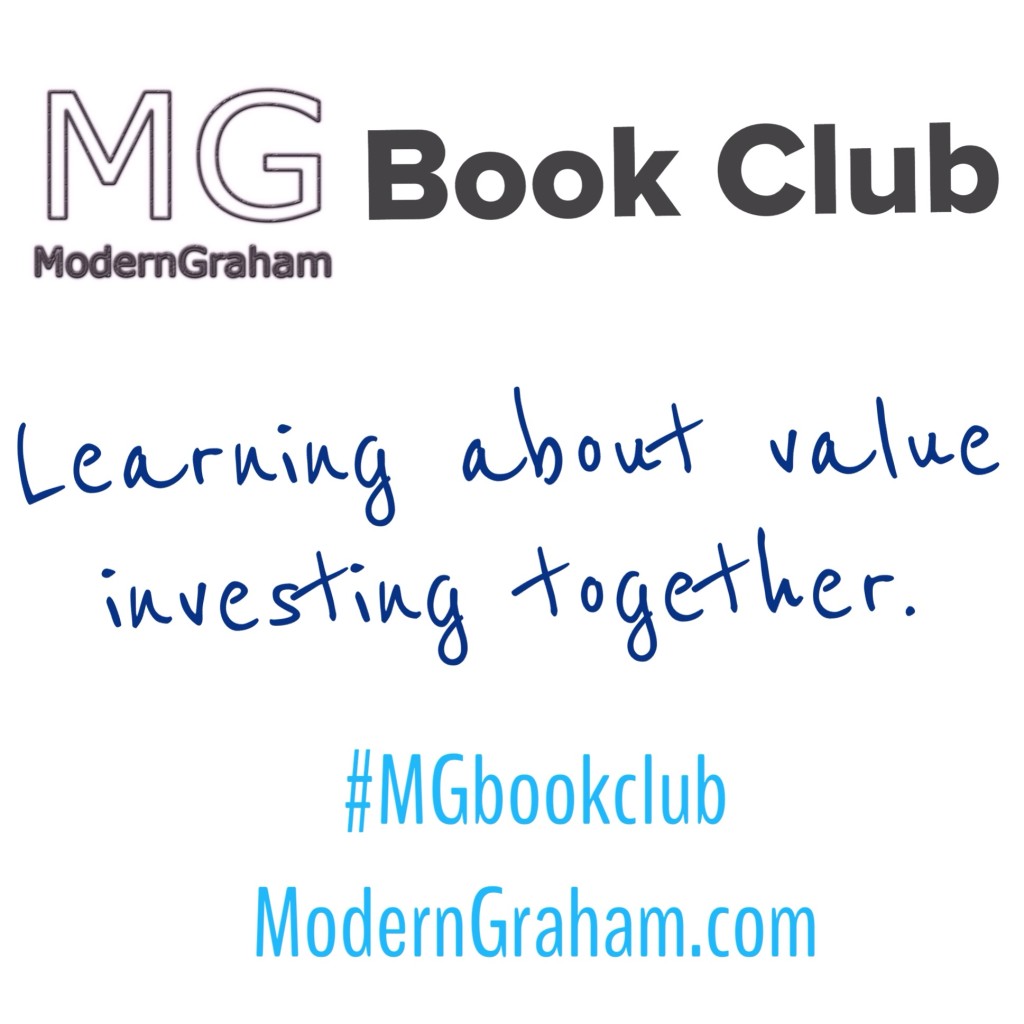 What is the ModernGraham Book Club?
The ModernGraham Book Club is a community where value investors can come together each week to discuss and learn as a group about investing.  This is a place you can come to find good books, good insight, and good conversation.  Hopefully as you participate you will learn more about value investing and other related topics.
Who can participate?
Anybody can participate, regardless of investing knowledge. Â The ModernGraham Book Club is intended to be suitable for investors of all levels. Â If you don't know a single thing about investing, or if you are a hedge fund manager with years of experience, you are welcome to participate. Â In fact, the more diversity in knowledge levels, the greater the experience will be for all. Â Oh, and the whole thing is free to participate. Â No purchase necessary, though you may find it a little more useful if you purchase the books.
How often will we discuss?
Every Sundays, there will be a post on ModernGraham.com where the discussion leader will give thoughts on the reading for that week, and readers are encouraged to participate in the discussion by commenting on the post.  The weekly readings will be fairly short, so if you miss a week or two it will be easy to catch up.
What are some other ways to participate?
If you are a blogger, you can give your thoughts in a post on your own site, link to the discussion here on ModernGraham, and I will be sure to let our readers know that the conversation is going on over at your site as well.
In addition, you can use the hashtag #MGBookClub in social media to talk about the book on Twitter or Facebook!
What are we Reading?
Series 1: The Intelligent Investor by Benjamin Graham (affiliate link)

Introduction: What This Book Expects to Accomplish – February 17, 2014
(Chapter One) Investment versus Speculation: Results to Be Expected by the Intelligent Investor – February 24, 2014
(Chapter Two) The Investor and Inflation – March 3, 2014
(Chapter Three) A Century of Stock-Market History: The Level of Stock Prices in Early 1972 – March 10, 2014
(Chapter Four) General Portfolio Policy: The Defensive Investor – March 17, 2014
(Chapter Five) The Defensive Investor and Common Stocks – March 24, 2014
(Chapter Eight) The Investor and Market Fluctuations – April 14, 2014
(Chapter Nine) Investing in Investment Funds – April 21, 2014
(Chapter Ten) The Investor and His Advisers – April 28, 2014
(Chapter Twelve) Things to Consider About Per-Share Earnings – May 12, 2014
(Chapter Thirteen) A Comparison of Four Listed Companies – May 19, 2014
(Chapter Sixteen) Convertible Issues and Warrants – June 9, 2014
(Chapter Seventeen) Four Extremely Instructive Case Histories – June 16, 2014
(Chapter Eighteen) A Comparison of Eight Pairs of Companies – June 23, 2014
(Chapter Nineteen) Shareholders and Managements: Dividend Policy – June 30, 2014
Series 2: Business Adventures: Twelve Classic Tales from the World of Wall Street by John Brooks (affiliate link)
First Impressions of the Book – September 13, 2015
(Chapter One) The Fluctuation – September 20, 2015
(Chapter Two) The Fate of the Edsel – September 27, 2015
(Chapter Three) The Federal Income Tax – October 4, 2015
(Chapter Four) A Reasonable Amount of Time – October 11, 2015
(Chapter Five) Xerox Xerox Xerox Xerox – October 18, 2015
(Chapter Six) Making the Customers Whole – October 25, 2015
(Chapter Seven) The Impacted Philosophers – November 1, 2015
(Chapter Eight) The Last Great Corner – November 8, 2015
(Chapter Nine) A Second Sort of Life – November 15, 2015
(Chapter Ten) Stockholder Season – November 22, 2015
(Chapter Eleven) One Free Bite – November 29, 2015
(Chapter Twelve) In Defense of Sterling – December 6, 2015