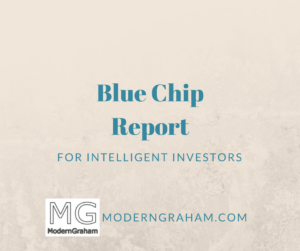 Blue Chip Report
A monthly report on the ModernGraham valuation of the Dow Jones Industrial Average
 Features:
ModernGraham's Valuation of the Dow Jones Industrial Average based on a calculation of each component's individual valuation.
The overall PEmg rating of the Dow Jones Industrial Average based on an average of the PEmg rating of all components of the index.
Table Summarizing Each Company's Most Recent ModernGraham Valuation including the company's qualification for Defensive or Enterprising Investors, estimated value, PEmg, and dividend yield.
 Pricing:
$15 for an individual report
Get a FREE 7-day trial!
---
Cancellation and Refunds:  If you are unhappy with your subscription for any reason, please send an email to ben@moderngraham.com to cancel.  If immediate cancellation is requested, a pro-rated refund of the most recent subscription fee will be issued.  If you would like to simply cancel at the end of your current billing cycle, the recurring payment will be stopped.