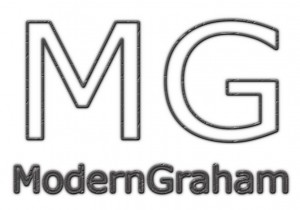 About ModernGraham
ModernGraham is devoted to modernizing Benjamin Graham's methods to fit today's market environment, and is aimed at helping readers become more intelligent investors.
We bring you individual valuations of over 900 companies, including all of the S&P 500, and that list is growing.
ModernGraham has many tools to help you in your research and to make you a more intelligent investor.
The ModernGraham Approach to Investing
Benjamin Clark started ModernGraham in 2006 after a simple discussion with his fellow DePaul University Finance Honors student Jon Ritchie about Benjamin Graham's The Intelligent Investor.  Ben found Graham's work to be particularly fascinating and spot-on after having learned a hard lesson from a failed investment in high school.  After discussing how Graham's methods could be applied today, Ben went about tweaking some of Graham's core principles to make them more relevant in the current financial atmosphere.
The first few years of ModernGraham saw some periodic changes to the methodology, as Ben continued to develop the ModernGraham approach to best fit within Graham's original framework.  Eventually, Ben solidified the process to be a three-step analysis of investment opportunities:
Stage 1: What Kind of Investor Are You?
The ModernGraham approach requires first determining what type of investor you are. Â It is assumed that you are an Intelligent Investor, as Benjamin Graham would put it, or in other words you seek to be patient and factually-based in your investing and has nothing to do with your actual IQ. Â However, Graham took it a step further and divided Intelligent Investors into two types: Defensive and Enterprising. Â I believe that distinction remains very important, and as a result the first step of the ModernGraham approach to investing is to screen companies according to investor type. Â Graham provided a number of criteria to use for stock selection for each investor type.
Stage 2: Estimate the company's intrinsic value and compare it to the market price.
ModernGraham provides information for several methods of estimating intrinsic value, with the official "MG Value" based on Benjamin Graham's formula from The Intelligent Investor, which is different from the more well-known "Graham Number."  (Learn more about the difference here).  According to Graham, the formula resulted from a study of various valuation methods and is to be considered an effective shorthand way of estimating the intrinsic value of stocks.  The formula should result in figures "fairly close to those resulting from the more refined mathematical calculations."  The formula is: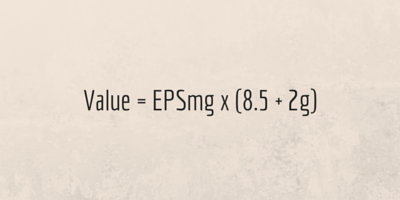 The key variables are:
EPSmg (Earnings Per Share – ModernGraham) – A normalized version of earnings per share, based on a weighted average of the last five years of earnings data.
Growth – ModernGraham uses a growth rate based on the cumulative growth of EPSmg over the last five years.
Stage 3:Â Conduct further research to decide if the company is right for your portfolio.
This part of the process must be completed by the individual investor, but we provide you with helpful information about the company to assist in the decision-making process.
Specifically, the ModernGraham Research Tools (premium content) are designed to help make your research easier.  We give complete information on both Stages 1 and 2 of the ModernGraham approach, and then provide various levels of information and/or screens for companies meeting various criteria that may be of interest to you.
Testimonials
Beautiful clean posts, great format, well written commentary and straighttorward graphics. Ben, you really have built a great site and resource for value investing.
With so much talk about stocks being overvalued, I'm glad to find someone that helps with the legwork of determining value investments. When the downturn occurs I feel confident ill be better prepared than most. I purchased your March screens and am looking forward to April. Thanks.
Excellent modernizing application of Graham's life work. Thank you!
I just discovered your web site and find it intriguing. I inherited some div stocks 20 yrs ago and just recently decided to reallocate using "Seeking Alpha as " as a tool and discovered a whole different world. And now with MG further frontiers seem to be unfolding. I'm looking forward to spending my mornings with MG and making my investments with sound tried and true, (and profitable) assistance.
Although Canada based, I've just started to dip a toe into the U.S. market, so, as a novice in that market and Defensive investor, I've found your MG summaries very useful and illuminating.
History shows that people who save and invest grow and prosper. ModernGraham gives us the knowledge and wisdom to help us invest wisely in order to grow our investments.
Invest with knowledge on your side. ModernGraham provides that.
Before I buy a stock, I always check first to see if MG has evaluated it. Buying within your criteria for a defensive investor, I always feel that at a minimum, I will be able to sleep at night and very possibly earn a handsome gain in the process. Thanks for helping me plot an even course through all the "vicissitudes" and profit from Mr. Market's emotional ups and downs. Keep up the great work!
Since I've been using Modern Graham's recommendations my portfolio is moving into the black! I thoroughly recommend this service as a way to improve buying choices in a volatile market.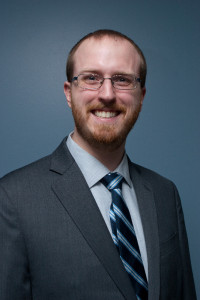 About Benjamin Clark
Benjamin graduated cum laude with his J.D. from DePaul University College of Law, and also received a Certificate in Taxation. Â He passed the Illinois Bar Exam in July 2013 and is licensed to practice law in Illinois. Â He also holds a Bachelor of Science in Finance (Honors) from DePaul University College of Commerce. Â Ben can be reached at ben@moderngraham.com.
View Benjamin Clark's profile